**UPDATED** 26 February 2021: Updated rebate figures and CAP1391 amended to allow SDA=1
In addition to the DfT/CAA's extension of the EC rebate scheme, there have been two further developments to the EC story. Yesterday afternoon (25/02/21), the CAA published an amended CAP1391 which allow suitable CAP1391 devices to emit an SDA level of 1 (it had previously been restricted to 0). Combined with the already approved SIL=1, this will allow the transmissions to be seen by aircraft equipped with TSO'd traffic systems.
On 16 February, we published data supplied by the CAA giving the breakdown by equipment type of EC rebate claims up to January 13. As a result of another FOI request, we are now able to show data up to February 19. The numbers represent the change since the January 13 data.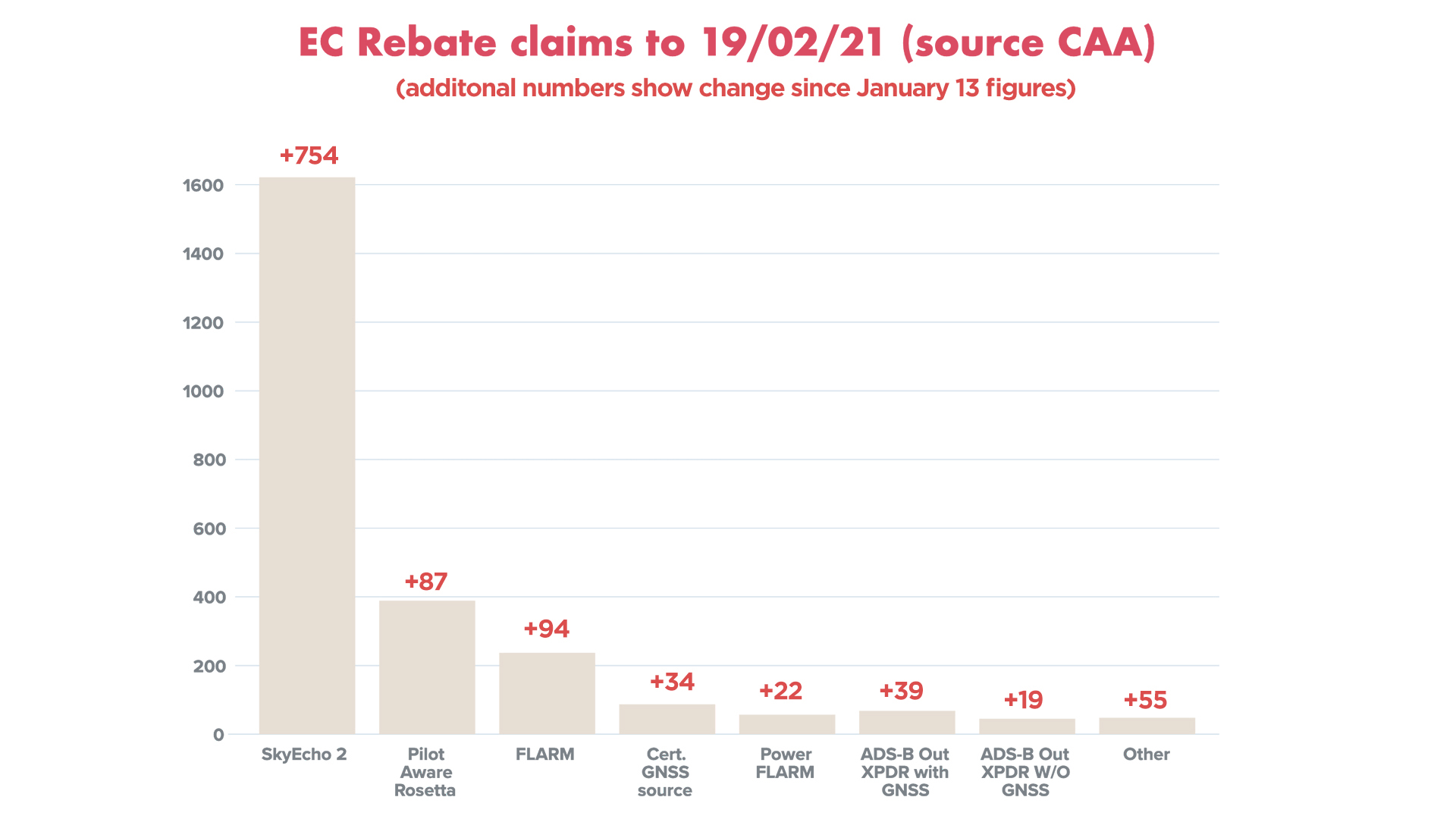 UPDATE 16:07 23 February 2021: The CAA has extended the deadline for the rebate scheme until 30 September 2021.
Government funding is now available to encourage pilots to fit an Electronic Conspicuity (EC) device to their aircraft.
Devices such as Power Flarm, Pilot Aware Rosetta, uAvionix SkyEcho and others, are eligible for a rebate of 50% of the purchase costs up to a maximum of £250.
The money is coming from the Department for Transport (DfT) with the CAA distributing the funds. The scheme is open to many types of aircraft including unmanned aerial vehicles.
The scheme is open to applications from today, 5 October 2020 until 31 March 2021 (or until the funding is used). The CAA anticipates up to 10,000 rebates will be available.
What are the requirements to apply?
Funding is for carry-on or aircraft-fitted devices only. Ground system components do not qualify for this scheme.
Applicants can claim a single rebate of 50% – up to £250 – on EC equipment purchased.
Only equipment purchased from 1 October 2020 until 28 February 2021 will be eligible for rebate.
You must produce a proof of purchase receipt.
You must hold at least one of the following UK issued pilot licences (UK or EASA part FCL):
Private Pilot's Licence (PPL)
Commercial Pilot's Licence (CPL)
National PPL (NPPL)
Sailplane Pilot's Licence (SPL)
Balloon Pilot's Licence (BPL)
Light Aircraft Pilot's Licence (LAPL)
Or be a registered member of either the British Hang Gliding and Paragliding Association (BHPA) or the British Gliding Association (BGA).
Alternatively, if you are UAS/UAV operator then you must hold an authorisation issued specifically to them by the CAA (i.e. a permission, exemption or "operational authorisation"). General Exemptions, permissions or authorisations which are aimed at a wider and non specific group of operators are not included
What equipment?
ADS-B Out capable transponder inclusive of GNSS position source (Mode S ES Enabled).
ADS-B Out capable transponder without GNSS position source (Mode S ES)
Certified GNSS source for Mode S ES transponders (Including a GNSS position sources in line with the recently published AIC2019Y141, example being Trig TN72)
Power Flarm
Pilot Aware Rosetta
Sky Echo 2
CAA comparison chart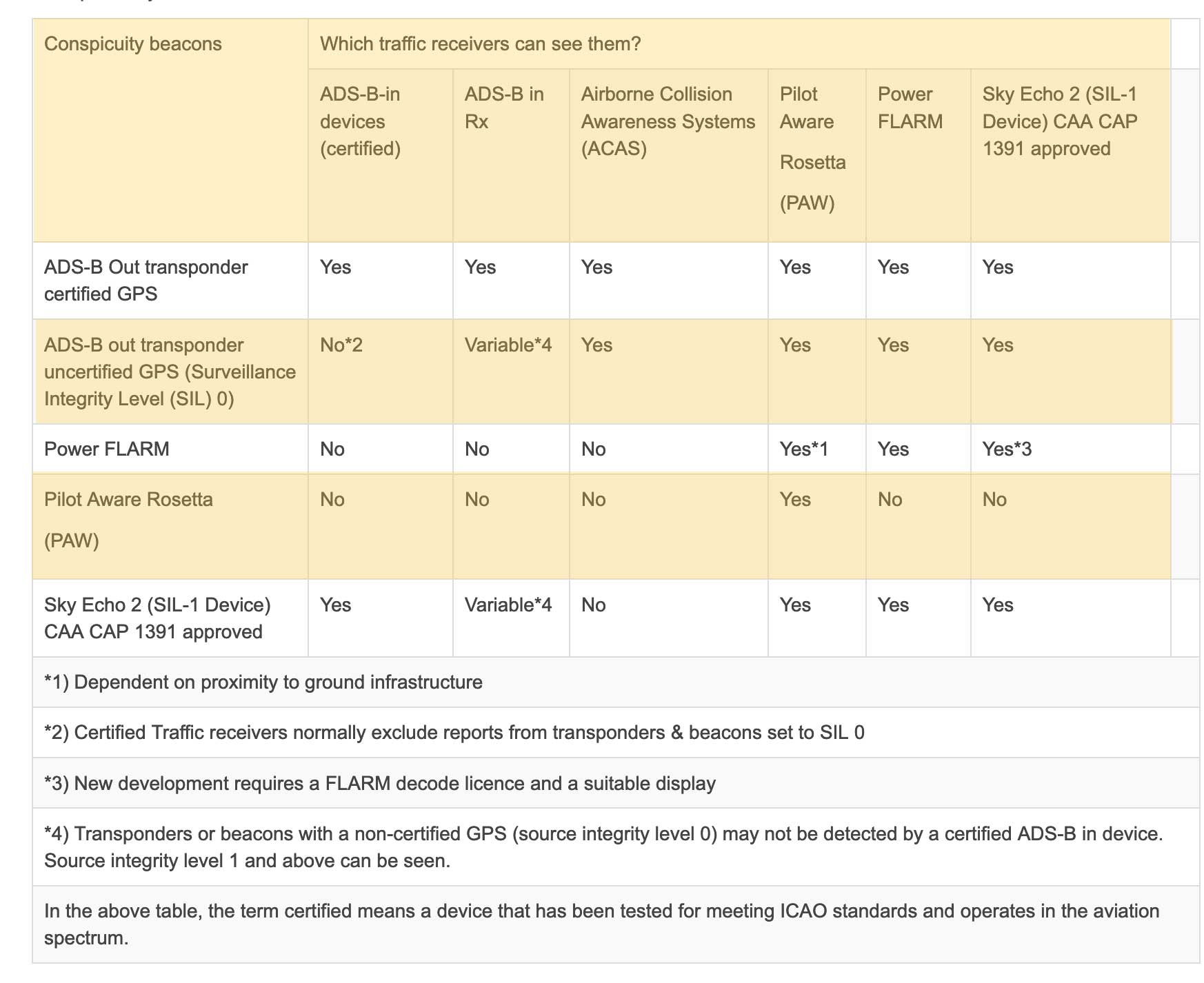 The CAA says it will consider requests from device manufacturers for alternative or newly developed equipment to be added on a case by case basis.
Meanwhile, work is continuing on a long-term strategy for EC in the UK, confirms the CAA.
"Surveillance technology will continue to develop quickly and, together with the DfT, we are open to exploring and embracing new technologies," says the CAA.
"Applicants should be aware that in common with other technologies in any sector, any device purchased today is not necessarily guaranteed to meet any future EC requirements."
How to apply
Applications can be made via the CAA's online stakeholder portal from 5 October 2020. You will be requested to register on the CAA online portal followed by submitting an online application form.