Pros
Super-easy set-up
Small and light
Up to eight hours of battery life
Cons
Could do with a non-slip base
Flyer Verdict
uAvionix SkyEcho seems an excellent way of providing a non-transponder-equipped aircraft with a lightweight, low-power, portable solution
There are lots of devices capable of receiving ADS-B signals and all of them have a way of displaying the information on one or more of the navigation apps that we (almost) all fly with. As a result, GA pilots can see the position of aircraft which are equipped with ADS-B 'out', however, the vast majority of those are commercial air traffic.
Although there are alternative systems, such as FLARM and P3I, the future of an integrated system of electronic conspicuity and traffic warning is ADS-B, and much
like vaccination programmes, the biggest win only comes when a significant proportion of the population participate.
Thanks to some forward thinking, the CAA published CAP 1391 which made – with some caveats – ADS-B out an awful lot more accessible to the majority of the GA fleet.
Building on its miniaturisation work in the drone community, the U.S. company uAvionix has launched the SkyEcho, a small, battery-powered, self-contained unit which provides a portable ADS-B in and out solution with a specification exceeding that required by CAP 1391.
The SkyEcho looks a little like an external antenna with, erm, a hinged external antenna. It weighs in at just 200g and measures about 12cm x 7cm. In addition to the ADS-B in and out transceiver, the casing contains a WAAS GPS, an integrated barometer and a Wi-Fi chip so that it can talk to navigation apps. The internal batteries are good for up to eight hours, and there's also a mini-USB port which can be used to provide external power, if you've forgotten to charge the SkyEcho before flight.
Set-up couldn't be easier, just download the configuration app to your phone (iOS or Android), turn the SkyEcho on using the small external button and connect to its Wi-Fi network. Launch the app and then enter the hex number for your aircraft – available online at the CAA's G-INFO – and its registration. Then press the 'Configure' button and you're done – simply repeat if you change to a different aircraft.
You then just put the unit on the glare shield or a parcel shelf and go fly. Anyone with an ADS-B receiver will see your aircraft, callsign, your altitude difference and track.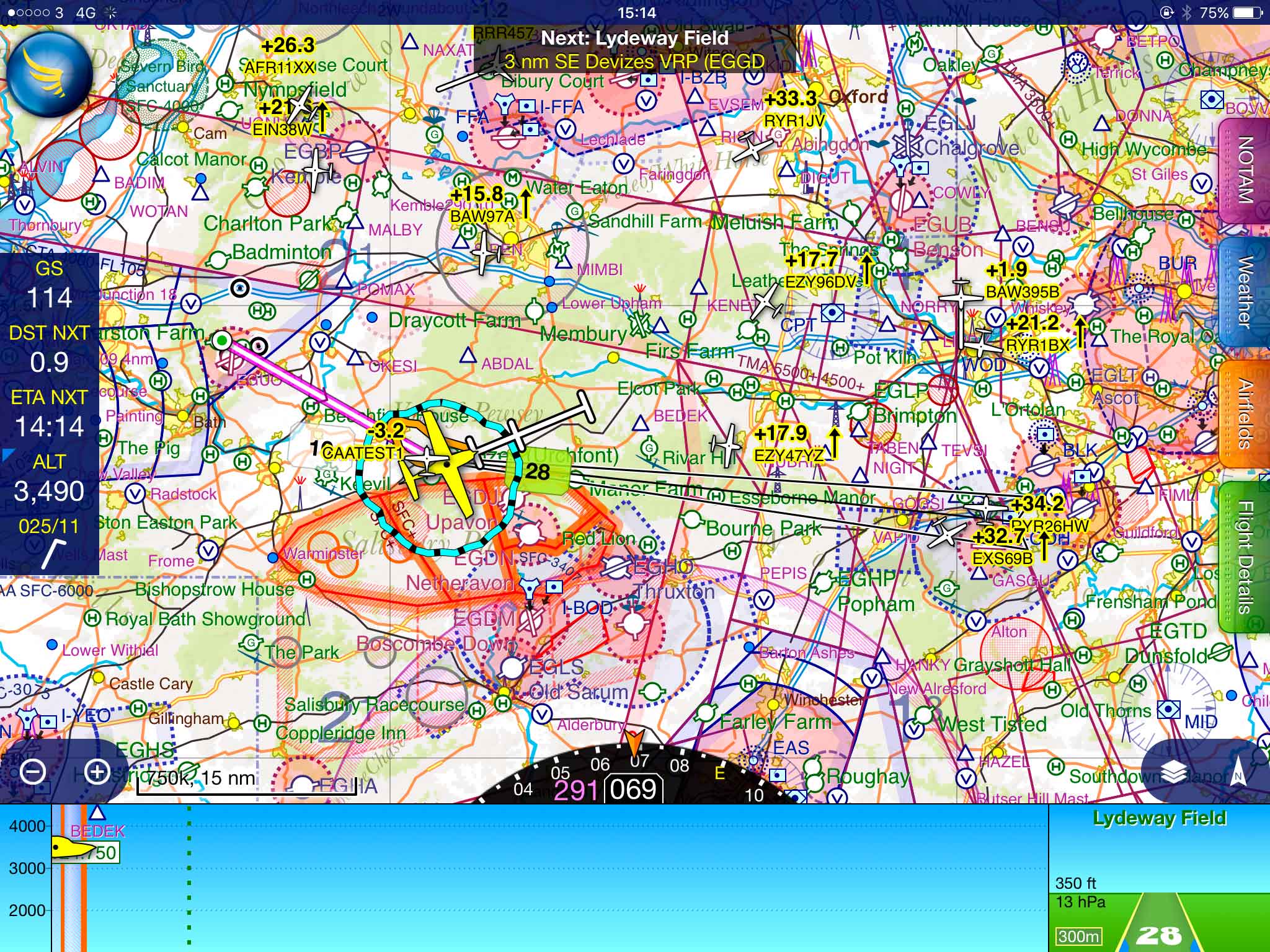 We sent the SkyEcho flying and then monitored its progress from the ground using SkyDemon. Meanwhile, in our test aircraft, we could see the base station, and of course other ADS-B out targets.
SkyEcho is a very small, light and simple way to get ADS-B in and out. Right now there's some debate about whether it can be used at the same time as Mode C or S transponders. But given that the future of electronic conspicuity is ADS-B based, the SkyEcho seems an excellent way of providing a non-transponder-equipped aircraft with a lightweight, low-power, portable solution.