The Light Aircraft Pilots Licence (LAPL) will have its pan-European privileges cut short for UK pilots following the end of the Brexit transition period.
Holders of the LAPL – introduced by EASA as an easier to obtain licence – will not be able to pilot flights into Europe from 1 January 2021 because it will become a UK National licence with UK-only privileges unless the EU agrees to recognise it.
Pilots flying with an EASA PPL but on a LAPL medical will be similarly affected.
---
Got a question about how Brexit might affect you? Ask your question here
---
The LAPL position was made clear in two seminars held last week by the CAA for General Aviation pilots. A video of the seminar:
Key points from last week's seminar:
EU aviation acquis (accumulated legislation) will be brought across into UK law under the European Union (Withdrawal) Act 2018. Numerous secondary law instruments (Statutory Instruments) have been made under the Act to make the legislation operable in the UK.
At the end of the transition period, the UK will be responsible for the development of aviation safety policy and regulation. The CAA and DfT are establishing a capability to do this work from the start of 2021.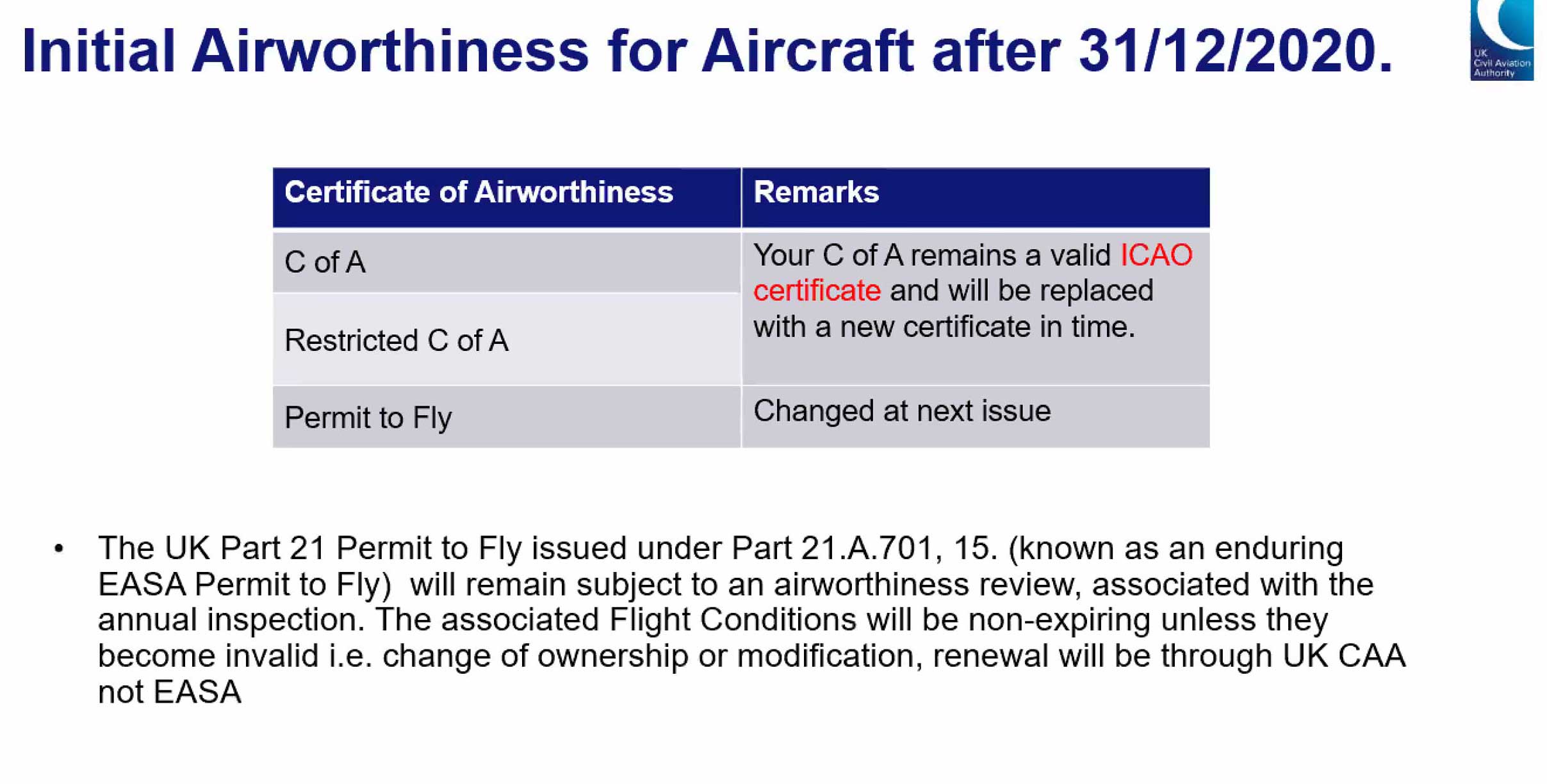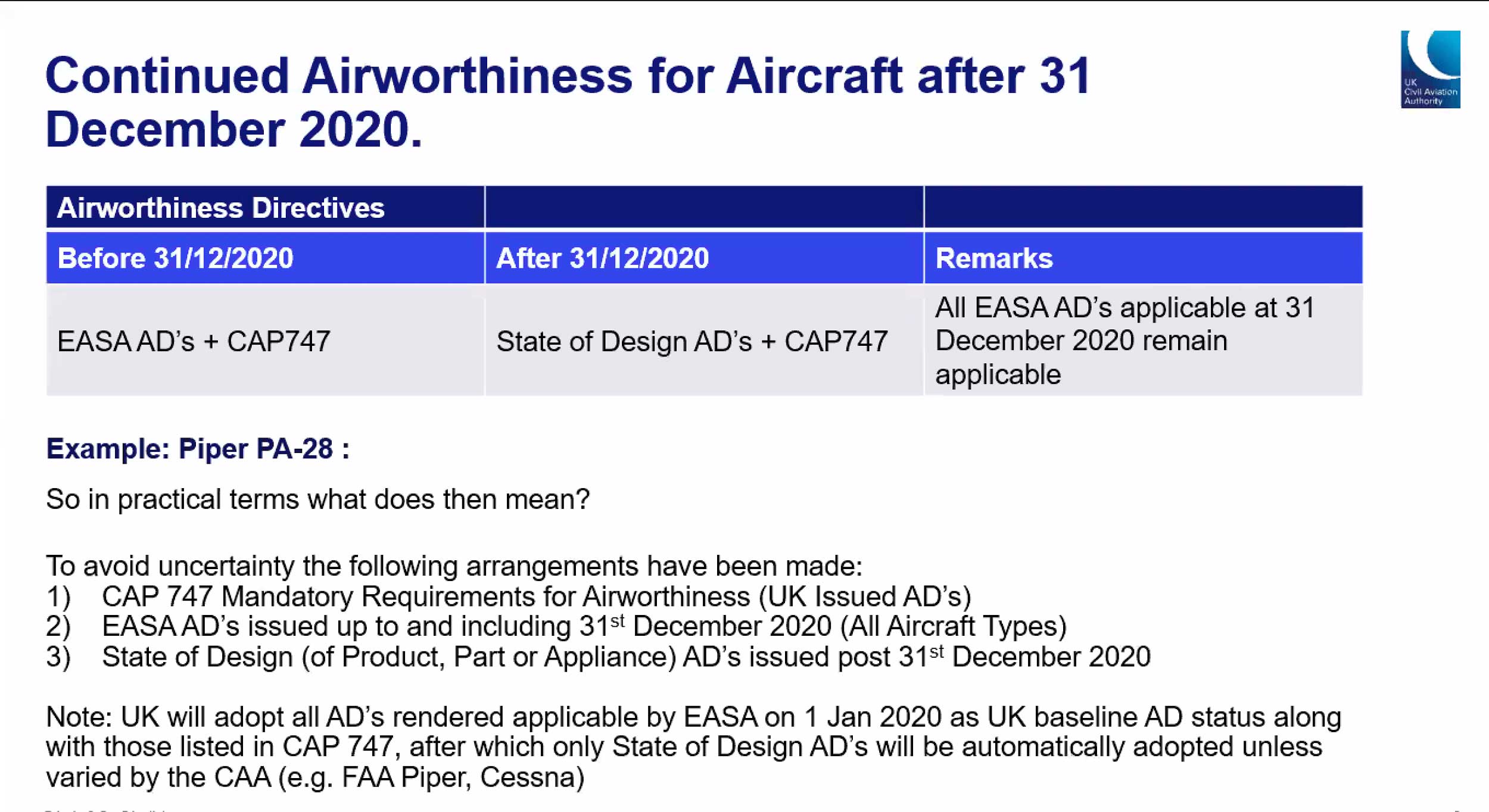 On 1 January 2021 the EU Aircrew Regulation will be adopted by the UK as the UK Aircrew Regulation. There will be no change to requirement to gain, renew or revalidate licences issued under EASA regulations.
However, all UK CAA issued EASA licences will become UK Aircrew Regulation Licences – no longer an EASA licence. ICAO has confirmed it will continue to recognise the licences as such without the need for them to be re-issued.
However, the LAPL (Light Aircraft Pilot's Licence) will become a UK only licence as it is not recognised by ICAO. This is despite the LAPL being introduced by EASA with pan-European privileges. There is no change to current National Licensing system as per the ANO (2016) – NPPL etc.
After 1 January 2021, the UK will be treated as a 'third country' as will our licences. If there is no mutual recognition between UK and EU on 1 January 2021 (and the CAA sounded pessimistic about this):
The CAA will issue a general validation allowing EASA licence holders to fly G-reg aircraft within the privileges of the licence, ratings and certificates.
A two-year, or validity of the certificate, acceptance period will be implemented allowing the use of EASA licences, ratings, certificates, approvals and declarations.
This means:
An EASA licensed FI can work at a UK flying school and train students for UK licences.
A UK licenced pilot can receive training at an EASA* approved or declared training school towards a UK licence or rating. *Refers to an existing EASA member state, ie not the UK.
Any pilot holding a UK Examiner Certificate may continue to conduct Tests, Checks and/or Assessments of Competence for UK licence holders only.