Seven replica WWI aircraft have arrived in France for a formation flypast at the Vimy Ridge Centennial event in April.
The aircraft were transported from the Canadian Museum of Flight aboard a Royal Canadian Air Force (RCAF) Globemaster III. The two Sopwith Pups, four Nieuport 11s, and one Royal Aircraft Factory SE5 will be flown by a volunteer team of ex-military pilots in what's become known as the 'Vimy Flight'.
The Sopwith Pup replicas, built by Canadian Museum of Flight volunteers along with air cadets, will be used for static displays because of recent engine swaps. The Nieuport 11 and the SE5 replicas will be used for various flybys in France in the days up to and including the main ceremony on 9 April.
In addition, an RCAF pilot will fly one of the replica Nieuport 11s in the historic flypast during the main ceremony. Captain Brent Handy from 15 Wing Moose Jaw, Saskatchewan, is a former Snowbirds pilot and former CF-188 Hornet pilot who, outside his military duties, also flies a Pitts Special aerobatic biplane on the North American airshow circuit.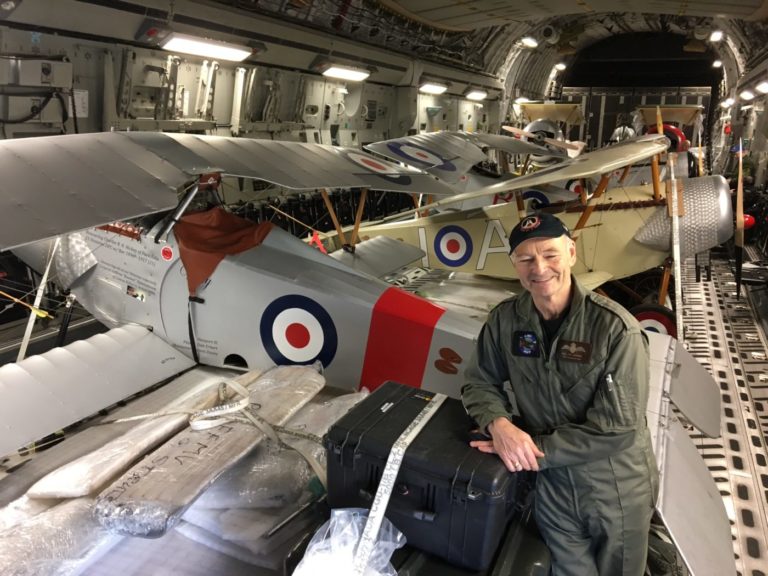 "I'm anxious about the weather," said Allan Snowie, a former Royal Canadian navy pilot and team lead for Vimy Flight. "I'm excited about the flying." Snow fell during the 1917 battle for Vimy Ridge so the team is hoping for more spring-like weather.
World leaders including Canada's prime minister Justin Trudeau and French President Francois Hollande will be attending the main event. Canadian forces played a vital role in the battle.
The photos below are from the RCAF and Vimy Flight, and show the WWI replicas being loaded and being prepared on arrival in France: