Tatenhill Aviation and volunteers from East Staffordshire Flying Club based at Tatenhill (EGBM) are working together to reopen runway 04/22.
"We now have several LAA aircraft that are not tolerant of crosswinds and struggle to make a successful and safe approach and landing when there is a crosswind on our only runway 26/08," said Neil Houghton, chairman of the club.
"Recognising the problem and along with providing assistance to the taildragger community, it was decided that the members of ESFC could lend assistance in clearing the abundance of weeds and bracken that has built up since the runway was closed around ten years ago," continued Neil.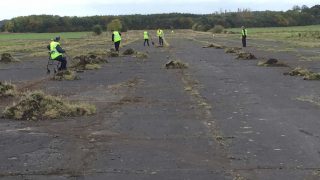 The runway was cleared and an initial inspection has taken place which revealed that the top surface tarmac had deteriorated to a point that it was beyond repair. A JCB has now been brought in to scrape off the top surface and reveal the underlying concrete which appears to be in good condition.
Repairs will be made to the concrete shortly. The plan is to reopen the runway with an estimated length of 500 metres by 20 metres by the end of this year.
LINK
Tatenhill Aviation