SkyDemon users will shortly be able to display signals broadcast by Flarm-equipped gliders, using a SkyEcho 2 ADS-B device.
Tim Dawson, boss of SkyDemon, said, "Our agreement means that the SkyEcho 2 can receive the Flarm signals and pass them to SkyDemon in their raw form. We then decode them and feed the telemetry from the Flarm aircraft into our normal collision avoidance algorithms.
"As the pilot, you won't need to know or care whether it's an ADSB or a Flarm signal that has been received – you'll be warned about any conflict regardless.
"With a good proportion of the glider fleet throughout Europe emitting Flarm signals, we want to be able to receive these signals and avoid getting too close to one."
The add-on will cost SkyDemon users who opt for it around £30 per year inc VAT, most of which goes to Flarm for licensing the functionality.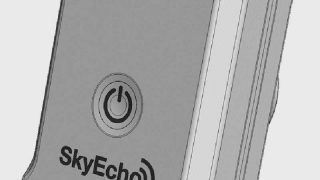 uAvionix, manufacturer of the SkyEcho ADS-B device, will start delivering SkyECho 2 carrying the Flarm capability within a few weeks. Existing devices can be upgraded with a firmware download at no cost. The next version of SkyDemon will contain the Flarm decoding ability.