The renowned British microlight manufacturer P&M Aviation, which went into administration earlier this year, has been bought by a company in India.
Albatross Flying Systems of Bangolore, India is an established manufacturer and distributor of microlight and sport aviation aircraft.
From the administrator's report, it appears Albatross paid £113,250 for both the tangible assets, including aircraft spares with an estimated retail value of £270,000, and the goodwill and intellectual property (IP) which was valued at £40,000.
One other bid from the UK was made, according to the administrator's report (available from Companies House), but the bidder declined to raise his offer. Caernafon Airport is reported to have been interested.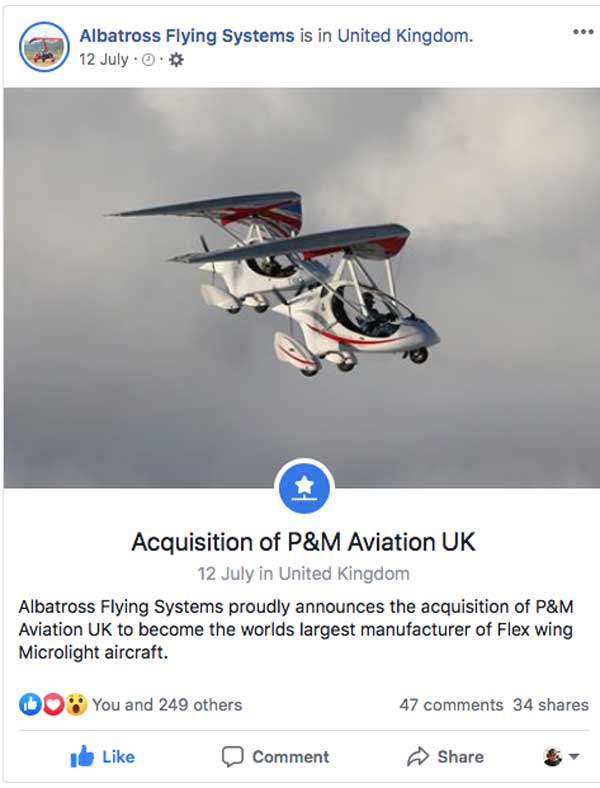 Javad Hassan, founder and managing director of Albatross Flying Systems, says he is "committed to keeping the world beating range of P&M products alive and fully supported".
"Restructuring will be necessary to achieve a sustainable manufacturing base and we are already in discussions with the UK authorities to achieve the necessary approvals as quickly as possible," he said.
"Although based in India, we have long standing ties to the UK and a local presence will be maintained to enable smooth communication between the company and its UK customer base as well as the BMAA and the CAA.
"We anticipate announcing the new UK distributor for Pegasus Sport Aircraft within the next couple of weeks.
"We wish to assure all interested parties, that we own all the assets & IP of P&M Aviation outright. This includes all manufacturing rights, intellectual property, designs and tooling.
"We intend that P&M products will retain supported Type Approved status, therefore repairs or work carried out using parts supplied from any other source will render the aircraft unairworthy, unless approved under an authorized modification scheme."