A huge block of new controlled airspace serving Farnborough Airport comes into effect from 27 February 2020.
The contentious airspace will affect pilots of all types of aircraft, VFR and IFR, flying in the congested and airspace-heavy skies of south-east England. The new airspace fits in between Heathrow, Gatwick and Solent Control Areas (CTAs) offering multiple opportunities for pilots to infringe.
To help smooth the introduction of the airspace, the CAA has issued "a comprehensive guide to the Class D and Class E Farnborough controlled airspace" through its Airspace & Safety website.
The new Farnborough controlled airspace consists of two class D Control Zone (CTR) around the aerodrome, seven Class D Control Areas (CTAs) and two Class E Control Areas (CTAs).
Electronic conspicuity for the Class E airspace is to be introduced as a transponder mandatory zone (TMZ). A speed limit of 250 knots IAS applies below FL100. These new linked structures adjoin the established London Terminal Manoeuvring Area (LTMA) CAS.
Click on image below for a bigger version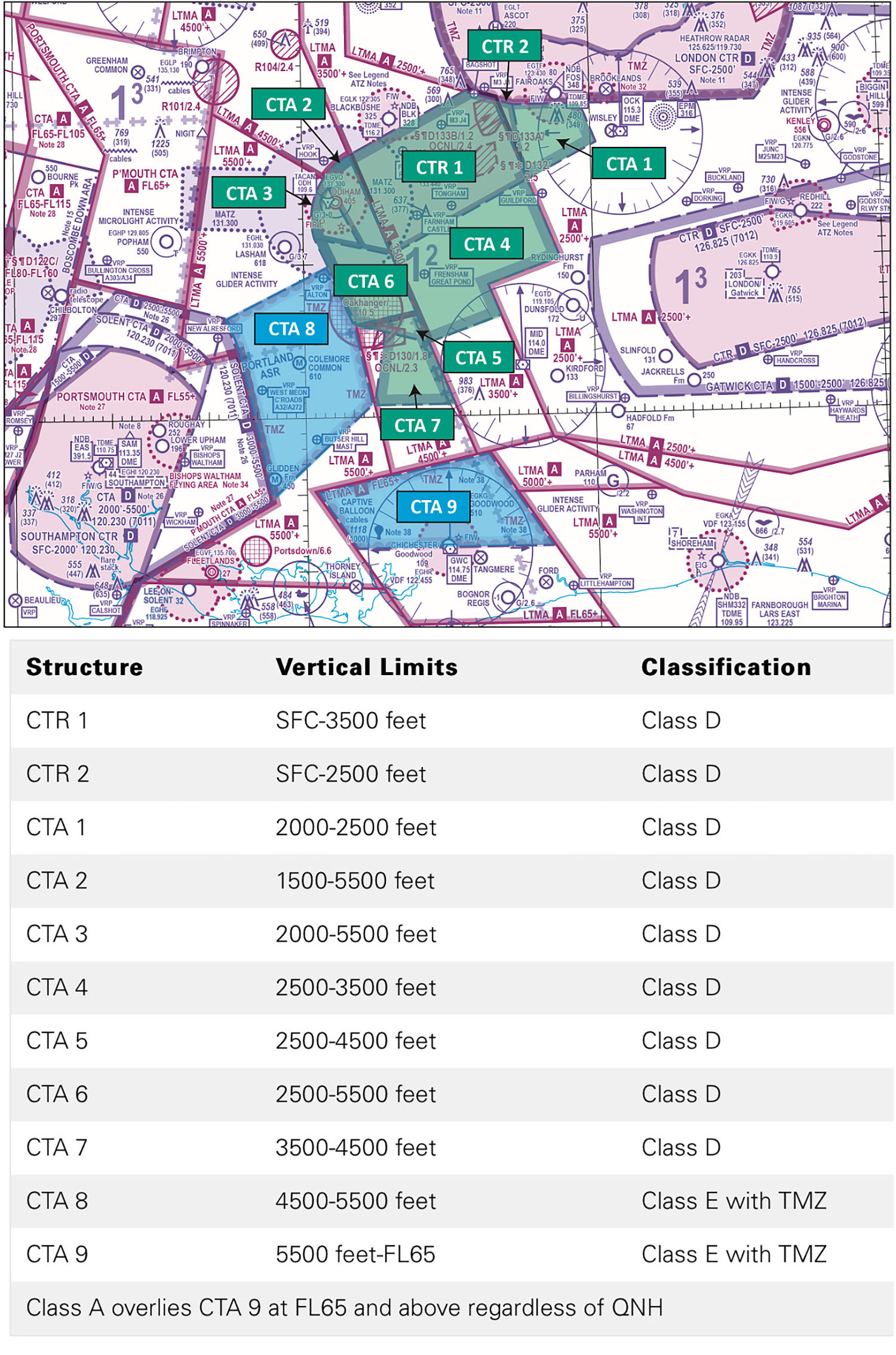 Key points made by the CAA (this is not the complete list):
IFR, SVFR and VFR flights are permitted within Class D airspace
An ATC clearance is needed and compliance with ATC instructions is mandatory
Flights operating under VFR are given traffic information in respect of all other flights and traffic avoidance advice is available upon request.
Class E airspace is controlled airspace. Compared with Class G airspace, there is a greater likelihood of encountering faster and heavier aircraft types within Class E airspace
Pilots operating VFR are not issued with an ATC clearance to operate within class E airspace.
Pilots operating VFR within Class E airspace are not required to receive an Air Traffic Service, but it is recommended that such pilots seek to obtain a Basic Service or a Traffic Service from Farnborough ATC when operating in either CTA 8 or 9
All aircraft within the TMZ must be equipped with Mode S transponders with altitude reporting, or if unable to meet the transponder requirements, obtain an approval to enter TMZ airspace from the controlling Air Traffic Service Unit prior to entry.  An approval is not a clearance.
Class D transit
Pilots requesting to transit Class D airspace should call Farnborough Radar on 125.250 MHz.
Pilots wishing to transit Class E airspace (CTA-8 and CTA-9) under VFR in communication with ATC should call Farnborough LARS on 125.250 MHz. Pilots wishing to transit under IFR should call Farnborough Radar on 133.440MHz.
Other Aerodromes
Blackbushe Airport is to the north of CTR-1 and part of its ATZ lies within the Class D CTR. Operational interactions with Farnborough airport and Local Flying Area procedures are specified in UK AIP AD2 EGLK-2.22 Flight Procedures.
Fairoaks Aerodrome IFR inbounds form the ATS route network will route via a Farnborough standard arrival route (STAR). Outbound aircraft will be managed in accordance with information specified in UK AIP AD2 EGTF-2.22 Flight Procedures. Fairoaks airfield southerly departures need to be aware of possible ACAS events against Farnborough IFR arrivals in CTA-1.
Farnborough controlled airspace may additionally include IFR operations from RAF Odiham, Lasham, Dunsfold, Goodwood and Shoreham.
Royal Flights
AIC Y101/2018 will be withdrawn with the introduction of the new controlled airspace. Then, a NOTAM will be issued to promulgate the reclassification of the Class E CTA-8 and/or CTA-9 as Class D CAS when Royal Flights are arriving/departing Farnborough aerodrome.
Visual Reference Points
The VRPs at Hook, Alton and Guildford all act as points to indicate the boundaries of Class D airspace; the 3 VRPs lay close to, but outside, controlled airspace.  Other VRPs are listed in the UK AIP EGLF AD2.22.
Further information
The CAA's guide is here
There is a detailed guide here as a pdf
A Quick Reminder A5 card is here as a pdf
Discuss this on the FLYER Forum here