The second round of the final Red Bull Air Race Championhip took place at the weekend in Kazan, Russia with Japanese pilot Yoshihide 'Yoshi' Muroya winning for the second time.
Second place went to Australia's Matt Hall while Muroya's top rival, defending World Champion Martin Sonka of the Czech Republic, kept himself in the hunt with third on the race podium.
After defeating Qualifying winner Mika Brageot of France in the Round of 8, Muroya flew first in the Final 4 and served up a lap time of 1m 03.496s.
Flying next, Sonka could manage only 1m 04.238s, and François Le Vot of France, in his first Final 4 since 2016, was plagued by penalties. It all came down to Hall, a three-time runner-up in the World Championship.
Hall's run didn't disappoint. His first split time was barely behind Muroya, then at one point he slid to more than a half-second back, but somehow the Aussie made up ground, finishing his run just 0.185s off Muroya.
Britain's Ben Murphy finished 5th. Ben tweeted:
5th place finish in #Kazan!! Really happy to lay down 2 penalty free runs on race day and put some good points on the board. Well done @thebladesteam – you guys were awesome!!! 🇬🇧😝🤜 @Redbullairrace @aerobytes @ZyradCables pic.twitter.com/HRi876FPgS

— Ben Murphy 🇬🇧 (@24BenMurphy) June 16, 2019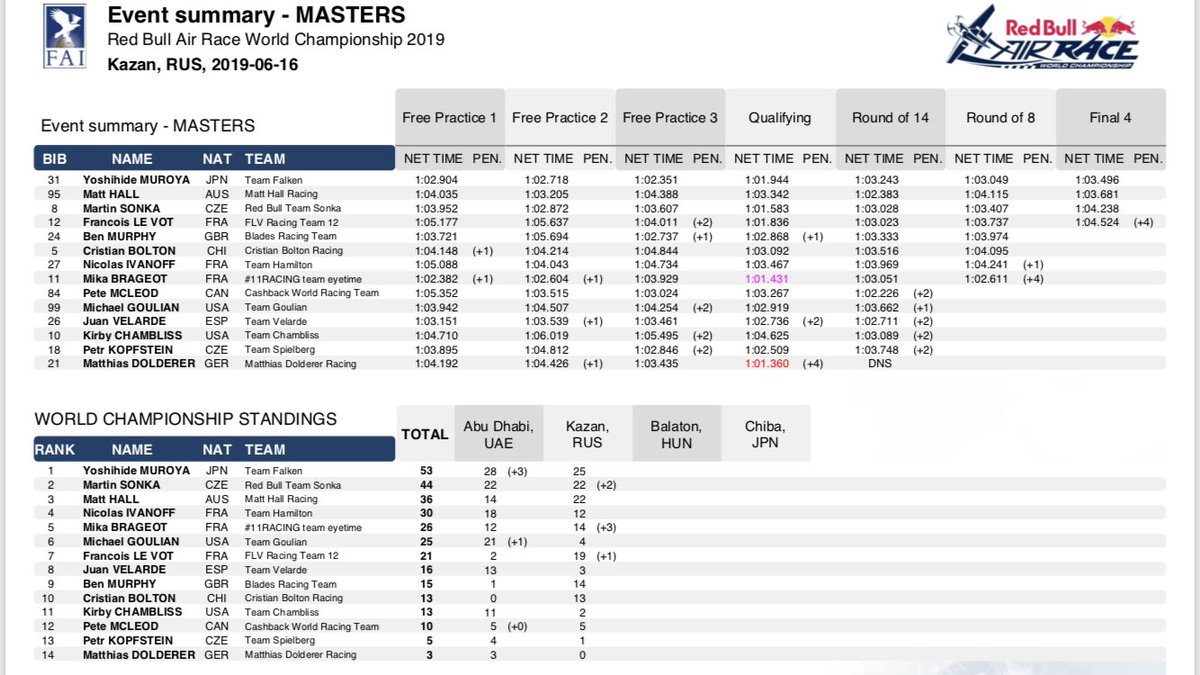 With a shortened four-race calendar in 2019, the race in Kazan marked the midpoint of the season. The World Championship standings heading into the second half of the campaign see Muroya with a tally of 53 points, a nine-point advantage over second-place Sonka. At 36 points, Hall has jumped up to third overall.
Muroya said, "We had a really good feeling from the beginning here. Today the wind had shifted, so it was very difficult to find the right line, but my tactician Ben helped me.
"The team is working really well. Everybody is working hard and I can be relaxed, so I can just fly like a robot. The plane is really fast and I simply do my job. Today we were so close together on the timesheet and the points are still close in the standings, so I can't relax for the next race."
The third and penultimate stop of the 2019 Red Bull Air Race World Championship will take place at the city of Zamárdi on the shores of Lake Balaton, Hungary, from 13-14 July.
Results Master Class, Kazan 2019
1. Yoshihide Muroya (JPN)
2. Matt Hall (AUS)
3. Martin Sonka (CZE)
4. François Le Vot (FRA)
5. Ben Murphy (GBR)
6. Cristian Bolton (CHI)
7. Nicolas Ivanoff (FRA)
8. Mika Brageot (FRA)
9. Pete McLeod (CAN)
10. Michael Goulian (USA)
11. Juan Velarde (ESP)
12. Kirby Chambliss (USA)
13. Petr Kopfstein (CZE)
14. Matthias Dolderer (GER)
World Championship standings after two races
1. Yoshihide Muroya (JPN) 53 points
2. Martin Sonka (CZE) 44pts
3. Matt Hall (AUS) 36 pts
4. Nicolas Ivanoff (FRA) 30 pts
5. Mika Brageot (FRA) 26 pts
6. Michael Goulian (USA) 25 pts
7. François Le Vot (FRA) 21 pts
8. Juan Velarde (ESP) 16 pts
9. Ben Murphy (GBR) 15 pts
10. Cristian Bolton (CHI) 13 pts
11. Kirby Chambliss (USA) 13 pts
12. Pete McLeod (CAN) 10 pts
13. Petr Kopfstein (CZE) 5 pts
14. Matthias Dolderer (GER) 3 pts