Italian avionics manufacturer AvMap has received approval from the UK Light Aircraft Association (LAA) for use of the AvMap Ultra EFIS as electronic backup instrument for LAA aircraft.
Where a backup ASI, altimeter and compass are required in LAA aircraft, AvMap Ultra EFIS may be used as electronic backup instrument without further reference to LAA engineering, although an LAA inspector will need to make a Permit Maintenance Release (PMR) entry in the airframe logbook quoting the Technical Leaflet reference TL 3.20.
To comply with the approval, AvMap Ultra EFIS requires a separate backup battery and software version 5.21.6R.
Software version 5.21.6R was introduced by AvMap in April 2019 in order to improve the situational awareness during flight by restyling the HSI page for better readability of ASI and altimeter information.
"The LAA approval of the AvMap Ultra EFIS as electronic backup instrument in LAA aircraft in UK confirms our quality standards," said Simone Lazzarini, AvMap director.
"Our goal is to gratify the ultralight and light sport aircraft market designing innovative avionics instruments that are exceptionally light, reliable and inexpensive."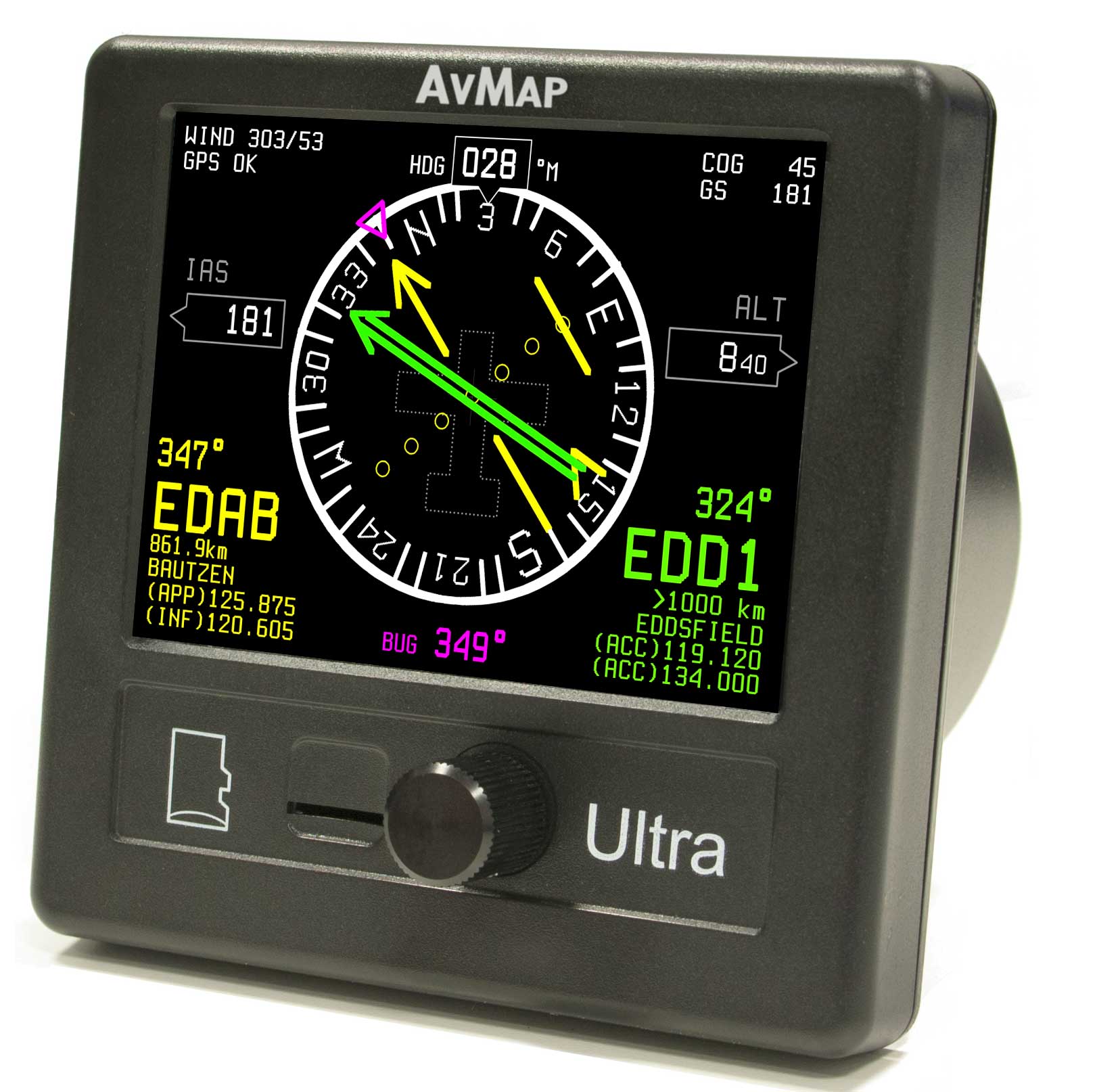 The £880 AvMap Ultra EFIS has a 3.5in sunlight readable LCD display. Overall dimensions are 3.74 x 3.74 x 3.07 in/ 95 x 95 x 78 mm), with a weight of 8.1oz/ 230gm). Power consumption at 12V DC is 100mA nominal.
Fitting in a 3.125in/79.5mm) standard panel hole, the AvMap Ultra EFIS can connected to its GPS receiver and to the aircraft pitot-static system to provide ADAHRS. Two RS232 serial connections are available for sending out GPS data to external devices such as an autopilot, transponder, navigation or EFIS system.
The AvMap Ultra EFIS can display two different pages: PFD and HSI.
The PFD page displays:
Altimeter
Airspeed indicator (ASI)
Compass heading
Artificial horizon (pitch/roll)
Side Slip indicator
Vertical Speed indicator
G-meter
Trajectory vector (flight-path vector).
The HSI Screen displays:
ASI
Altimeter
Compass heading
Horizontal situation indicator with CDI and to/from flag, distance, directions, and radials relative to selected navigation points
GPS course over ground
GPS ground speed and approximate wind data.