Human powered planes took to the sky again over 20-28 July 20 in Hampshire at Lasham Airfield for the Eighth Annual Icarus Cup competition at the BHPFC Rally 2019.
Competing this year were 2013 champion team Betterfly (led by Matt Watts this year), three-time champion Airglow (led by Roger Warren), and three-time champion team Aerocycle (led by Alec Proudfoot), who brought two aircraft this time to compete under separate entries – Aerocycle 301 and Aerocycle 302 (lighter and longer wingspan version).
Also notable was the construction of a fifth aircraft prototype during the Rally, a unique HPA/paraglider hybrid named "The Polyester Parrot" designed by Ioan Hill who embarked on his idea merely 80 days before the start of competition.
Weather conditions started out blustery and rainy and stayed challenging all week. This limited the ability of former champion Betterfly to compete for the cup this week, as it has a lighter wing loading and is more suited for lighter wind conditions than the other competitors.
Things finally started rolling on Tuesday with good weather in the morning and points getting scored by team Betterfly and team Aerocycle.  Wednesday evening also had some point scoring flights. Thursday morning saw team Airglow finally jump into the fray following damage repairs.
Several new pilots got their first HPA flights this year including long-time Aerocycle constructors Ges Potter and Rachael Archenhold, experienced pilot of other craft including hang gliders, Dave Mantle, Oliver Paice, and first time pilot visiting from America Liam Sullivan.
Liam's first flight was an impressive 727 metres and 1 min 16 sec duration. Rachael's excellent second flight set a new distance and duration record in an HPA by a female UK pilot, with a flight of 57 seconds and 420m distance!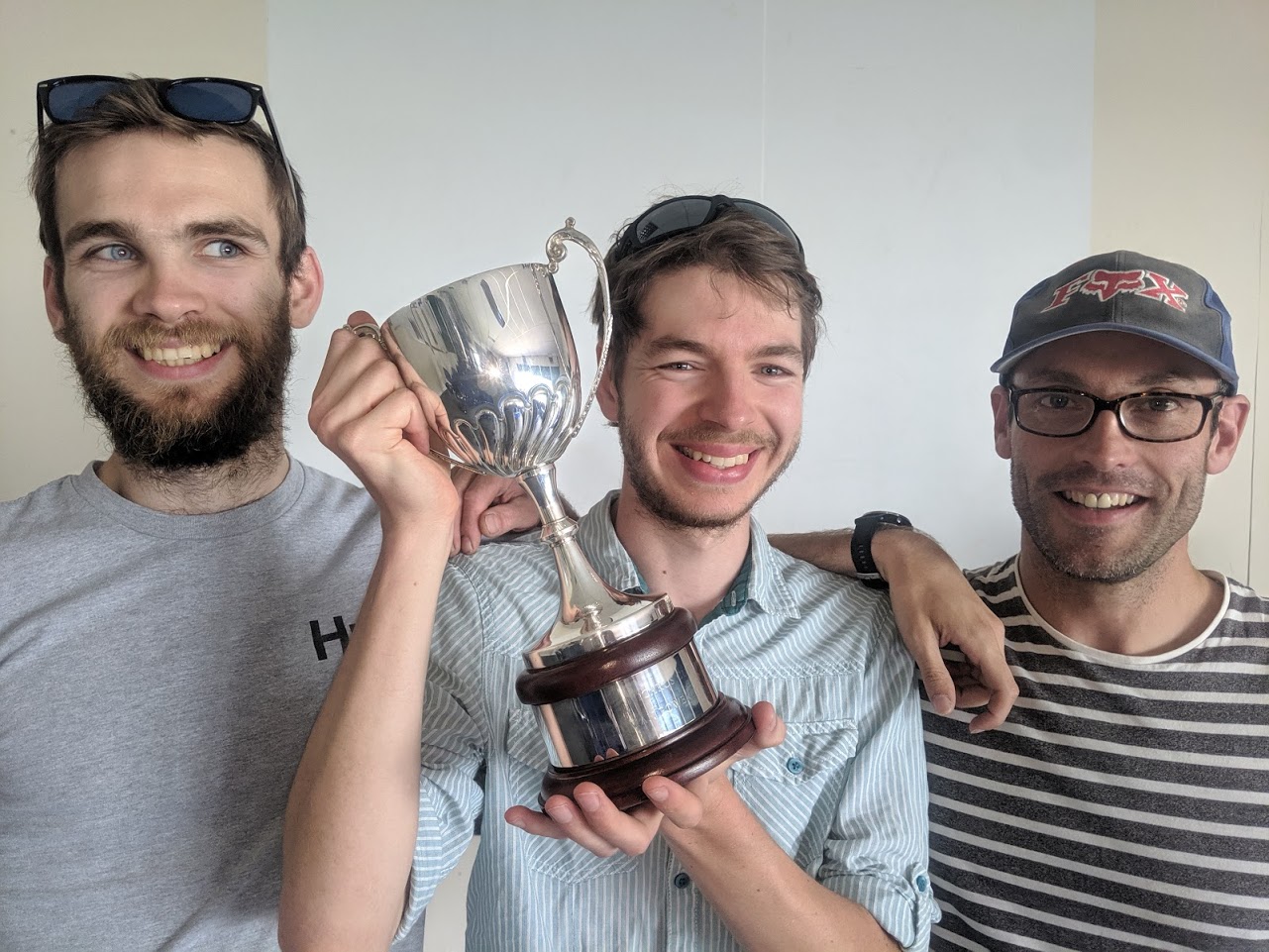 The competition included an array of tasks to give points for both short field/grass field and landing accuracy events, as well as longer duration and agility tasks including slalom and turns around a triangle.
The events include: Duration, 200m Time Trial (speed), 1km Time Trial, Slalom, Distance around a Triangular Course, Unassisted Take-off Performance, Landing Accuracy, Takeoff from Grass, and 200m Time Trial with Takeoff from Grass.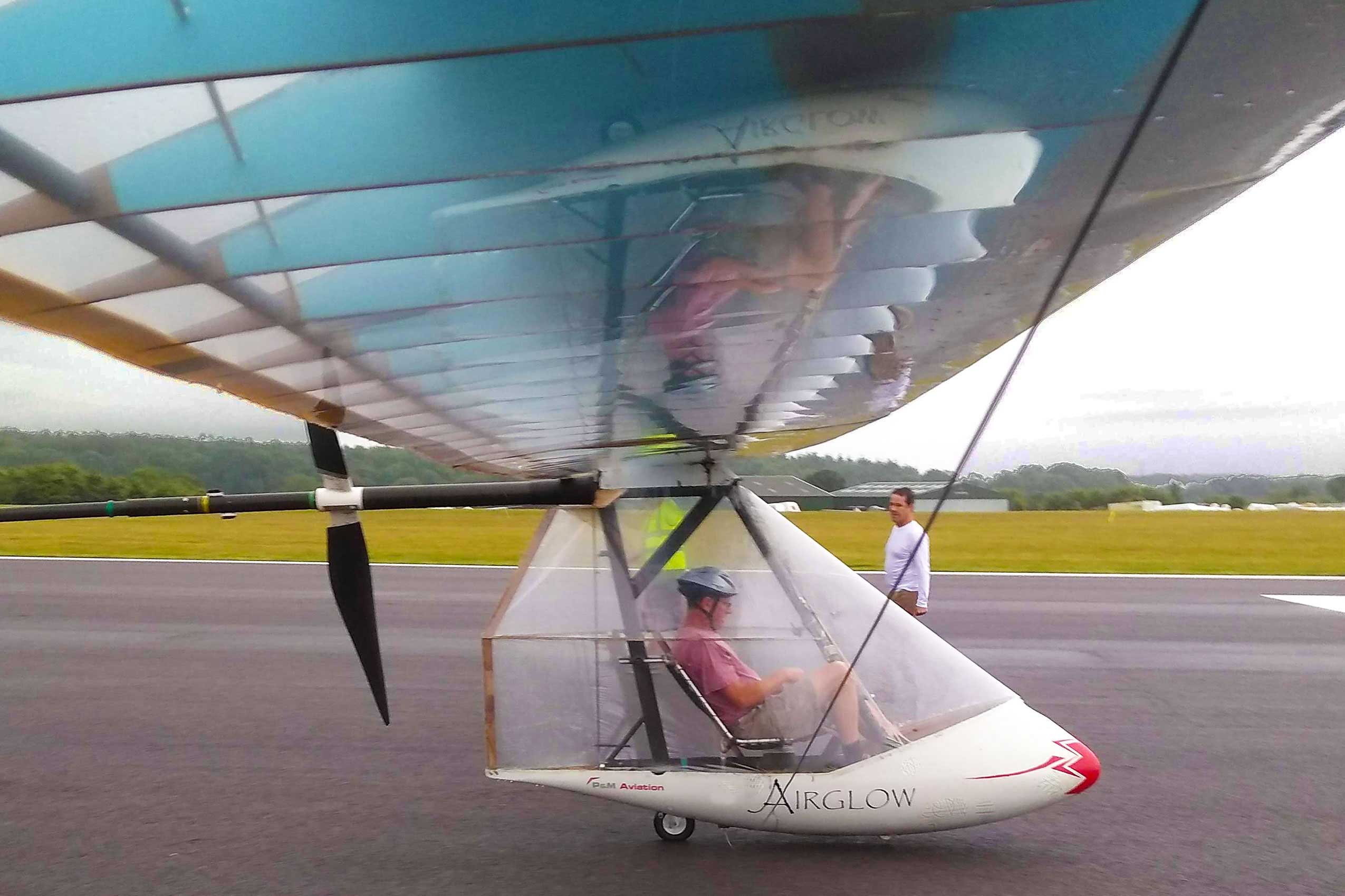 Airglow's late start meant it was playing catchup, but a great 1km flight by John Boyce on Friday evening kept the team in the mix.  In an attempt to score as many points as possible to keep up in the team prize competition, he did the 500m slalom on the first half of the 1km course, which sapped his strength and made completing the 1km even harder, but he managed to push though.
John said, "Many people have done this task before me but at 59 years old this was a huge personal accomplishment and I am still buzzing from the experience a week later. The congratulations from my team mates, and opposition pilots that evening were overwhelming, and a testament to the kind of genuine sportsmanship that this most bizarre of sports generates.  Will I fly it again next year at 60?  Wait and see!"
Full results and more at the British Human Powered Flying Club