Advanced new features and professional IFR navigation tools are now available within Garmin's Pilot navigation and flight-following app.
Garmin says that pilots can experience a near-seamless transition between Garmin avionics and Garmin Pilot when performing common functions.
Carl Wolf, vice president of aviation sales and marketing, said, "This latest upgrade gives pilots the ability to load complex routes and procedures into the app just as they would within a Garmin integrated flight deck, offering added convenience, time savings and confidence when transitioning between multiple Garmin products in the cockpit."
With the latest Garmin Pilot upgrade, pilots have the option to load or activate departures, arrivals and instrument approach procedures. Published holds that are included as part of the missed approach are also added to the flight plan.
When pilots activate a procedure with published altitude constraints, those altitudes are automatically incorporated into a flight plan within the app. Pilots can also choose to manually add altitude constraints to a flight plan. Additionally, approach procedures with radius-to-fix (RF) legs can be activated within Garmin Pilot.
Using the vertical planning feature within Garmin Pilot, pilots can more easily input and adhere to crossing restrictions in a flight plan.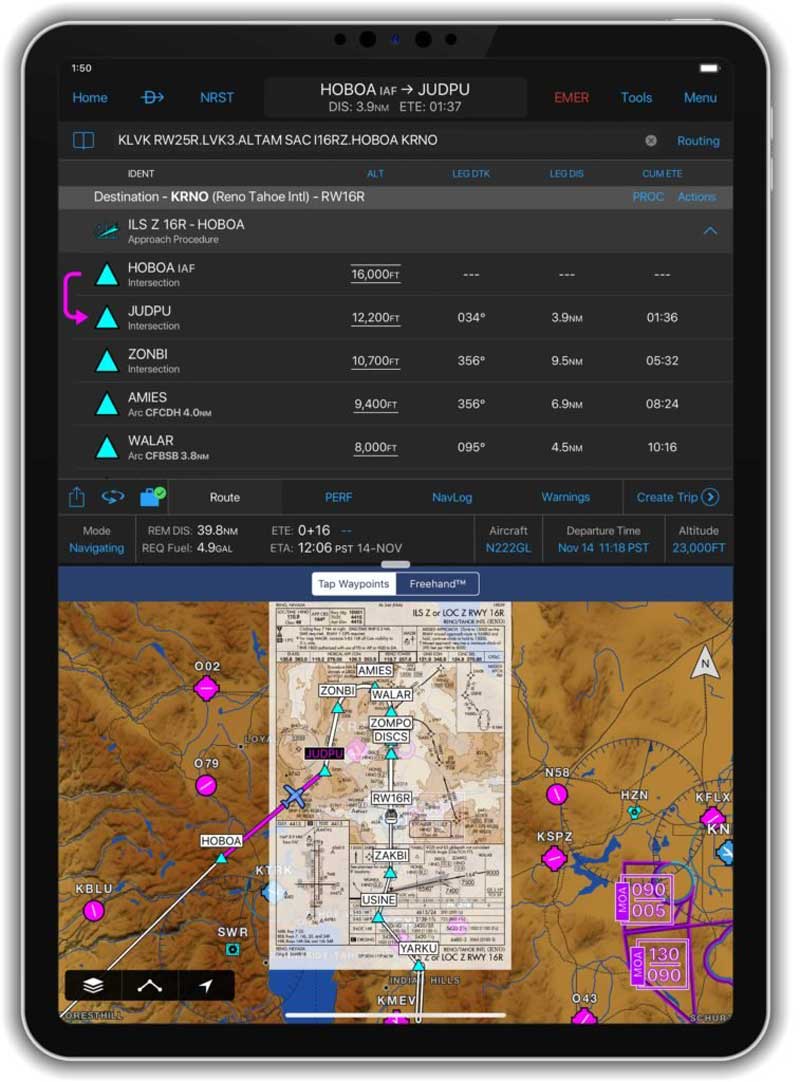 For example, pilots can manually input a crossing restriction over a specific navigational aid or GPS waypoint. With these new features, pilots can optimise their flight planning and fuel calculations.
Pilots can now more easily visualise departures, arrivals and instrument approach procedures prior to a flight using the visual procedure selector.
There's also the flexibility to build customised holding patterns. These holds may be created over an existing fix or over a user-defined waypoint and then inserted into a flight plan.
Route data packages within Garmin Pilot help to ensure pilots have downloaded all of the data required for a flight plan.
Once a flight plan is entered, pilots can review the data that is downloaded to their mobile device. If information is missing for a particular flight, Garmin Pilot displays an option to download additional data.
Route data packages are also available worldwide to help ensure pilots have all of the data they need prior to every flight. Databases that are included within the worldwide route data packages include navigation data, instrument approach procedures, SafeTaxi, terrain, obstacles and more.
The newest release of Garmin Pilot on Apple mobile devices is available immediately. For new customers, Garmin Pilot is available in the Apple App Store as a free download for the first 30 days. After the 30-day trial period, customers may purchase an annual subscription starting at $79.99.