Diamond Aircraft and Siemens have flown a jointly developed multi-engine hybrid electric aircraft.
The first flight took place on 31 October 2018 at Diamond Aircraft's headquarters in Wiener Neustadt, Austria.
The aircraft is a modified Diamond DA40 with one diesel combustion engine powering two independent electric drive systems consisting of one motor, battery and inverter each.
Two electric motors are mounted on a forward canard, which combined can generate 150kW of take-off power.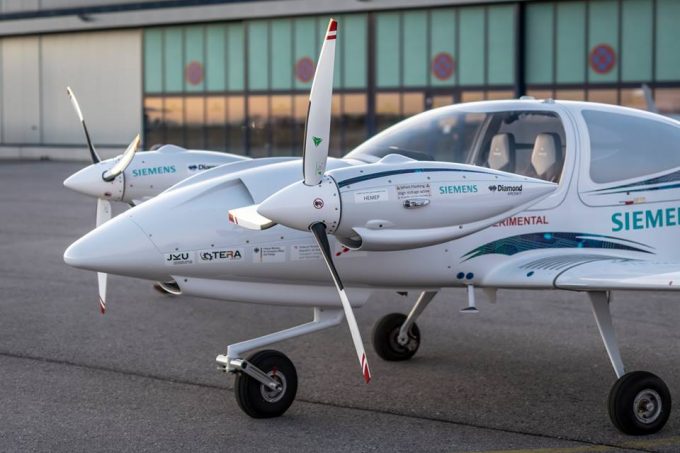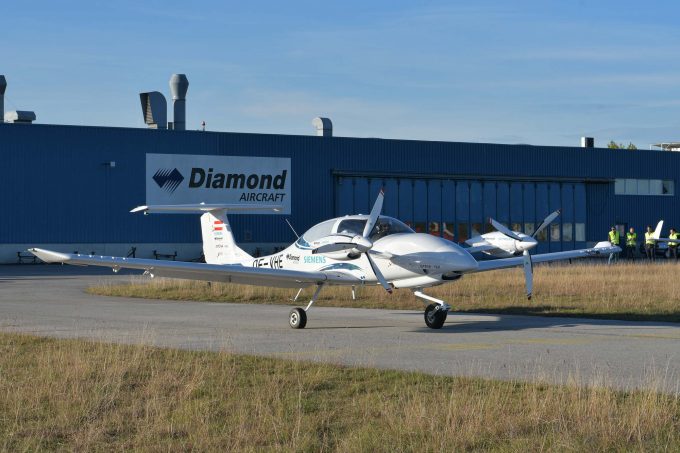 The diesel generator is located in the nose of the aircraft and can provide up to 110kW of power. Two batteries with 12kWh each are mounted in the rear passenger compartment, and act as an energy storage buffer. With a dedicated power lever, the pilot can control the energy flow between the generator, batteries and motor.
The pilot can select either pure electric mode (generator off), cruise mode (generator provides all power to the motor), and charge mode (generator charges the batteries).
Pure electric, the aircraft has an endurance of approximately 30 minutes. The hybrid system extends this to 5 hours.
"This is the first serial-hybrid electric plane in the world with two electrically powered free-stream propellers and one combustion engine," said Dr Frank Anton, head of electric aircraft at Siemens.
"A distributed propulsion architecture opens entirely new possibilities for the design of highly efficient planes – and we have now proven its technical feasibility."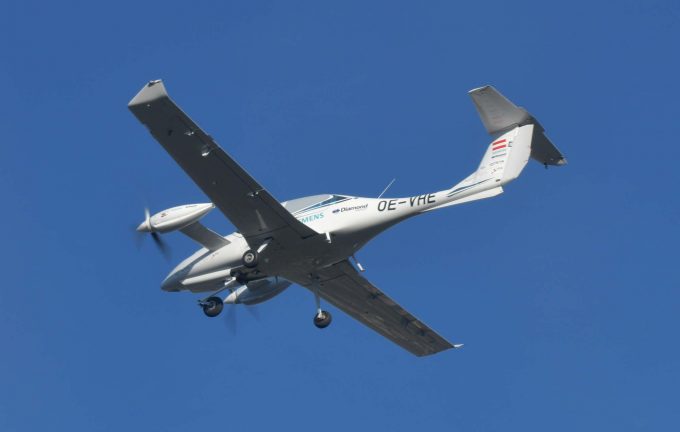 Siemens was responsible for the design and development of the electric powertrain. Diamond Aircraft was responsible for the reconfiguration of the aircraft and installation of the hybrid-electric powertrain.
During the 20-minute first flight, the aircraft demonstrated all modes of operation. This included pure hybrid, charging flight and full electric flight. In this last configuration, the aircraft was able to fly pure electric and produces zero emissions.
Further a full electric takeoff was demonstrated which can lead to a significantly lower noise footprint.
Ingmar Mayerbuch, Head of Flight Test at Diamond Aircraft, who piloted the aircraft said,"The first flight exceeded all our expectations. The combination of the hybrid powertrain and the configuration of the aircraft is just perfect. We reached 130 knots at medium power output and climbed to an altitude of 3,000 feet."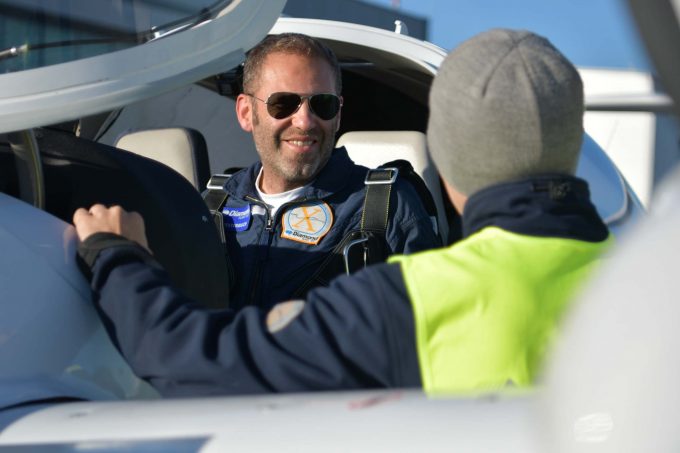 The objective of future flight tests will be to determine the exact efficiency increase achieved in comparison to similar non-electric aircraft. Also the noise footprint will be determined. Further, future tests will gather knowledge on the practical operation of hybrid aircraft. Different hybrid modes of operation will be tested and its effect on efficiency, range, and energy consumption will be determined.
"Serial-hybrid electric propulsion systems and distributed propulsion architectures for us are the key to a more sustainable flight future also in higher power classes," said Dr Anton.
"The Diamond flying testbed will help us to understand the requirements for these new propulsion technologies and to be prepared for the challenges of larger-scale applications."