VIDEO This exquisite two-seat microlight version of the Czech L-39 Albatross training jet is the result of 17 years of work, 200 engineers and £1.7 million of investment… and it had its first flight just a few days ago on 4 April. It is on the stand of Czech aircraft maker Jihlavan at AERO Friedrichshafen.
The UL-39 Albi, as it's called, is a collaboration between Jihlavan and Prague University's Faculty of Mechanical Engineering. But it's not simply a student project. This is the first prototype and it's intended to develop the aircraft further and put it into production. One market is private aviation but another is military. The production price is estimated at 5 million CRK (£146,000).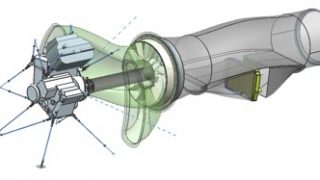 The Albi's designers at Prague University say that because the engine is a 'blower' ducted fan, rather than a conventional jet, the aircraft's heat 'signature' is almost zero making it hard to detect and shoot down.
The airframe is made from carbon fibre composite, and this prototype is powered by a 1,000cc 193bhp BMW four-cylinder dohc motorcycle engine driving the blower. It's said to weigh just 320kg, have a max takeoff weight of 472.5kg, be capable of 200km/h (125mph) and have endurance of two hours. The designers say they hope to increase the max speed to 300km/h. Dimensions are: wingspan 7.22 metres, length 7.49 metres and height 2.99 metres.