Blades aerobatic display pilot, Kirsty Murphy shares her story of this remarkable aircraft: The Tornado.
The Tornado ground attack aircraft has played an important part of my family's life since I was a teenager. My Dad was a navigator on the GR1 in the late 80s and 90s, and then I was posted to the GR4 as a pilot in 2006.
The Tornado played a pivotal role in my teenage years, since spending time during the school holidays on my Dad's squadron (27 Sqn) at RAF Marham cemented my desire to join the RAF.
My Dad's subsequent participation in Gulf War 1 and the fact he was shot down by a missile in the early days of the conflict has ensured that the bond between myself, my Dad and the other service personnel involved in the GR1 at that time is forever strong.
And in fact, at the beginning of March this year, I will once again join my parents and the other Gulf War 1 PoWs for their annual reunion.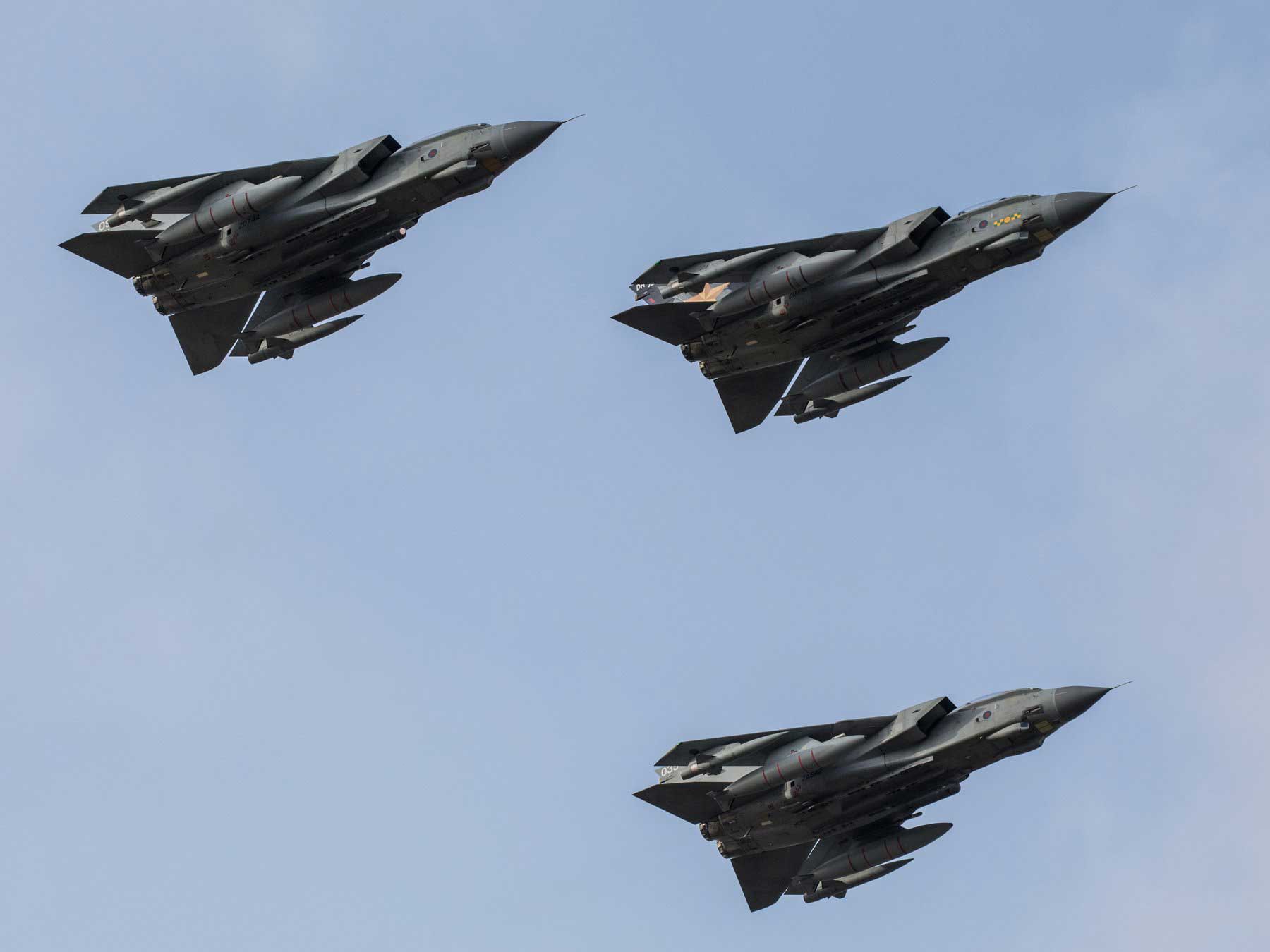 Both my Dad and I have very fond memories of the aircraft. We both lived for flying at low level, and since we both have a love of the mountains, there was nothing better for either of us than a low-level flight through Scotland or the Lake District. That said, there wasn't much time for sight seeing or gazing out of the window!
In my Dad's day, the aircraft's navigational systems relied on an inertial system. At the beginning of the flight, whilst still parked inside your concrete hangar, you told the kit exactly what latitude and longitude it was at. Then using gyros, from that point onwards, the aircraft would constantly compute its position using data on how far it had moved and in what direction since it last computed it.
Over a period of time, the aircraft's calculated position would be slightly in error from its real position. So at regular intervals, the navigator would have to update the calculated position, using the radar, to 'fix' the aircraft's position on a significant feature and then off it would go again, recalculating its position.
Don't forget, that it was not as if the navigator had nothing else to do on a flight other than keep the navigational equipment up to date. Enemy aircraft (or simulated ones) were out there trying to shoot you down!
Luckily, by the time I joined the GR4, things had moved on and GPS made life a whole world easier!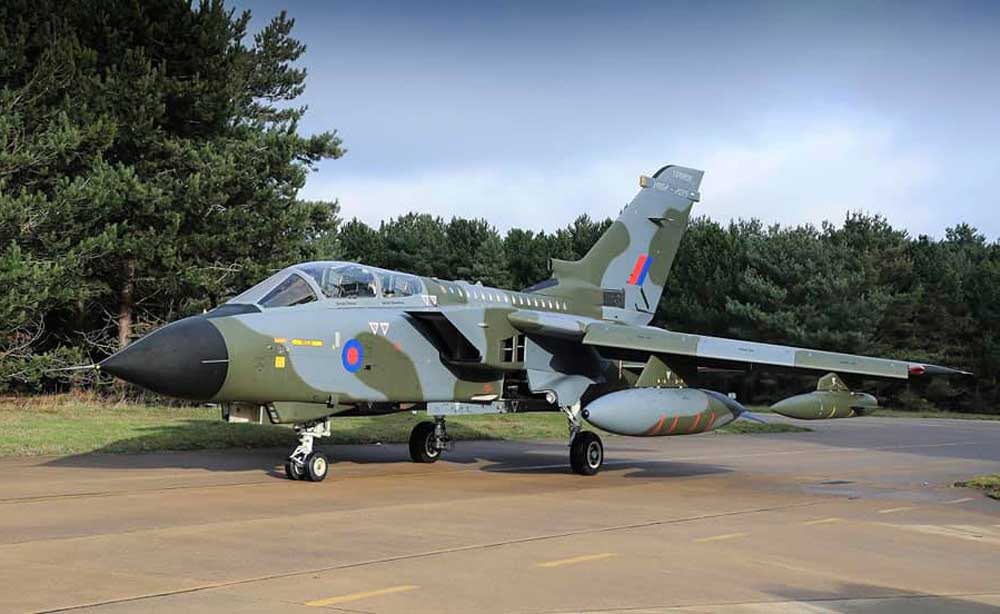 But now the challenge wasn't navigating to the target. The aircraft could now carry a host of complex weapons and sensors and we had to be trained and kept current in all of them. At the time, my brain was full of weapon modes, aircraft limitations when flying different weapons and electronic defence systems.
Tactics had changed too. My Dad's experience of Gulf War 1 in the GR1 involved flying, mostly at night, at extremely low altitude (100ft) right into range of Iraqi air defences to deliver his weapons at enemy airfields to deny them the option of getting airborne to fight.
My experience of operations in Iraq were centred on supporting the coalition ground troops, which we did at high level to remain outside the range of shoulder launched surface to air missiles.
There were different types of taskings. One day we might circle above a location and watch the activity on the ground, talking constantly to a 'Forward Air Controller' about what we saw, and another day we might spend the time searching up a route for IEDs ahead of a large convoy.
Occasionally we descended to extremely low altitude to deliver a 'show of force'. The idea was that an assembled group, up to no good, might realise that they were being watched from above if an aircraft suddenly flew very low and very fast over their heads, and decide to stop whatever they were doing or planning to do.
I felt that my experience of Iraq was incomparable to my Dad's and the GR1 force at that time. The only time I felt some real connection to it was flying over Tallil airbase at 10,000ft on my first mission and realising that somewhere down there, buried in the sand, was my Dad's mangled GR1. And somewhere down there he had regained consciousness after his traumatic ejection at over 600mph and realised his injuries were so bad, that the only option was attract attention and deal with whatever they might do to him.
But there are less serious, happier memories too. My Dad flew in the Tornado GR1 display team in 1996 and, as a display pilot, I know what a satisfying job that is.
Another particularly satisfying skill for the pilot was air to air refuelling. The shape of the Tornado's nose affects the airflow around it as soon as you get close to the already-wobbling refuelling basket.
So, you would approach it, slowly, slowly, knowing full well that at the last minute, your 'perfect line-up' would be thwarted by an enormous wastepaper basket on the end of a huge hose pipe lunging around and threatening to break off your refuel probe! It was a great sport, and as the saying goes, 'you are only as good as your last refuel'.
Tornados refuel from an @RAFBrizeNorton Voyager during the first farewell flypast around the UK today #TornadoFarewell pic.twitter.com/puZQh5OBwo

— RAF View (@RAFView) February 19, 2019

As with any great experience in life, it is the people who make it. My Dad had also been a navigator instructor (and luckily seems to have been well liked and respected), and I had been an instructor before heading to the Tornado. Between us, we had trained an entire generation of Tornado pilots and navigators.
So wherever I have been with the Tornado, I always been with people who know me, or my Dad, and have made me feel welcome and at home.
But I am not the only one who feels like this. Every year, a couple of hundred ex-GR1/4 aircrew descend from all corners of the country on a certain (large) pub in London in the early afternoon and attempt to drink it dry by closing time, whilst regaling stories, catching up with old friends, and generally re-living all things Tornado. It's called 'FINFEST'. It is a sight to behold – and the noise is terrific.
But it's not just the aircrew that make the Tornado so fondly remembered. The groundcrew were incredible, from sorting out the gremlins in the electrical system and clobbering the weapon stations with a chock to make them work, to allowing me to join them on a day trip to the Rockies on hired Harley-Davidson motorcycles during a detachment to Calgary.
I have so many stories and experiences from my time on the GR4 but my all-out favourite memory is one specific flight. It was my final test flight to see if I had reached the standard required to lead a four-ship of Tornado on a simulated operational mission.
We were temporarily based at RAF Kinloss, just east of Inverness in Scotland. Our mission was to attack on an airfield on one of the Western Isles whilst being tracked and attacked by some enemy aircraft who had radars to help them see us.
The planning started at around 7am and it was extremely tense, a lot to do and not a lot of time to do it in. My navigator and I were in charge of another six aircrew and we needed everyone to pull their weight to make it happen.
We took off from Kinloss and soon got 'tapped by the enemy' so we split into two pairs and descended to operational low flying heights (100ft).
We fought our way together through the valleys, always trying to track towards our target and coordinating with the other pair. The mission also had other simulated aircraft involved and so our time bracket over the target was limited, so as not to affect other formation's airfield attacks. We couldn't just get there when we fancied it!
The whole flight passed in a heartbeat and before we knew it, we were back on the ground trying to remember what had happened for the debrief. After a hard debrief I was told I had passed! I was ecstatic, that feeling that only comes when you have had to push yourself further than you thought was possible. Amazing!
So, I will be sad to say farewell to the GR4. It wasn't just an aircraft to me, it was another family.
Since retiring from the RAF, Kirsty now flies with the Blades Aerobatic Team which is mostly comprised of former RAF Red Arrow pilots. Although a civilian display team, Kirsty and her colleagues stay true to their military heritage by supporting the RAF Benevolent Fund which celebrates its 100th birthday this year.
For more information about the Blades and the Benevolent Fund, visit www.theblades.com