WWII pilot Mary Ellis has died at her home in the Isle of Wight, aged 101.
Mary delivered more than 1,000 aircraft including Spitfires and Lancaster bombers, to frontline squadrons during the war as a member of the Air Transport Auxiliary (ATA).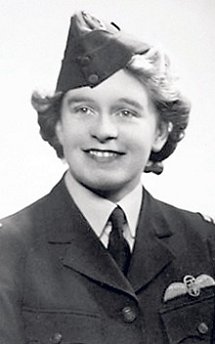 After the war, Mary moved to the Isle of Wight to take charge of Sandown Airport from 1950-70. When she wasn't flying, she took part in car rallies, racing an Allard sports car.
Mary married Don Ellis, also a pilot, in 1961. He died in 2009.
Graham Rose, chairman of the ATA Association, said, "Mary had been active until very recently including a visit to Number 10 Downing Street in May this year where she joined an RAF100 reception hosted by the Prime Minister. RAF cadets formed a guard of honour as Mary left Number 10.
"She also attended the London premiere of the film Spitfires only two weeks ago where she received a standing ovation. Mary was the Commodore of the ATA Association and was the last surviving UK female ATA pilot."
Earlier this year, Mary was awarded the Freedom of the Isle of Wight. Isle of Wight Council leader Dave Stewart described her an "national, international and Island heroine".
Another terrible loss. Mary Ellis, pioneering female aviator, Air Transport Auxiliary veteran, an inspiration to generations. I'll always remember her proudly reminding us at RAF100 events that she was older than the RAF itself! RIP Mary. pic.twitter.com/xktUU6R7Qn

— ACM Stephen Hillier (@ChiefofAirStaff) July 26, 2018
Very sad to hear that WW2 ATA pilot Mary Ellis has died aged 101. A truly remarkable lady, she flew 400 Spitfires & 76 different types of aircraft during WW2. Another giant leaves us to john her heroic friends in Blue Skies. Rest in peace Mary; you truly deserve it. Thank you. pic.twitter.com/br00jZxGiu

— John Nichol (@JohnNicholRAF) July 25, 2018
More awful news. RIP Mary Ellis. A legend of the Air Transport Auxiliary. Over 1000 aircraft; 76 different types and over 400 Spitfires alone. I hope you're enjoying a well-earned sherry up there with Joy Lofthouse again. Blue skies Ma'am #LestWeForget pic.twitter.com/1v0yCbniJG

— Mike Ling MBE (Red 3) (@MikeLingPilot) July 25, 2018
Mary Ellis, one of Britain's greatest aviators, died yesterday at age 101. Last week I took my kids to meet her. My boy clasped a model plane. She asked what it was. 'Spitfire' he whispered. She leaned down and shared a few private thoughts about the aircraft. pic.twitter.com/iMO1DxOhtl

— Dan Snow (@thehistoryguy) July 26, 2018