Two pilots from Take Flight Aviation flying school at Wellesbourne Airfield have set a new world record by visiting 16 countries in 24 hours in a light aircraft.
The pilots, Mike Roberts, owner of Take Flight Aviation, and Nicholas Rogers, a commercial pilot based at Birmingham Airport, undertook the challenge on Tuesday 25 June 2019, and it will now be verified by the Guinness World Record organisation.
As well as being a personal challenge for the pair, they aim to raise awareness of the campaign to save Wellesbourne Airfield, under threat from closure by the landlords despite the local authority's attempts to purchase it to retain its current use in accordance with the local and neighbourhood plans.
Mike hopes that the trip will highlight the ease with which Europe is accessible by General Aviation (GA) aircraft, the importance of GA for both business and training, and the standard of GA facilities in the UK.
Take Flight Aviation already has planning permission for a new clubhouse and hangar once a suitable landlord is found. A number of existing tenants hope to be offered the chance to manage the airfield once the airfield is in local authority ownership.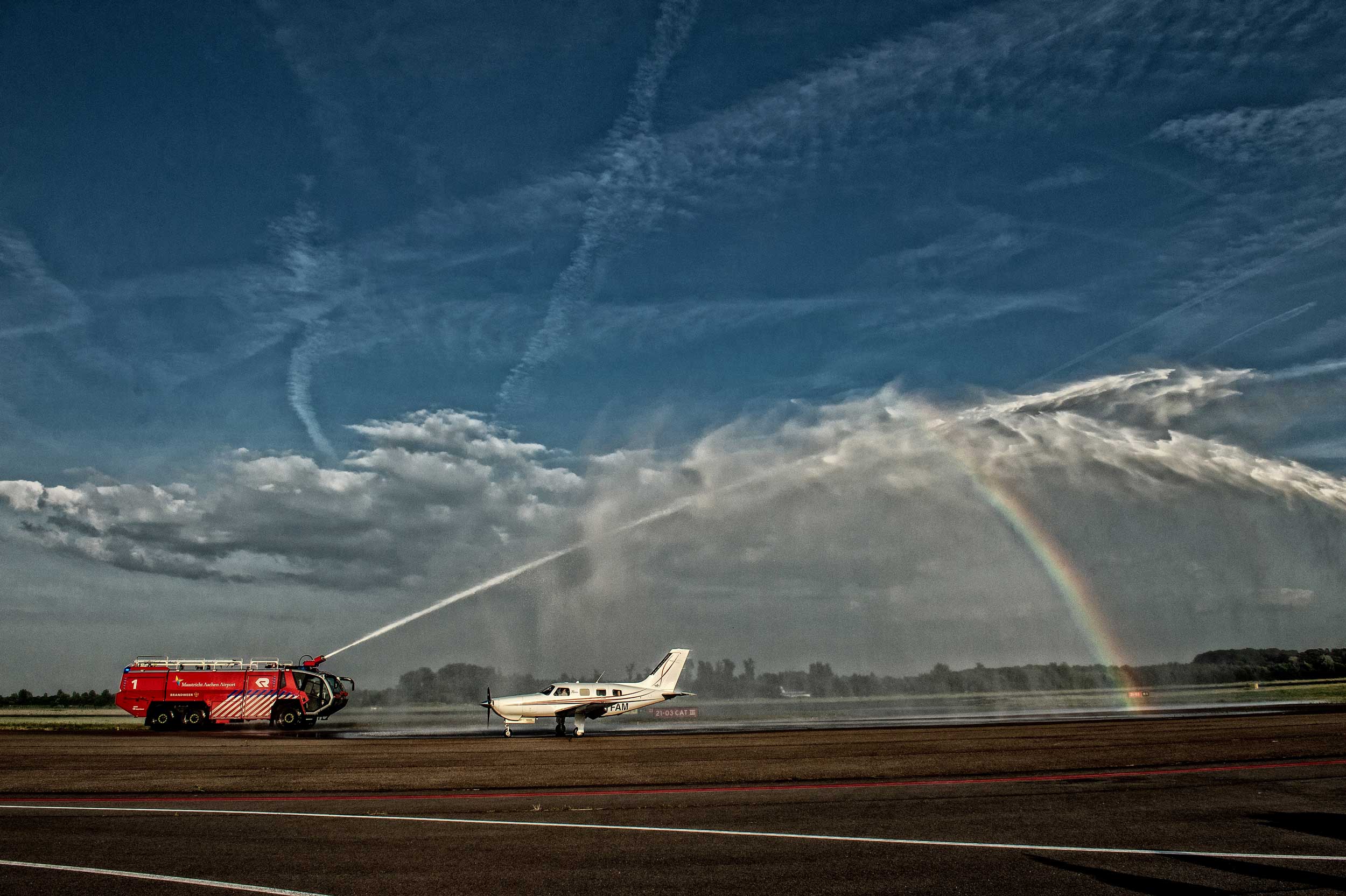 The current world record stands at 11 countries but the pair wanted to beat this by a substantial margin. The trip started with a night departure from Copenhagen Roskilde Airport in Denmark at 3.30am (local time), visiting Sweden as the sun rose before briefly returning to Denmark and onwards to Poland, Czech Republic, Slovakia, Hungary, Croatia, Slovenia, Italy, Austria, Switzerland, Germany, Luxembourg, Netherlands, Belgium and France.
Nicholas Rogers said, "We chose to contact several airports in each country so that we could build an optimum route based on who could accommodate us and what facilities were available in terms of runway surface and length, fuel, customs and operational hours.
"We had a positive and friendly response from everyone. Maastricht Aachen Airport in the Netherlands was particularly enthusiastic, as by the time we got there we had broken the existing world record and they honoured our arrival with a water cannon salute from the airport fire crew!"
The pair had 24 hours to complete the task, with a flight time of almost 14 hours. They allowed an average of 30 minutes at each stop for refuelling, airport handling, customs, signatures, rest, chatting to interested parties and conducting the odd TV and press interview.
The trip was around 1,750 miles in total, excluding positioning trips between the start and finish points in the UK.
The pair were hoping to return home to the UK, but a long delay with customs in Hungary, permission to land in France and weather closing in at home meant that the final 17th leg was dropped and the pilots enjoyed a well-earned rest and beer in Lille.
Mike Roberts said, "The response to our challenge was so positive, and it was amazing to see people waiting to greet us at 4am (local time) in the morning in Sweden.
"So many of the countries we visited have amazing facilities for handling GA, and I hope it will be a model that Stratford District Council follows at Wellesbourne."
Stratford District Council is in the process of a Compulsory Purchase of the airfield to maintain its aviation use. Meanwhile, some of the remaining tenants are taking action in the Court of Appeal to try to maintain their tenancies and overturn a previous ruling that surprisingly went against them.