French startup company VoltAero has revealed the production design for its Cassio aircraft, powered by a hybrid-electric module.
It's a radical design with a canard front wing, sleek fuselage and twin tail booms between which is the rear-facing pusher propeller.
VoltAero's hybrid-electric power module has "a cluster" of electric motors with a high-performance internal combustion engine that serves as the range extender.
The powertrain currently is being validated on VoltAero's Cassio 1 flight test aircraft based on a Cessna 337.
"The Cassio production design's unveiling represents the latest step in our realistic and highly pragmatic creation of an all-new aircraft family," said Jean Botti, VoltAero's CEO and Chief Technical Officer.
"It benefits from our team's unmatched experience in hybrid-electric aviation, as well as the ongoing full-scale flight testing that removes the risk as we move toward the production phase."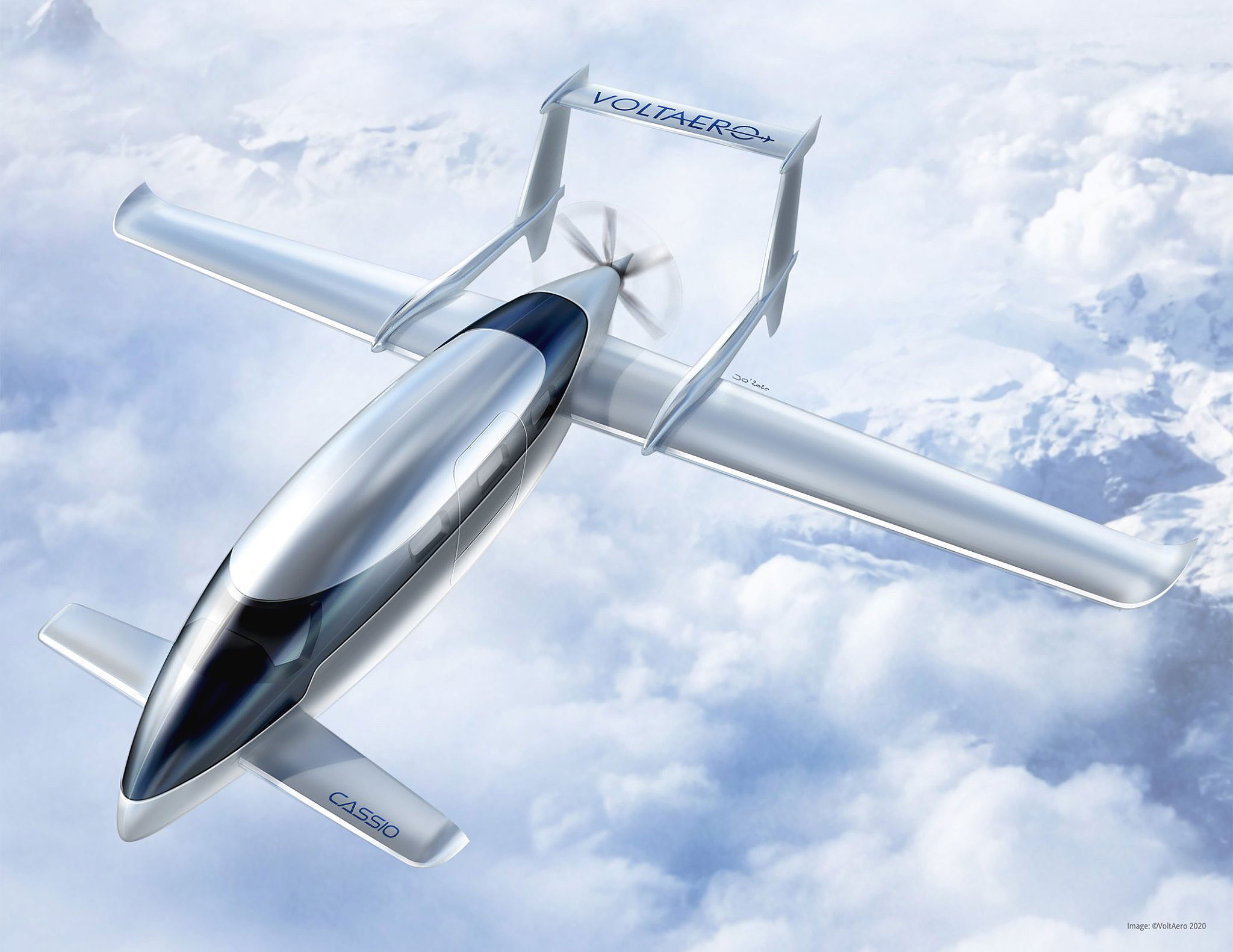 VoltAero will offer Cassio in three versions:
Cassio 330, with four seats and combined hybrid-electric power of 330 kilowatts
Cassio 480, with six seats and hybrid-electric propulsion power of 480 kilowatts
Cassio 600, with ten seats and hybrid-electric propulsion power of 600 kilowatts.
The aircraft will be manufactured at a purpose-built final assembly line in the Nouvelle Aquitaine region of southwest France. Licensed production opportunities will be pursued in North America and Asia.
Initial deliveries are targeted for the end of 2022, beginning with the four-seat Cassio 330 version.
Possible uses of Cassio aircraft are private owners, air taxi/charter companies, commercial flights for point-to-point regional travel, and in various utility-category applications.
Cassio will be certified to Europe's EASA CS23 certification specification as a single-engine, general aviation category aircraft.
Performance
Endurance 3.5 hours (extension possible to 5 hours)
Range: 800 miles
Cruise speed: 200 knots
Take-off/landing distance: less than 1,800 feet
Maximum takeoff weight: Under 2.5 metric tons (EASA CS23 certification)
Availability: 10 hours/day (equivalent to approximately eight rotations daily).