'Several hundred' UK registered General Aviation aircraft can now be equipped with the uAvionix AV-30-C Electronic Flight Instrument System (EFIS).
This follows uAvionix receiving a Supplemental Type Certificate (STC) from the UK CAA for the AV-30-C that allows it to be installed on the FAA Approved Model List (AML).
That includes the majority of GA models from Cessna, Piper, Beechcraft, American Champion, Maule, Mooney, Daher, Textron, and others.  The full AML is available here.
The AV-30-C fits within a standard 3 1/8in round hole and, when installed as a primary instrument, can be configured as either an Attitude Indicator (AI) or a Directional Gyro (DG) indicator.
When installed as a non-required instrument (ie, not replacing the existing approved AI or DG), the functional mode of the AV-30-C can be toggled between AI and DG, serving as a backup instrument.
Multiple display presentations, including compass rose, GPS HSI, and GPS Arc views can be selected by the pilot. The AV-30-C also includes a probeless Angle of Attack system.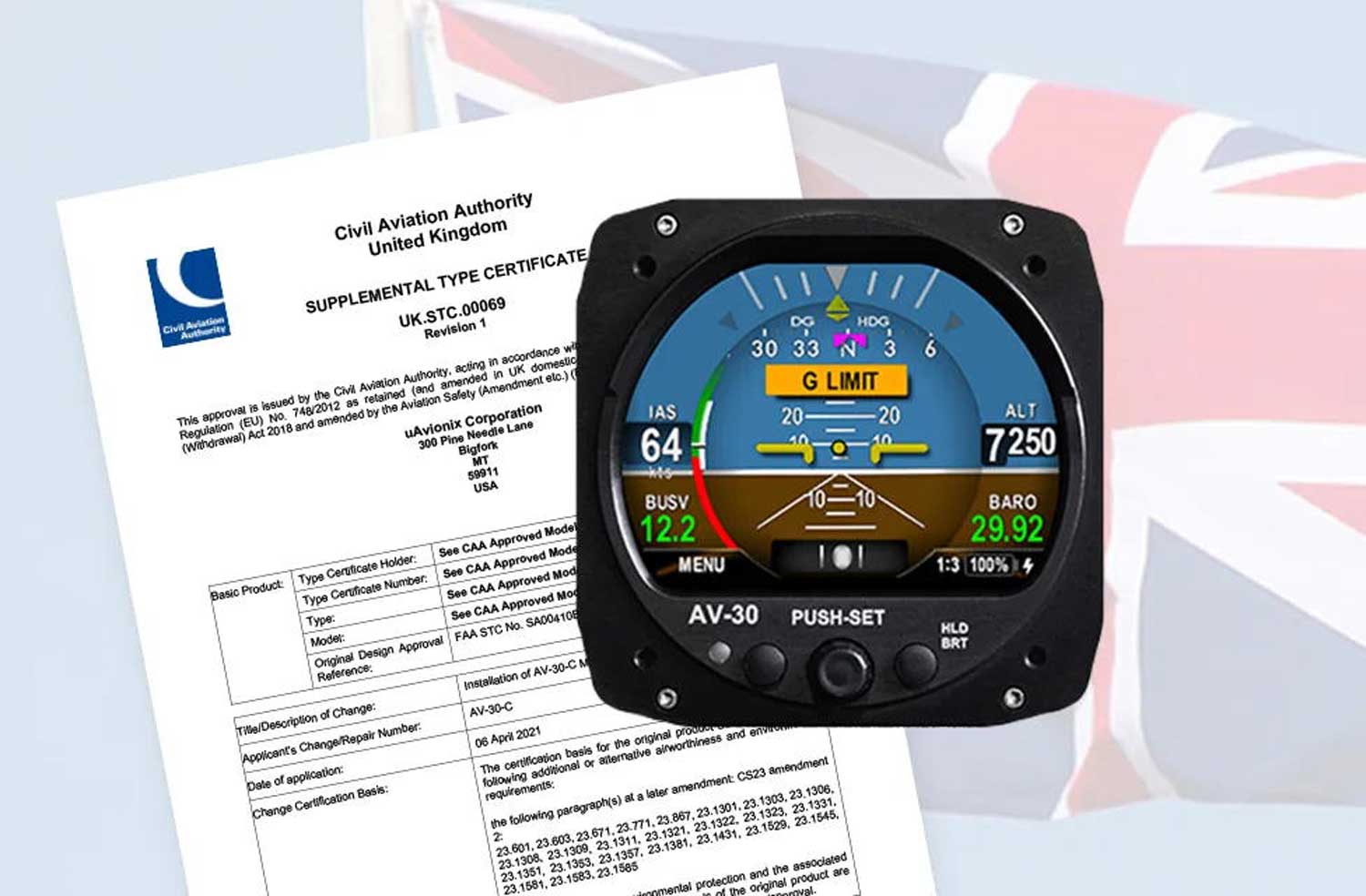 uAvionix will begin shipping the EFIS immediately to customers who have placed pre-orders either directly with uAvionix or through dealers.
The AV-30-C is designated for installation as a primary attitude indicator or directional gyro in piston single and twin aircraft weighing less than 6000 lb.
uAvionix's statement adds, "When paired with the tailBeaconX ADS-B OUT Mode S transponder all-in-one solution, transponder control is right at your fingertips within the AV-30-C.
"Additionally, the certified GPS position source integrated into the tailBeaconX can be used as your slaved true-heading source for DG and GPS HSI indicator displays. tailBeaconX STC is expected in Q3 2021."
Earlier this month, uAvionix announced AV-Link, an inline Wi-Fi bridge for the AV-30 panel display which adds a bunch of features including live airborne traffic.