Pros
Extensive features for a first release
Basics easy to use right from start
Reasonable price if you stick to vector charts
Cons
Not quite as stable as iPad version
Chart costs can add up quickly
Usability of custom overlays isn't quite there yet
Flyer Verdict
A welcome Android app, that balances ease of use with range of features.  A bargain if you're selective about chart purchases
For some time I've considered the iOS versions of RunwayHD and SkyDemon to be within a hair of each other in functionality, however while SkyDemon has also had a presence on Android for some years now, RunwayHD has been iPad only. That's been recently remedied with the release of the first Android version.
Although the subscription for the iPad and Android version is the same, one advantage which a lot of users will immediately spot is that the underlying hardware is generally cheaper. This particular test was carried out on a 7in Samsung model, which can be bought close to half the price of almost any model of iPad. The popular Google Nexus has also been included in Airbox's testing and a 30-day trial allows you to check your own device is compatible.
The initial impression on launch was the visual similarity with the iPad version. It lacks the 'dashboard' start screen but launches straight to the clear, bright maps. Getting started with a route is as simple as a long press on your desired starting point (or desired first waypoint if you happen to be already sitting at your start point). Alternatively, you can use the route button and add waypoints in turn by searching for them. The search database is comprehensive and includes place names and postcodes in addition to aeronautical information.
One item I did miss, only to realise it was actually an option I'd turned on so long ago on the iPad version that I'd forgotten it was even optional, was the route tab. This doesn't really do anything other than put the route info and tools into a sidebar instead of a pop-up, but I find the tab falls that little bit more easily to hand (or finger). In the interests of keeping the majority of screen real estate for mapping, the buttons themselves are rather small.
Digital charts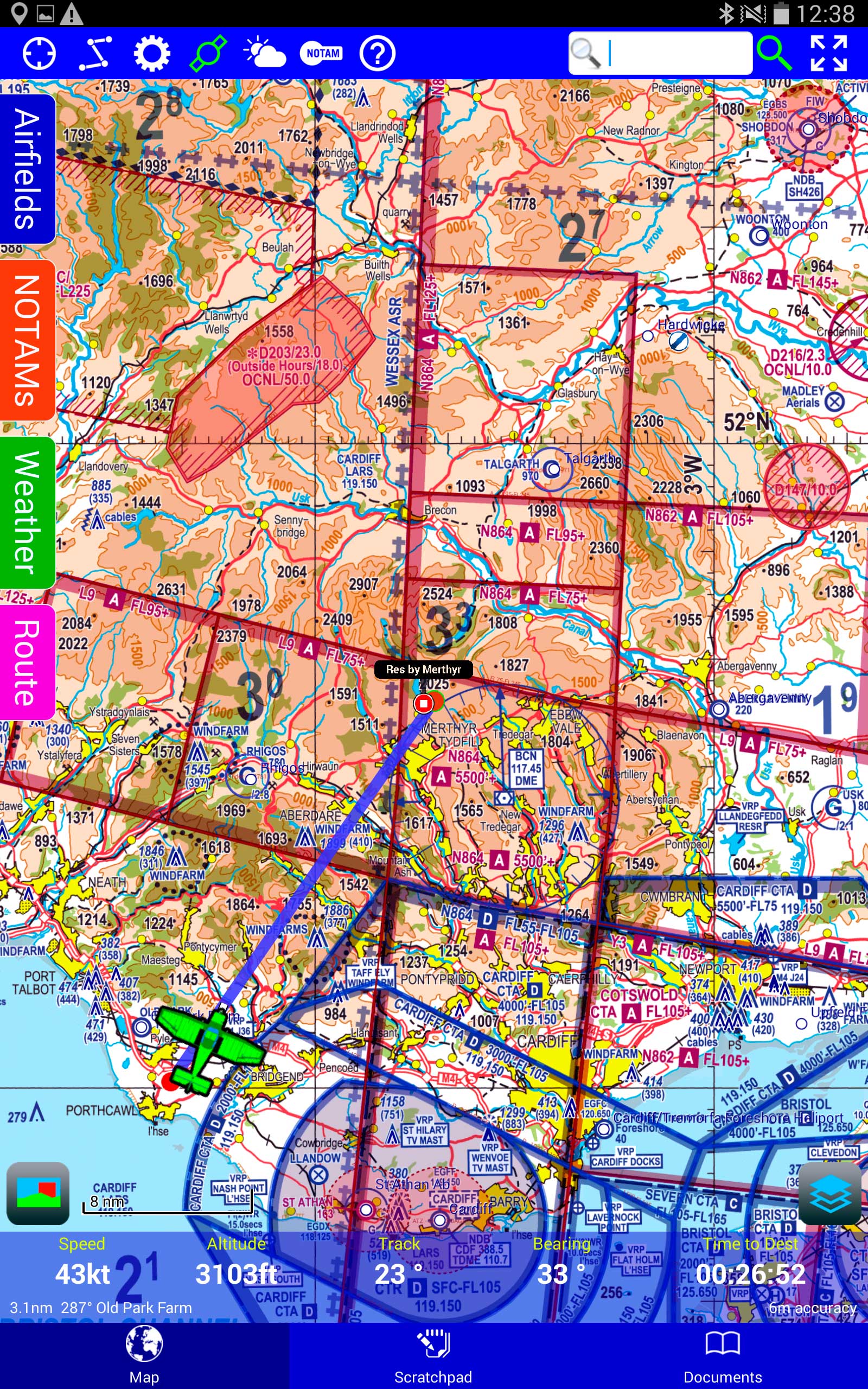 The range of charts is comprehensive, the built-in vector charts uncluttered and adequately, though lightly, detailed. If Internet connectivity is available then the usual range of Google maps, (street level, aerial view and terrain) are available, which are good for getting your bearings when planning landmarks for arrival at an unfamiliar destination.
Digital versions of the CAA charts, both 1:500K and 1:250K, have long been a major selling point for HD, and especially for anyone new to the use of a GPS system, providing welcome familiarity. That familiarity comes at the cost of similar limitations to the real thing, i.e.clutter, along with the fact that you may find yourself trying to read them upside down. Maps are available right down to Ordnance Survey level and priced separately from the software and GPS subscription. Pooleys is also an optional purchase and is georeferenced for navigating the taxiways and runways on the ground.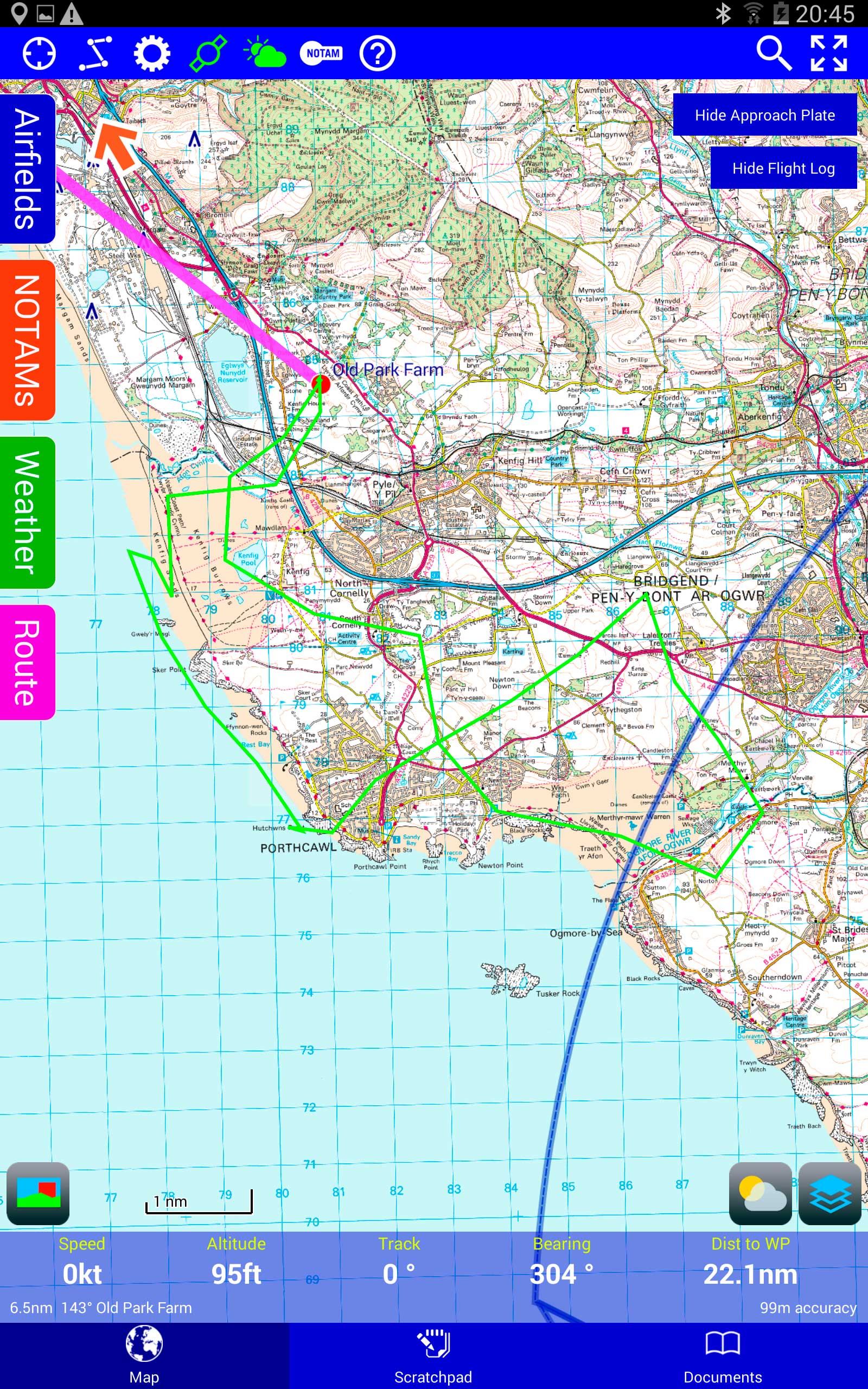 The number of strips included has increased again with even the smallest now often included and searchable. Re-draw and zoom speed matched the iPad version and were very good. The maps automatically change depending on zoom level. In theory you can lock particular maps to prevent this change but I struggled to make this work.
Once you're happy with your route you can save it, which will also synchronise with your online account and, if desired, export it and send as an email or add to Dropbox or similar. The export format is GPX, a well-recognised format that can be imported into a wide variety of devices and applications. Good for sharing with friends on a fly-out!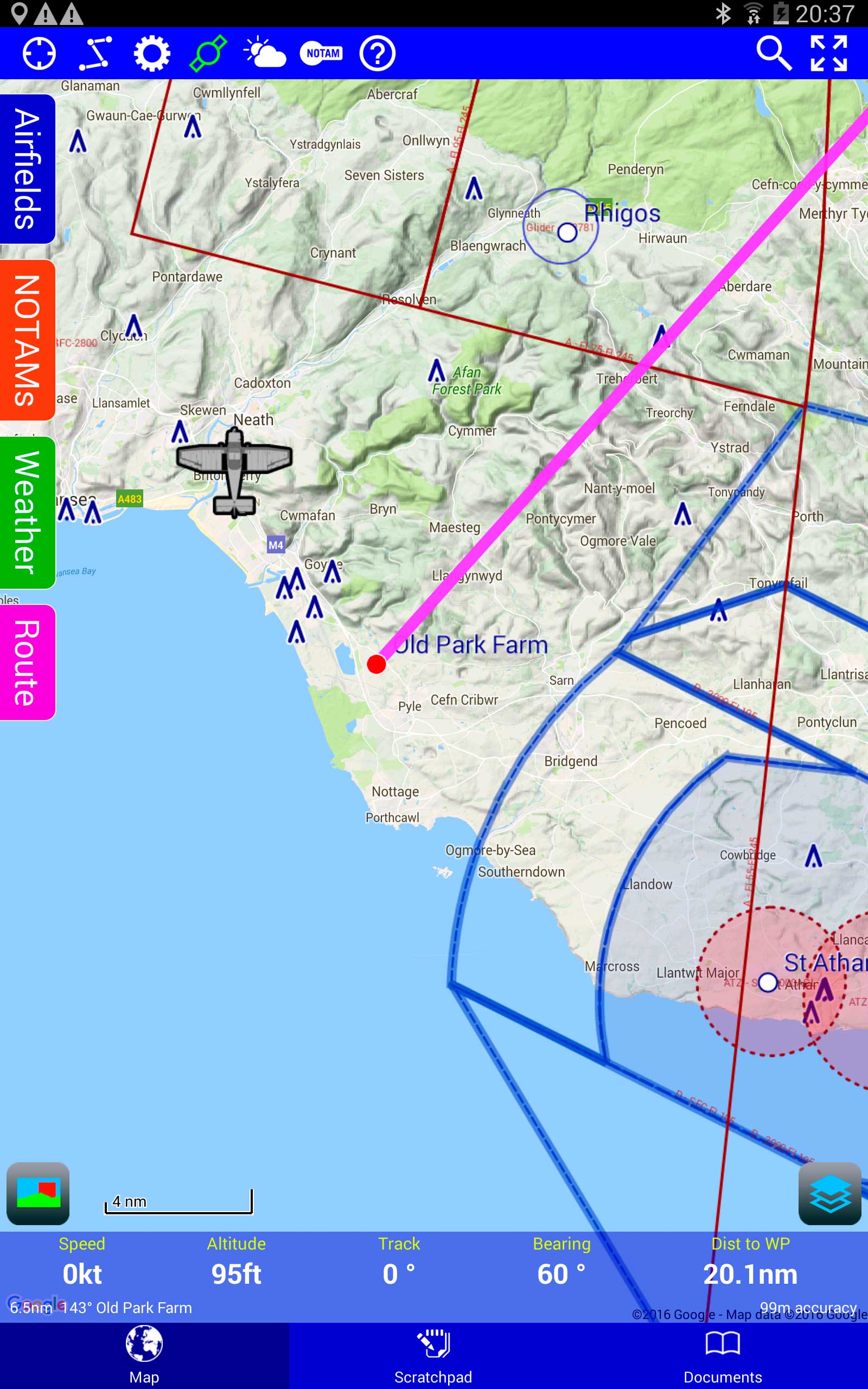 Checking notam and weather is integrated and generally updates in the background once a route has been entered. I did find it occasionally needed a prompt, so worth checking. The date and time of the most recently updated information is shown in the sidebar along with the settings and the notam themselves. Irrelevant ones can be easily hidden from the list, though they still appear on the map.
The map display is clear but the parsing is not as good as the iPad version for irregularly shaped notam. Items covering the whole FIR make the map very cluttered if left on.
The weather options, as on the iPad version, are excellent with graphical symbols from metars on airfields, winds aloft with an altitude slider and the useful rainfall radar. The tafs and metars are, by default, automatically decoded and laid out for easy reading in the weather pull-out sidebar.
In the aircraft, the app performed well, popping up airspace alerts at appropriate moments and tracking accurately. It was responsive without being twitchy… an asset in turbulence. Using two fingers on the screen will give you a time/distance/fuel-ruler on-screen, which, as long as you've set the aircraft configuration correctly, gives a lot of confidence.
Easily customised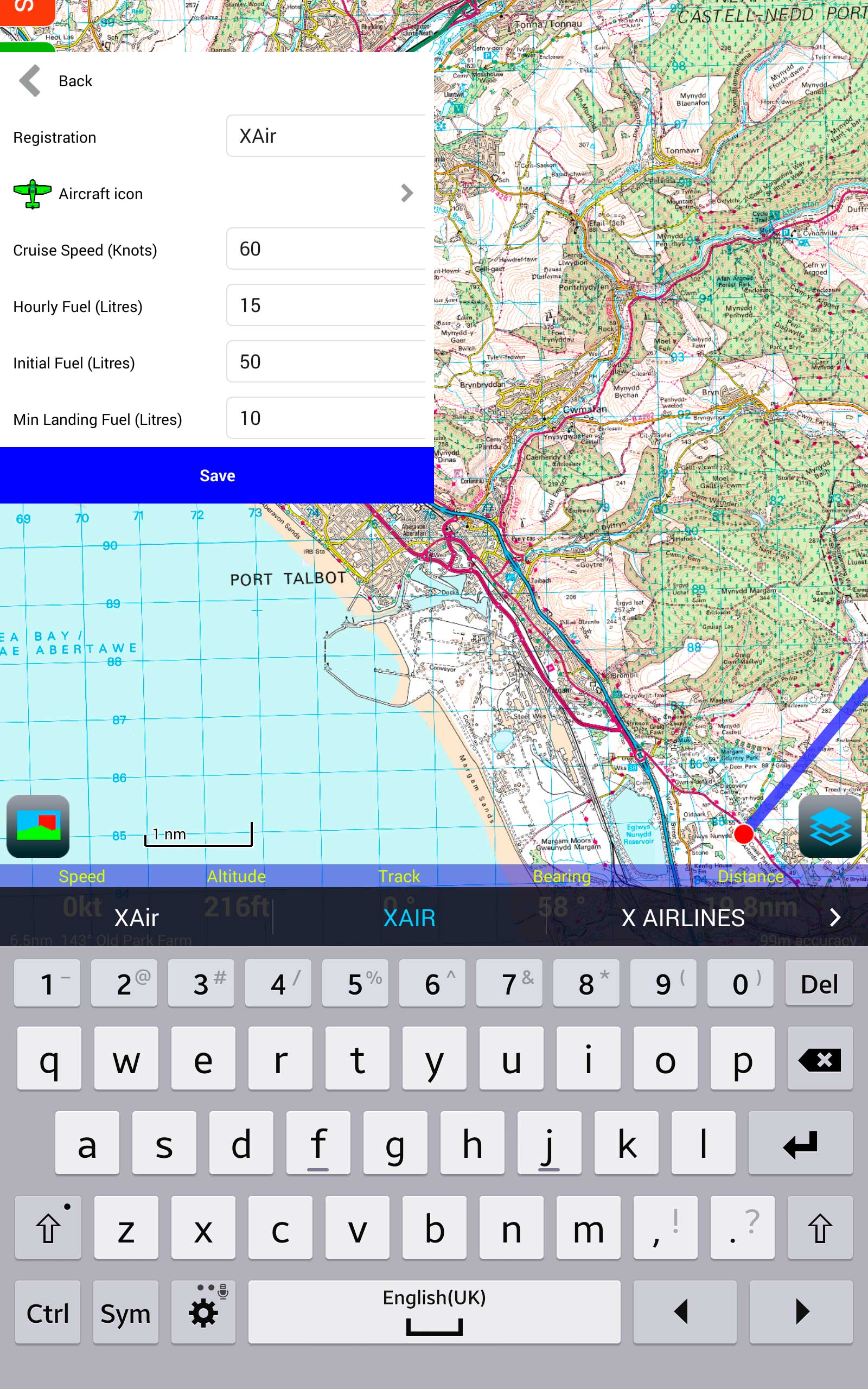 In addition to the chart you have a databar running along the bottom containing five columns, each of which can be toggled through to show a selection of data. This was another area where I'd fiddled with the out-of-the-box settings in the iPad version I'd been using a while. I preferred to see the time/ETA/distance for both the next waypoint and the endpoint on the screen at once. Fortunately, these are easily customised; as in many areas of the apps you can tweak to your own preferences.
A useful emergency feature is the 'nearest airfields' tab which can be pulled out at any moment and easily set as a waypoint. The setting contains an option within the databar fields to show 'bearing to last waypoint' for those moments one needs to suddenly turn tail, and the rubber-banding option will add a constant line to the chart between you and your next waypoint, even when off your original track.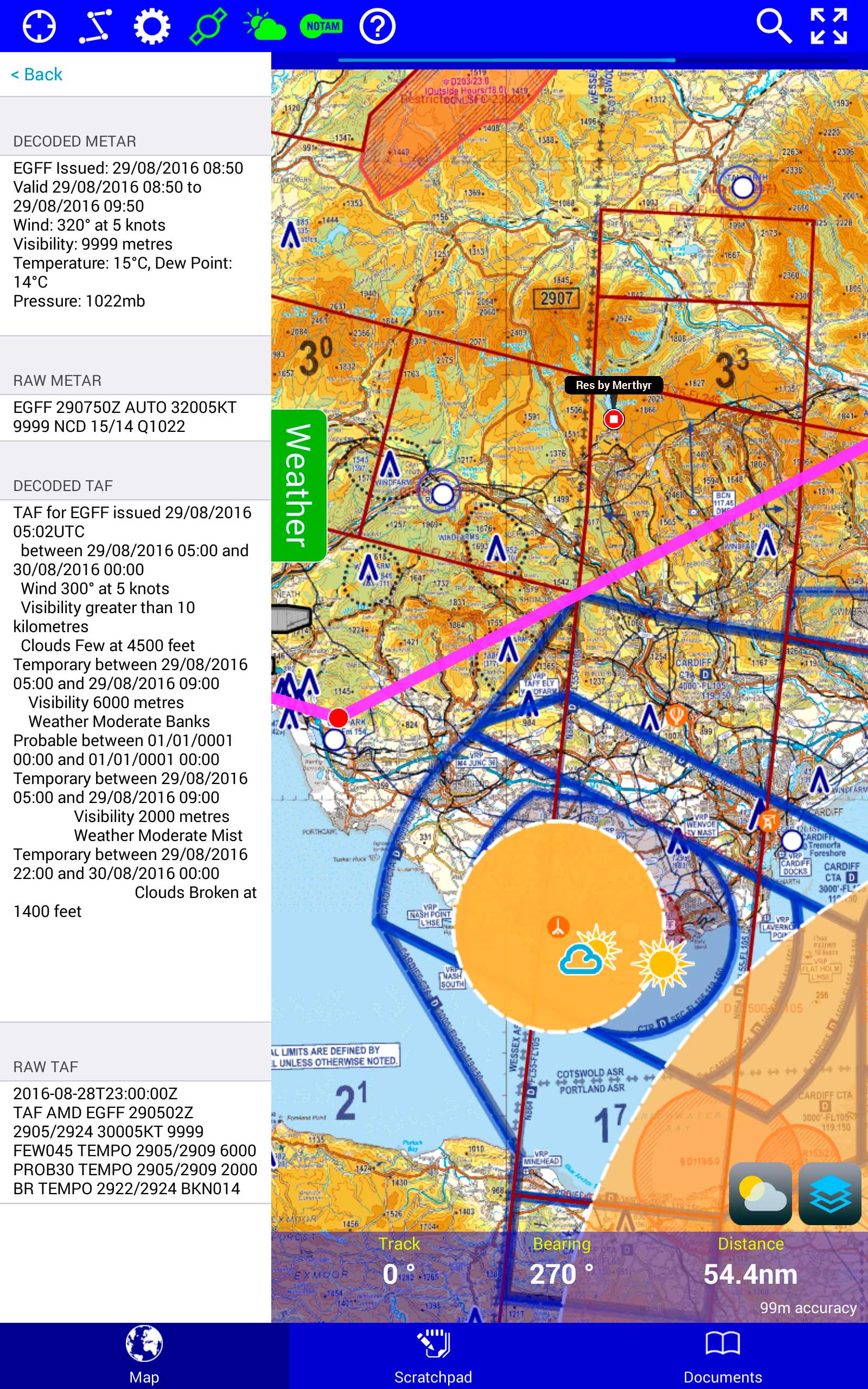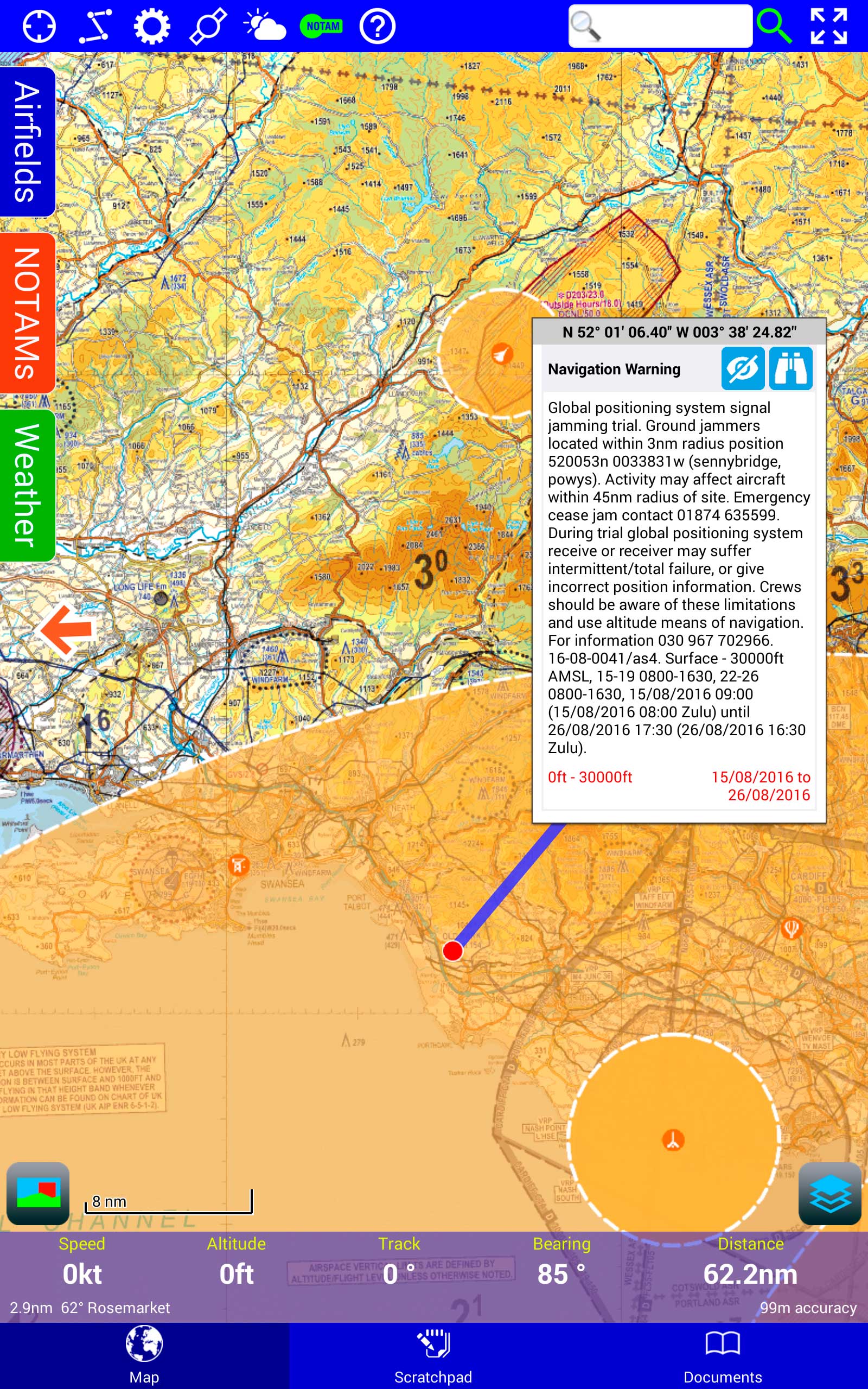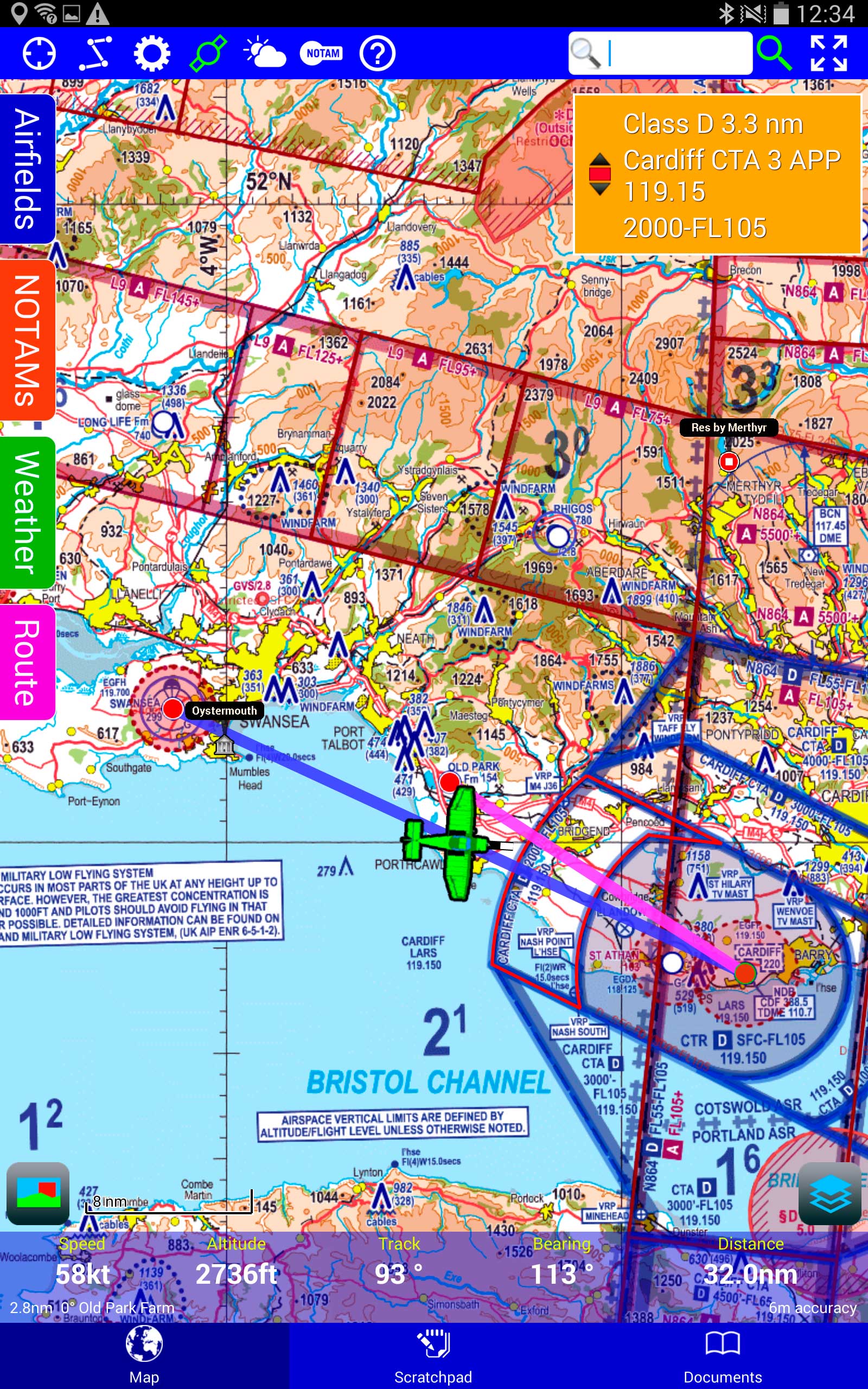 Exploring the menus and settings is rewarded by a wide array of customisation options. One thing you'll certainly want to do upfront is configure your aircraft details so accurate estimates for speed, fuel, etc can be given. Multiple profiles can be saved. You can add your own documents and associate them with a location on the chart – useful for things like joining instructions for a fly-in or information about a smaller strip that maybe lacks a Pooleys entry.
A more complex development of the same idea is the custom overlays. This allows you to overlay georeferenced files of any data onto the current chart. It needs to be in the fairly common KML format; Google maps amongst others can output a suitable file. There isn't however a very easy way to import this.
In the iPad version, emailing myself a KML worked well; I'd created one some time ago to show the particular hazards and noise-sensitive areas of our strip. When clicked on, it gave RunwayHD as an option for opening it. In the Android version this didn't work as expected, and I ended up manually adding the file to the appropriate folder from within the Android file system itself… a step too far for most users.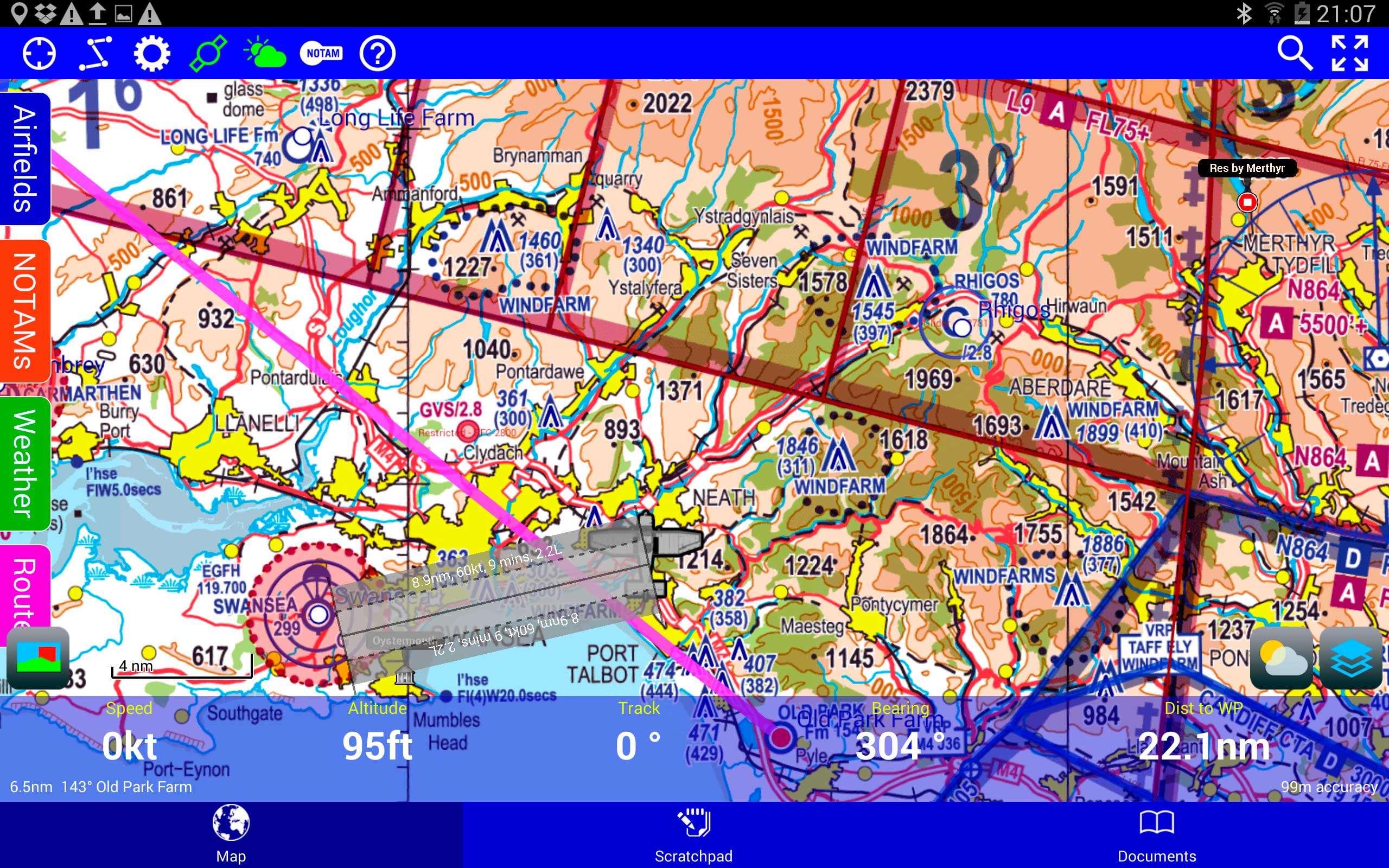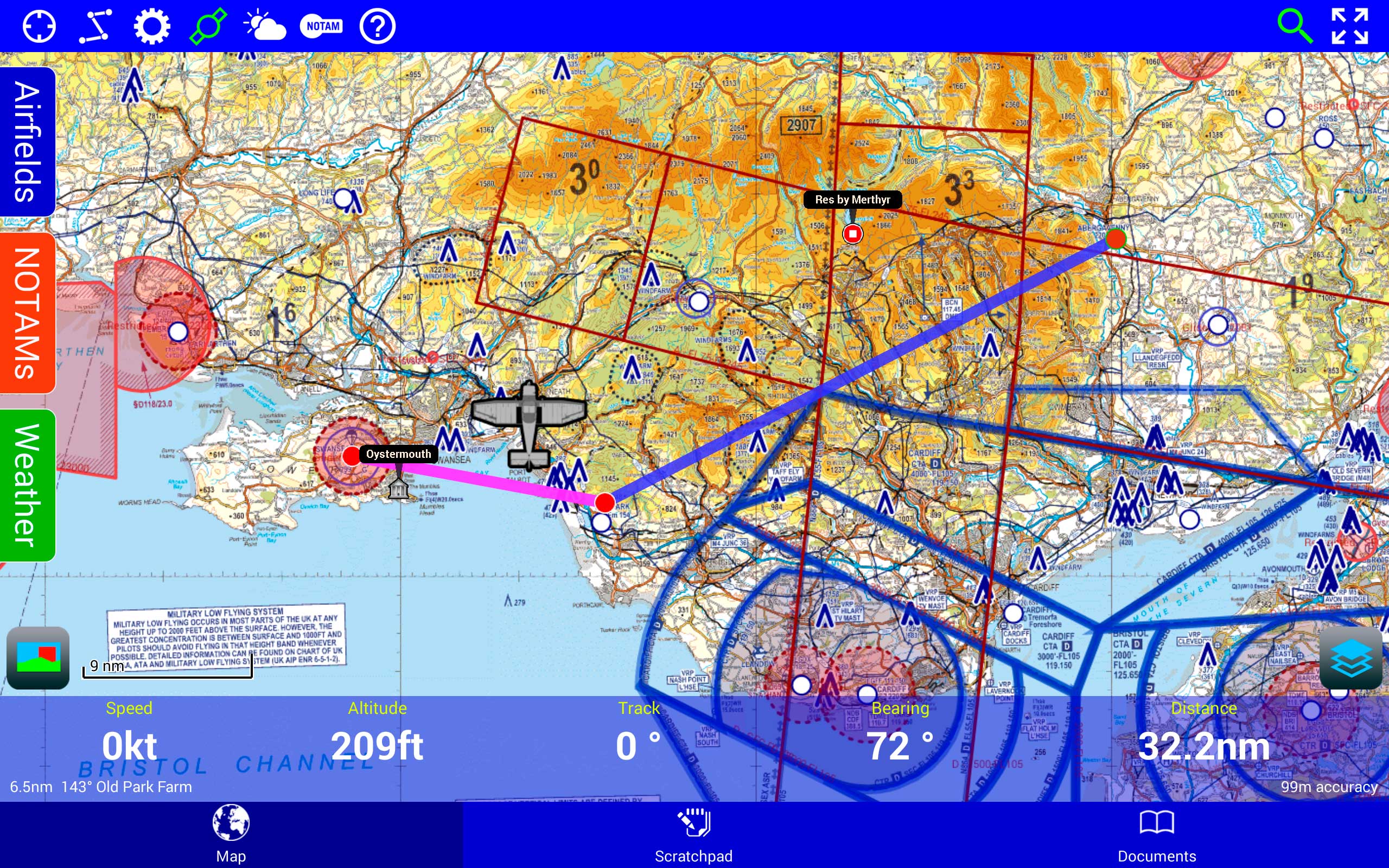 That said, the ability to manually add things like noise abatement right there on the map is quite something and with a bit more usability (and wouldn't a creation tool be wonderful?) it could offer something new and valuable.
More simply, custom waypoints are easy to create, can be stored along with an icon of choice and synchronised to the cloud storage. Ad hoc waypoints, created by dragging and dropping the route line, can also be renamed to something more meaningful for use in the plog.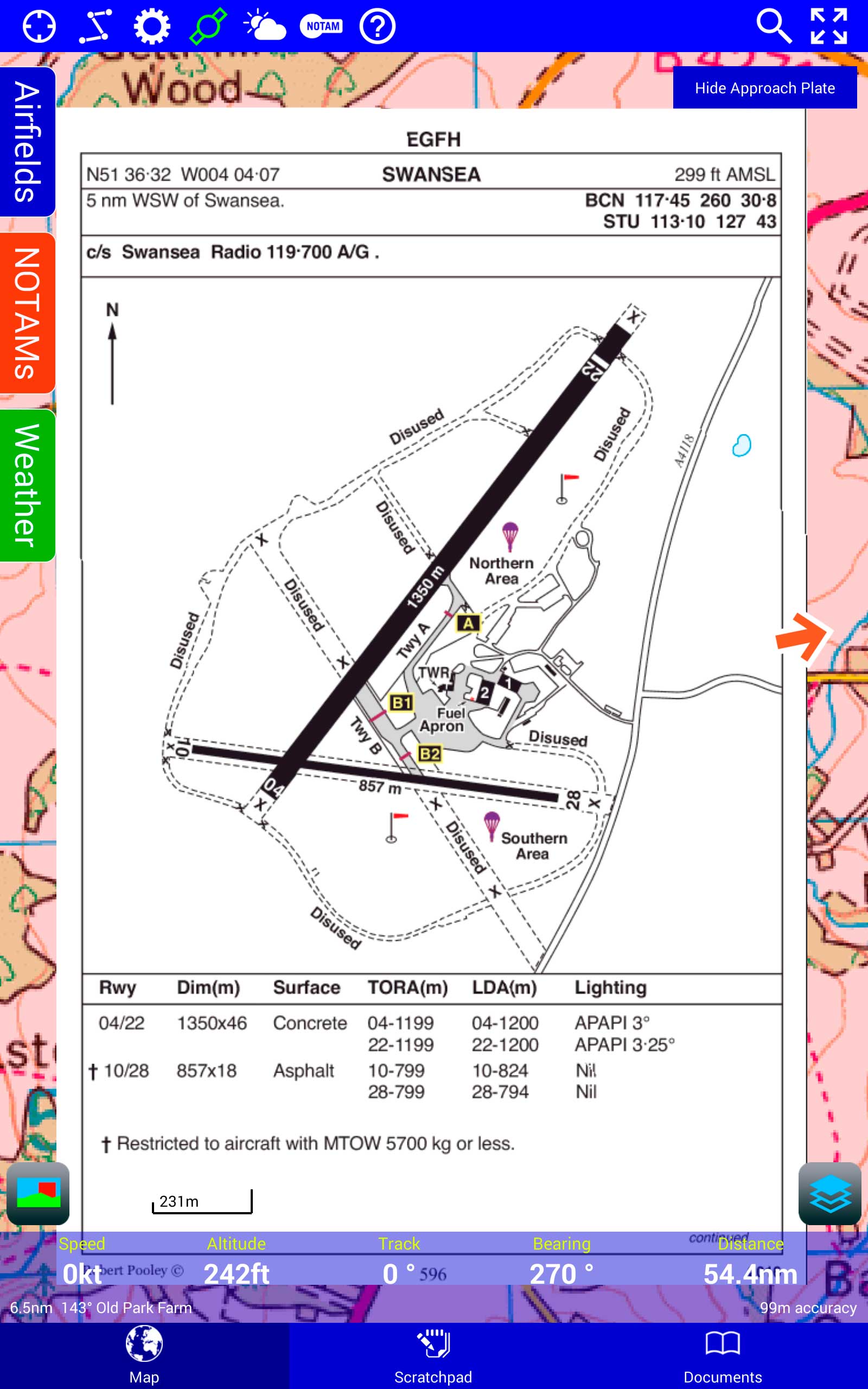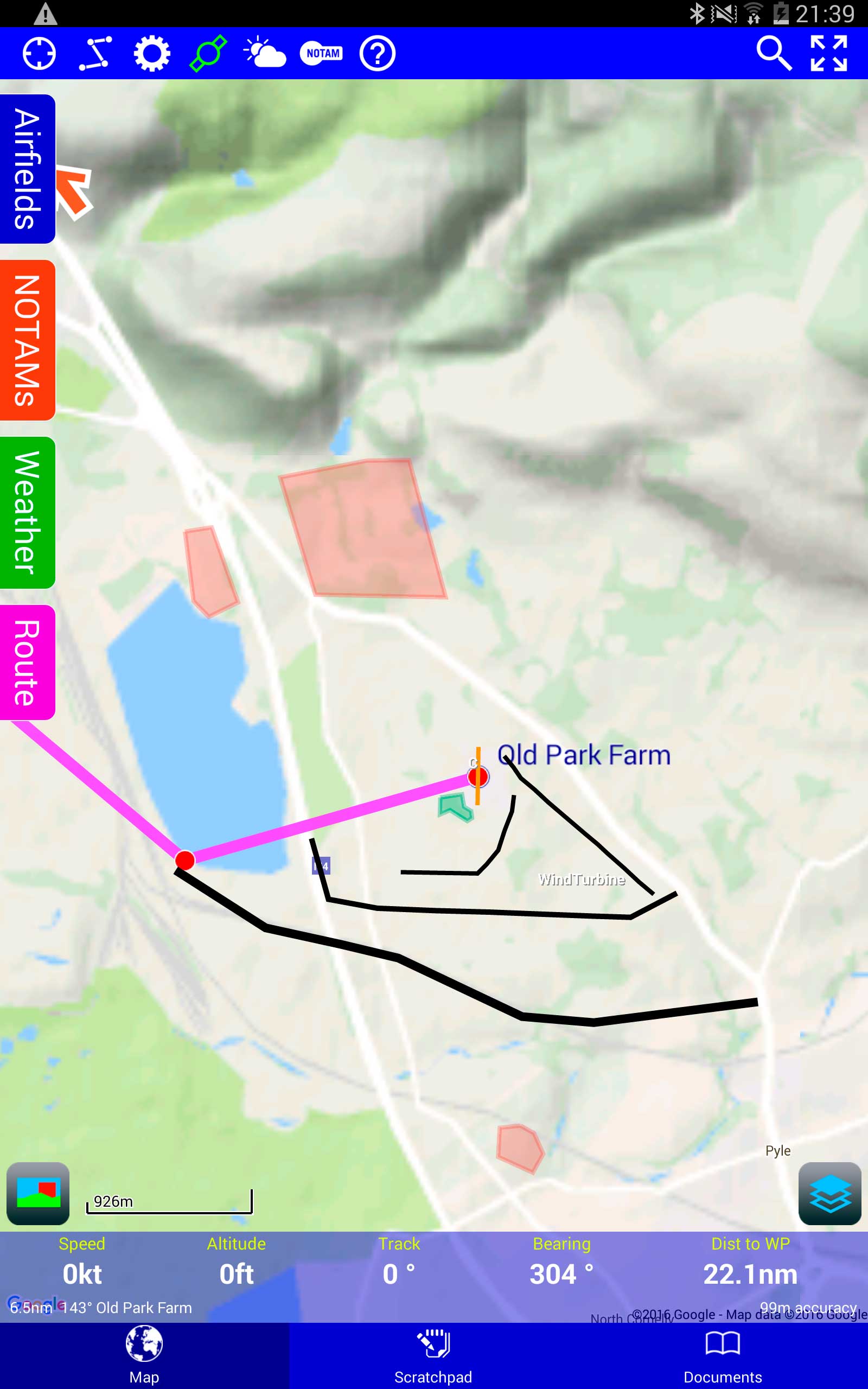 Android stability
In addition to functionality, stability in an app for use in the air is also important and developing for Android presents an additional challenge as the variety of Android devices is of a different order of magnitude. The nature of Apple devices and the fact they make the hardware as well as the operating system means a developer can have a robust confidence about what hardware varieties their software will be required to work on.
This cannot be said for Android and, consequently, I found the Android version occasionally less stable than its iPad counterpart, although it must be said that these occasions were all while I was fiddling around on the ground exploring the myriad of settings and none during in-flight use. They were all small things: failure to remove a notam overlay, an intrusive keyboard when altering the aircraft settings and a misaligned scratchpad when rotated.
All in all, I was slightly more impressed with this first release of the Android version than I expected to be. Possibly those who fly further afield and abroad might want to wait a bit longer. One of the features not yet ported across is the flight integration of flight-plan filing. But Airbox seems to have accurately identified the most commonly used features and brought them over to Android first and to a high standard. Leia Fee
LINK
Airbox Aero