+VIDEO Remember the Renault 4? Probably not if you're younger than 80 but it was a huge success for the French manufacturer selling more than eight million cars around the world. What better way then to celebrate its 60th anniversary than produce an electric flying version?
Yes, straight from the 'We Couldn't Make This Up If We Tried' tales of the unexpected, Renault and Miami-based design studio TheArsenale have created the AIR4, a flying version of the Renault 4. Minus the frankly weird gearstick sticking out of the dash, we hope.
"The original Renault 4 was a simple, efficient and versatile vehicle built between 1961 and 1992," said Renault.
The AIR4 is anything but simple, however. Yes, it bears a superficial resemblance to the R4, but it's made entirely of carbon-fibre and instead of wheels, there are four two-blade propellers, one at each corner of the vehicle.
According to Renault's specsheet, the AIR4 is powered by 22,000mAh lithium-polymer batteries that generate a total power of around 90,000mAh, enough for a horizontal top speed of 26m/s (58mph), with a 45° inclination during flights, up to a maximum inclination of 70°.
It can fly as high as 700m with a take-off speed of 14m/s (31mph), although this is restricted to 4m/s (9mph) for safety reasons, with a landing velocity of 3m/s. Its propellers generate 95kg of vertical thrust each for a total of 380kg.
There follows a paragraph of complete nonsense which includes the phrase, "After 25 years of forward-looking research, we believe that the icons of car culture are eternal, whether on earth or in the air."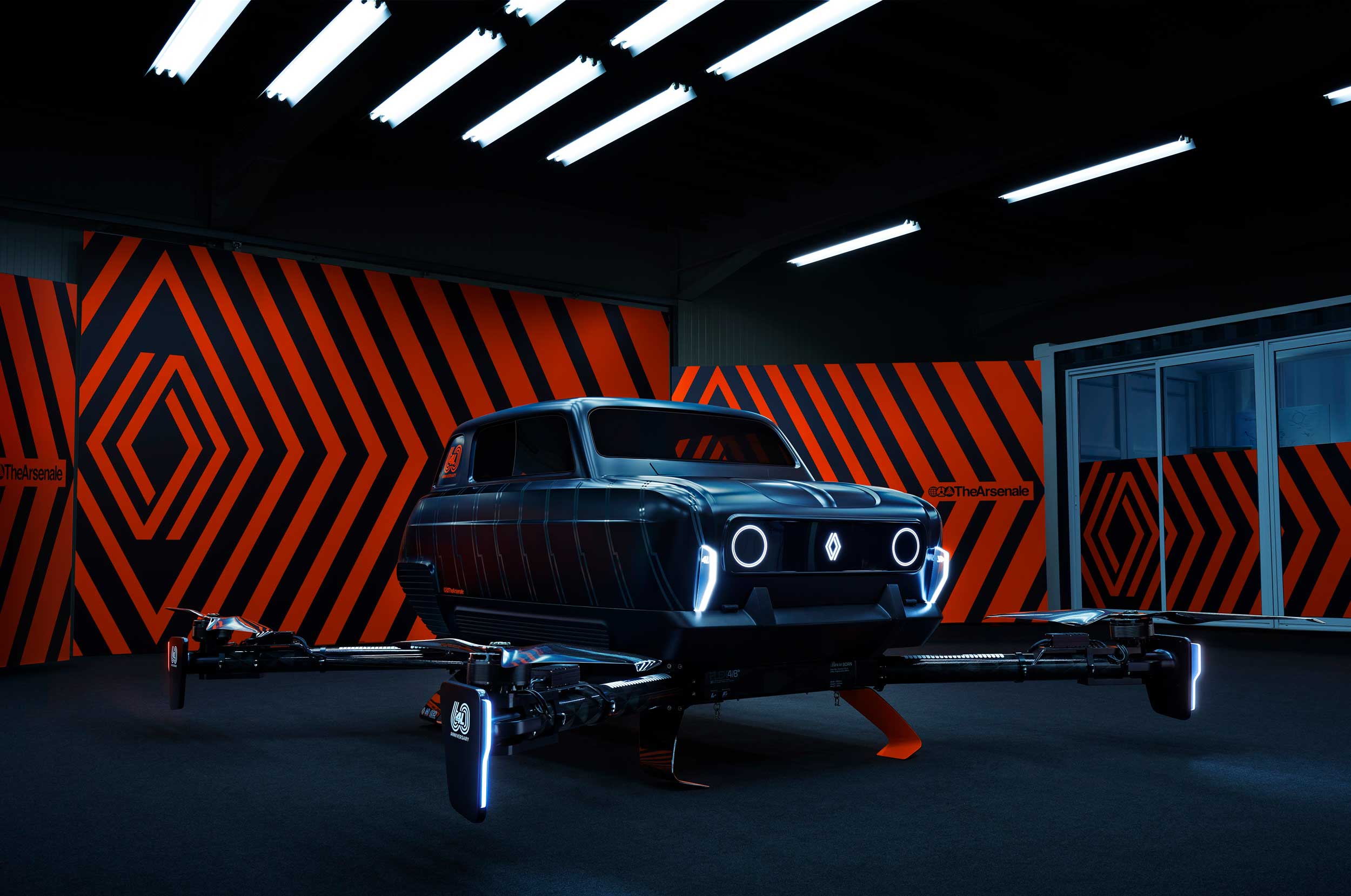 The AIR4 will go on public display in the centre of Paris at the Atelier Renault on the Champs Elysées from today (29 November) until the end of the year, alongside other historic versions of the Renault 4.
In 2022, the AIR4 will travel to Miami and then New York, before a pit stop in Macau.