A record 100 microlights are to fly the length of the River Tyne this May in the second running of the Fly The Tyne charity event.
The flight is in aid of northeast charity Streetwise and sponsored by intu, and will take place on Saturday 26 May 2018.
Fly The Tyne is the brainchild of Mandy Coppin, CEO of Streetwise who is one of only a handful of female flexwing pilots in the country. As part of the event, Fly the Tyne is auctioning 15 passenger seats to fly with the pilots and experience the northeast from a different perspective.
Newcastle Air Traffic Control will safely navigate the 100 microlights (fixed, flexwing and gyrocopters) through controlled airspace, with each pilot taking off from Eshott Airfield near Morpeth in 30 second intervals.
The 110-mile route will take each aircraft west towards Hallington Reservoir, then south towards Chester le Street, before flying low level over the Angel of the North. They will then head towards Newcastle city centre, and fly over the Tyne Bridge and down the River Tyne towards Tynemouth, then back north along the coast to land back at Eshott.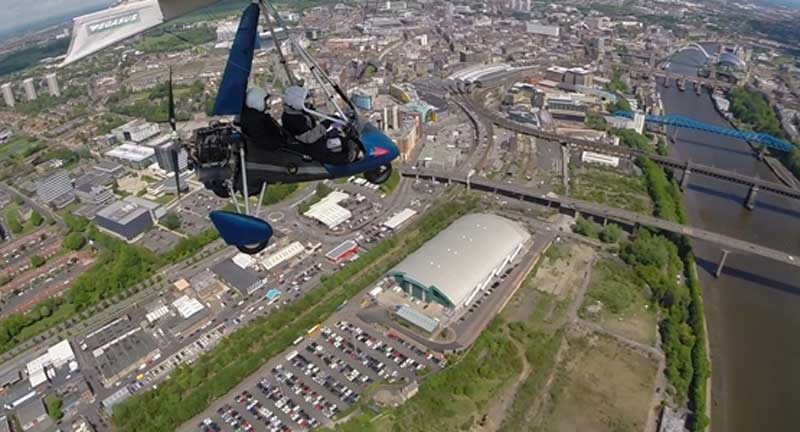 Mandy said, "Fly The Tyne made its debut in 2016, which saw 42 microlights take part in a flypass along the River Tyne. This year the event is expected to be even bigger and better with more than double taking to the sky.
"As a pilot myself, I'll be volunteering to co-ordinate the fleet of pilots who have travelled from as far as Ireland to join us for this spectacular event.
"The aim of Fly The Tyne is to raise awareness and celebrate the thousands of young people from the northeast who have changed their lives with the help of projects like Streetwise."
Bidding for the seats starts at £500 and the top 15 pledges will be allocated a seat to fly with the fleet and make history. All money raised will be donated to Streetwise, helping young people in the northeast achieve their full potential.
To make a flight ticket pledge, contact flythetyne@gmail.com to request a bidding form. The closing date for all bids is Saturday 19 May, with the top 15 bidders contacted on Sunday 20 May 2018.