A paraplegic pilot on the Handiflight round-the-world bid has been killed in an accident on approach to an airfield in Thailand.
Mike Lomberg, 60, a former South African air force pilot until he was injured in a car crash, hit power lines in the Flight Design CTLA light sport aircraft, one of two on the Handiflight.
Video shot from the ground, shared on YouTube, shows his plane descending toward Bang Phra Airport, south east of Bangkok, when it appears to clip some power lines, causing it to veer sharply left and into some trees.
Police reports say the aircraft hit the ground and caught fire. Police say Lomberg died on impact.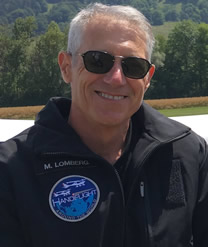 A spokesman for Handiflight said: "Dear friends, we are so sad to inform you of the death of our friend Mike Lomberg due to the accident that happened shortly before he landed at Bang Phra Airport in Thailand.
"This tragic accident is inexplicable at the moment. The investigation is ongoing.
"Mike's family – Peta, Chris, Amy and Jem would like to thank you all for your messages of love and support."