Zenair and SAM kitplanes are to be represented in the UK by Metal Seagulls, the company started by Jonathan and Patricia Porter and based in Rugby.
The Porters have extensive experience of Zenair aircraft and Rotax engines through building, operating and promotion of the Zenair family of aircraft in humanitarian aviation and training roles in West Africa.
Jonathan worked with the Heintz family (founders and owners of Zenair) in 2005, and has hands -n experience in the workshop and in the cockpit of most of the Zenith range. SAM Aircraft have recently been taken over by the Heintz team.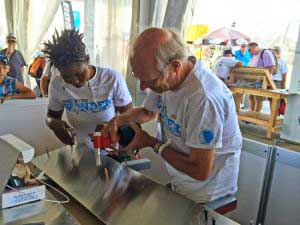 Patricia cut her aircraft-building teeth on the CH701 and CH801 models. "Zenair aircraft are so therapeutic to build," she said. "There is something so very special about the whole build process, especially with the new match hole technology which helps to ensure a great deal of consistency in aircraft construction."
Metal Seagulls will be offering builder support for those wanting to build their own SAM or Zenair aircraft, including kickstart workshops and regular group Skype conferences.