Pros
Accurate sensing
Excellent connectivity
Free AHRS Utility App is easy to use
Cons
Not certified, so Permit-only
AHRS Utility App not Android compatible
Need to add tablet for display, which can drive cost towards panel-mount EFIS units
Flyer Verdict
A worthy consideration to a Permit to Fly aircraft if you're considering an EFIS, but don't want to spend a king's ransom
First of all, it's worth mentioning that we started this test back in Summer 2016 when the team at Levil Technologies sent us their iLevil AW2 wireless integrated avionics module with an invite to try it out. While we've been testing the product, Levil has introduced the AW3, which adds the new feature of data-logging to the existing package. Levil assures me the hardware and coding has stayed the same, so we're confident to report our experience with the previous model.
When we got our AW2, there were two versions available. Ours has pitot/static connections and is intended to be permanently installed in an aircraft. There's also a portable SW version without those inputs; this version has integrated solar panels to recharge the unit's battery over time or extend the standard five-hour battery to six hours on a bright, sunny day.
The AHRS (attitude and heading reference system) unit operates independently of GPS input and updates 14 times a second, and claims to be good for a maximum rate of turn of up to 300º per second and up to 4g.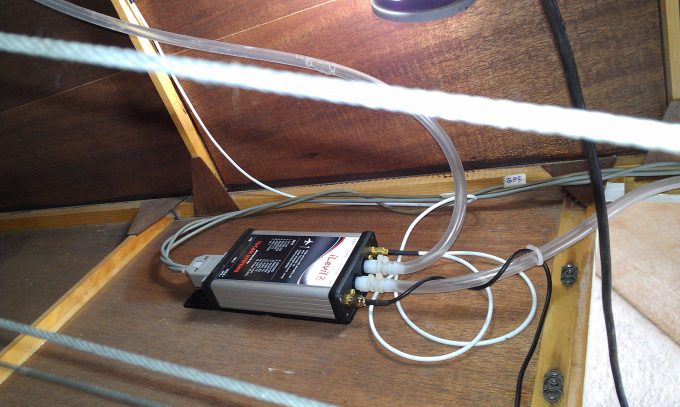 Installation is easy; it requires finding a level space, as clear as possible from ferrous items, to mount the box, pointing in the direction of travel (there's an arrow on the case). There's +/-5º of adjustment if you can't find a surface that isn't perfectly level.
Tapping into the aircraft's pitot and static connections meant talking to our LAA inspector, who was satisfied with the method we used. Ease of access to the pipes will also drive location of the box. We chose to mount it in the rear fuselage which we could access via a hatch, with a remote power switch for power wired via the DB15 connector.
The unit has a remote GPS and ADS-B antenna so there's no issue with that being obscured. IN/OUT serial communication also allows data transfer to/from other hardware inside the cockpit such as engine monitors and autopilot.
If you want to use Levil's free AHRS Utility App, you'll need an iPad or iPhone, as it's iOS only. Bearing this in mind however, the unit will interface with 11 compatible iPad/iPhone apps and 7 Android apps although almost all of these, including some of the 'premium' apps, which offer access to synthetic vision displays, are not free. There are a couple of free compatible apps if you're Android only.
The AHRS Utility app allows you to change any of the unit's default settings, which includes switching from the default GPS speed and altitude to pitot/static IAS and altitude readings. The app will also support display of engine EFIS data for certain compatible units. Wi-fi connection to tablet was easy, and in use has proved to be very stable, with zero dropouts.
Self-calibration
Taxying out, initially it seemed like the iLevil was having difficulty with magnetic heading, however the unit was just going through a process of self-calibration. The process requires the aircraft to turn both clockwise and anticlockwise; this does result in a configuration for the aircraft you can store, which it will use on the next flight. Once we understood this, the digital magnetic heading readout behaved accurately, and easily matched the aircraft's wet compass.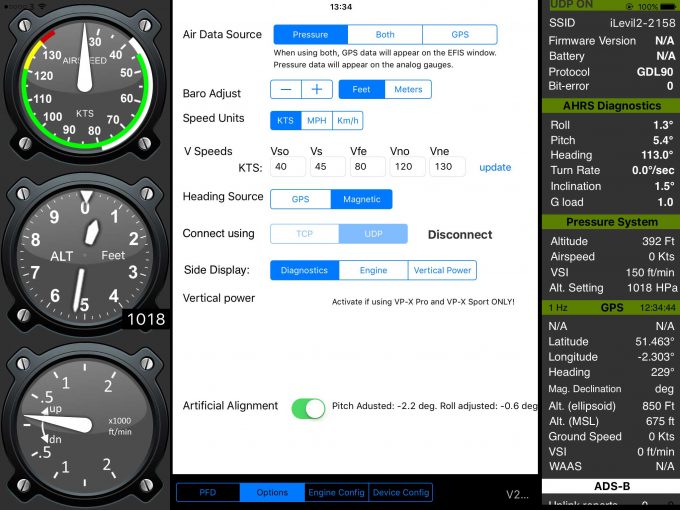 In flight, it's noticeable that having 'real' airspeed and altitude inputs, the data display damps a lot better than their GPS-derived equivalents. In a level turn, the GPS speed changes as you cross the wind line, but the pitot speed remains stable, just as you would expect. Interestingly, the iLevil pitot-driven ASI readout showed that our mechanical panel ASI over-reads by 3 to 4kt, something we suspected might be the case.
Altitude seemed accurate, and matched our conventional panel instrument. One oddity though with the app, the pressure setting always defaults to 29.92in/Hg; however it recognises you typing hectopascals. As far as we could measure during numerous orbits, climbs, descents, tight turns and wingovers, the horizon response was on par with the aircraft's vacuum-driven unit, and a standby Dynon D2.
The Levil supports ADS-B 'in' (978/1090 MHz) and FLARM, and will display traffic, however you'll need something like Air Nav Pro to take full advantage of that, as Levil's own app doesn't support traffic display.
As well as Air Nav Pro, we tried the Levil with Xavion. All interfaced and worked as well as the AHRS utility app, plus offered the benefit of a synthetic vision display.
Something we found was that if you switch to another app, then switch back to the AHRS utility, the display will take 3 or 4 seconds to catch up again, which made us think that you'd want to consider dedicating the tablet to this one purpose.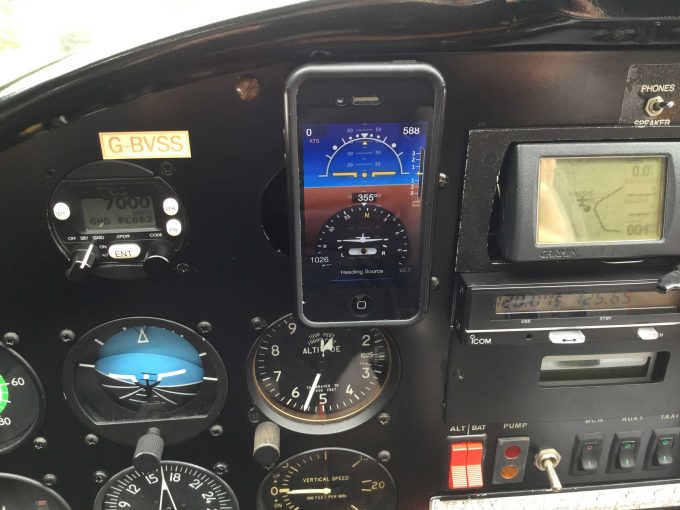 That you can take a small box like this, and use it to create a reliable back-up to your existing panel, whether that's a high-tech EFIS or a sparse array of round gauges, is pretty impressive. Problems with glare and brightness aside (and these issues seem to vary widely from pilot to pilot and cockpit to cockpit), iPads and iPhones make very nice panel displays for a VFR aircraft pilot.
Yes, having to buy an iLevil unit plus adding a tablet could end up being of similar cost to that of some stand-alone EFIS units, but if you've already got an iPad, then that's perhaps less of an issue. Plus, as the iLevil will support up to six connected devices, it's a great way to provide individual displays for both pilot and passenger.
For more information, visit aviation.levil.com