+VIDEO This season's Red Bull Air Race World Championship has been unpredictable from the start with several racers still in contention for the title going into the final round at Indianapolis, USA at the weekend. But it was a first championship for Japan as Yoshihide Muroya's race weekend went from disaster to delirium.
After facing elimination in his opening heat, the Japanese pilot finished as the 2017 Red Bull Air Race World Champion. Martin Sonka of the Czech Republic was second and Pete McLeod of Canada third.
Muroya's championship hopes seemed to be over when he incurred a two-second penalty in the heats but in strong winds Sonka hit a pylon for a three-second penalty. That saw Muroya go through to the Round of 8, with Sonka seemingly out.
But then the other two pilots with a chance for the championship, Pete McLeod (Canada) and Kirby Chambliss (USA), also stumbled in the opening round, and Sonka ended up advancing after all as the round's fastest loser. When the title contenders both won their Round of 8 heats, it all came down to the Final 4.
Going first, Muroya set a new track record of 1:03.026 that 2016 World Champion Matthias Dolderer of Germany and Spain's Juan Velarde couldn't match. The pressure all was on Sonka. The Czech pilot flew cleanly, but with a technical issue plus a wing stall in the Vertical Turning Maneuver, he could manage only 1:07.280, and both the race win and Asia's first Red Bull Air Race World Championship belonged to Muroya.
"This is an amazing chapter for motorsports to win a race here," said Muroya. "It was the tightest championship ever with the four of us close right up until the end."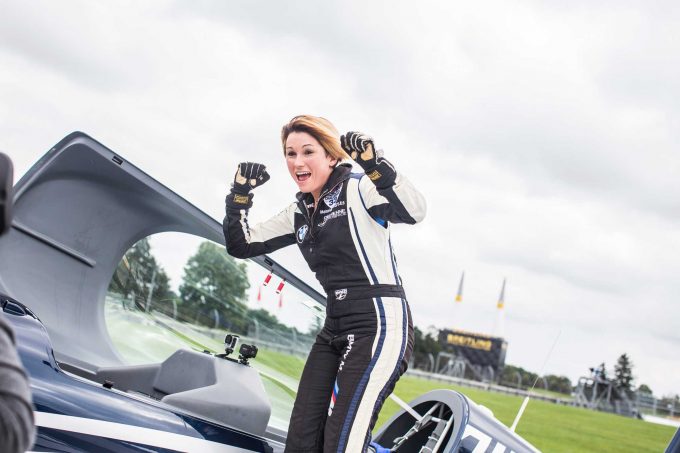 In the supporting Challenger Cup event, leading qualifier Melanie Astles also made history as the French pilot became the first ever female winner.
Astles said, "I'm feeling really great. This racetrack is a really good one, because I'm setting all my career records here – my first podium last year, my first Qualifying win yesterday, and then that Quali became a race! So yesterday, without knowing it, I was winning my race. I'm really looking forward to next year."
Results Master Class race Indianapolis 2017
Yoshihide Muroya (JPN)
Matthias Dolderer (GER)
Juan Velarde (ESP)
Martin Sonka (CZE)
Petr Kopfstein (CZE)
Mikaël Brageot (FRA)
Michael Goulian (USA)
Matt Hall (AUS)
Cristian Bolton (CHI)
Kirby Chambliss (USA)
Pete McLeod (CAN)
François Le Vot (FRA)
Nicolas Ivanoff (FRA)
Peter Podlusek (SLO)
Final standings, 2017 Red Bull Air Race World Championship
Yoshihide Muroya (JPN) 74 pts
Martin Sonka (CZE) 70 points
Pete McLeod (CAN) 56 pts
Kirby Chambliss (USA) 53 pts
Petr Kopfstein (CZE) 43 pts
Matt Hall (AUS) 40 pts
Matthias Dolderer (GER) 39 pts
Juan Velarde (ESP) 37 pts
Michael Goulian (USA) 28 pts
Mikaël Brageot (FRA) 24 pts
Nicolas Ivanoff (FRA) 16 pts
Peter Podlunsek (SLO) 14 pts
Cristian Bolton (CHI) 9 pts
François Le Vot (FRA) 9 pts
Red Bull Air Race World Championship