Pros
Auto-generated logbook entries
Programmable timers with audio and vibrate alerts
Works well with Garmin's VIRB
Cons
Although smaller than the D2 Bravo it's still big
It's on the pricey side for a smart watch
Flyer Verdict
Is my heart rate really that high?!
The D2 Bravo Titanium is the third pilot watch to be produced by Garmin. It follows the D2 and the D2 Bravo. While similar, the design and form factor have been refined;  where the D2 was a pretty huge watch, the D2 Bravo Titanium is just big. Like the older, bigger watch, you get used to the size pretty quickly, but should you have occasion to wear an older, smaller watch there is a feeling that you may have wandered into a doll's house outfitters by mistake.
The watch is both slimmer and lighter than its predecessor. It sports a sapphire lens, a redesigned gunmetal bevel and something that Garmin is calling a 'hybrid titanium carbon coloured wristband', which I take to mean that it's not made from pure titanium (expensive) – but it looks (and sounds) pretty good.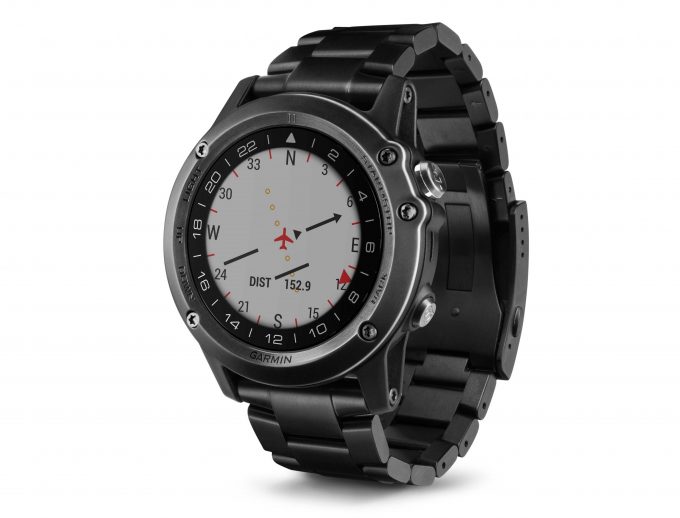 If you aren't interested in the metal band, the watch comes supplied with a black, silicon strap and a couple of special screwdrivers to make changing it pretty easy.
Apart from the look, size and price, to spot the biggest difference you need to look at the back of the watch where you'll find three green lights which form the watch's heart rate monitor. Not being an AME, I'm not entirely sure if there's a genuine pilot need for a heart rate monitor, but it's fun to look back after a flight and see what your heart thought of your landing.
Of course, Garmin is not just an aviation company, and the watch is capable of being used for other activities like walking, cycling, running, skiing, swimming (it's waterproof to 100 metres) and even golf.
So what about the pilot-type things that you might want to do with the watch? While you can use it perfectly well on its own (it has a worldwide airport database, a built-in GPS, a barometric altimeter and an electronic compass) it works better when it's part of a little Garmin community, the first part of which is the Garmin Connect app that you can run on your iOS or Android phone. This brings aviation weather in the form of metars and 'smart notifications' from your phone, so that you can easily see that slot delay for your flight to Cannes, etc.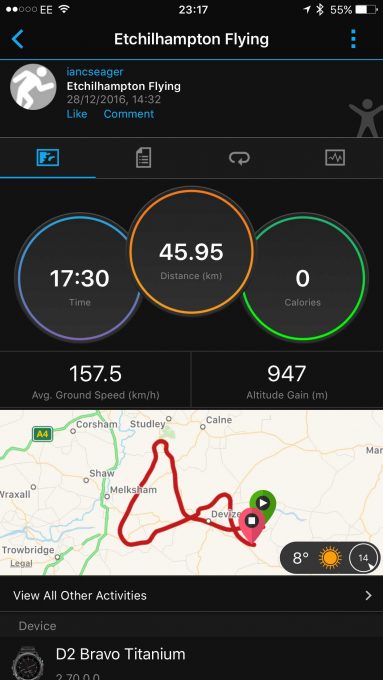 For extra functionality, you need to add in Garmin Pilot, the company's flight-planning and navigation app. With that connected, it's possible to transfer both flight-plan and user waypoints from Garmin Pilot to the watch, and that makes the use of the watch's custom data screens and timers more useful. Although you could navigate with the watch, if that's the reason you are considering one you should sit down in a quiet room and have a little word with yourself.
By the way, should you be lucky enough to own a VIRB camera then you can use the watch to both change its settings and to operate it remotely.
Time flies
Continuing the theme of the Garmin community, or 'ecosystem' in buzzword terms, to use what's currently my favourite function you need to set yourself up a free account at
www.flygarmin.com
From there you can set up the automatic flight-log parameters. I have mine set to 45kt and 400fpm, and whenever that speed of movement (or greater) is detected the watch will start logging the flight, regardless of the mode you are in.

Next time your watch syncs with Garmin Connect, the data is transferred to your account on the website and a logbook entry is created. At a later date you can go into your account, check that it is genuine and transfer it from the list of 'auto-generated entries' to your 'logbook entries'. (If you don't physically stop it, the watch will automatically log flights if you are sitting next to a friend in a Chipmunk or in the back of a 747.) The electronic logbook will also keep track of your night and passenger currency under various regulatory regimes including EASA. Brilliant!
The bottom line is that you clearly don't need the D2 Bravo Titanium to be able to fly an aeroplane. If the only thing you want to be able to do is to tell the time then a £6.99 special from Amazon or eBay will do that just as well, and if you are thinking of buying one in order to navigate you would be better advised to spend your money on a tablet and a navigation app instead, but… we don't just buy watches for their function. We buy them because we like the way they look and we like the other things that we can do with them.
Personally, I'm a big fan of the electronic logbook function. I also like the ability to set timers so if I am flying an aeroplane that doesn't have a 'BOTH' option for the fuel tanks, I can give myself a reminder. I like the fact that when I am flying with the watch in 'fly' mode there's always a small red triangle pointing in the direction of my nearest airfield. It turns out that telling the time is the last thing I use the watch for!
For more information, visit www.garmin.com