An extraordinary piece of aviation history has been made into a one-off table called The Blades of Glory.
An original four-bladed Royal Aircraft Factory BE2C propeller used by the RFC and RNAS, has been sympathetically restored into a stunning dining table.
The propeller is believed to have been originally displayed in the Officers' Mess of the Royal Navy Air Service at Eastchurch in the 1960s.
It was then acquired by the late William 'Bill' Boddy, the long-time Editor of Motor Sport Magazine and subsequently owned by journalist Denis Jenkinson, who was the navigator for Stirling Moss when they famously won the 1955 Mille Miglia race.
The table comes complete with eight vintage balloon backed mahogany framed chairs with delicately embroidered organic linen RAF roundel seats.
Using Brazilian mahogany to match the wood of the propeller, the table has arched two-piece jointed legs. The propeller features its original fully restored handwritten 24-carat gold leaf 'Roll of Honour' script of the pilots and ground crew, together with the original manufacturer's label, LANG PROPELLER LTD WEYBRIDGE.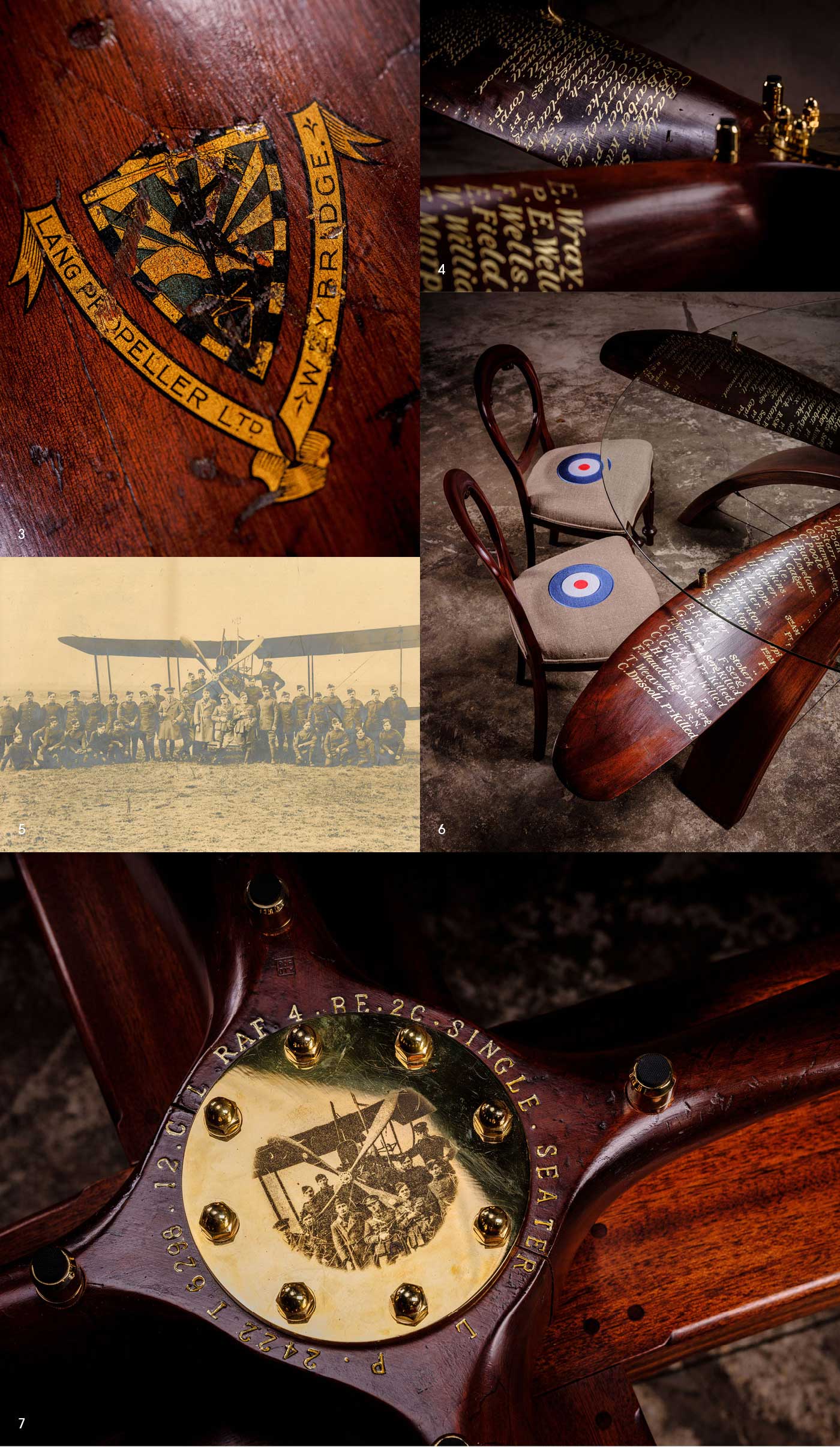 A toughened glass top with bevelled edge sits on adjustable solid brass supports, with a laser engraved original photograph of the biplane surrounded by its heroic crew at the centre of the table. Bespoke brass plates together with stainless steel pins and brass nuts keep the whole piece together with brass crossover support wires fitted to the arched legs to echo biplane wings.
The Blades of Glory table was created by RhubarbChairs which produces individual designs 'with a slice of history'. Price? Ah yes, are you sitting down? That'll be £77,000 to you sir.