Pros
Fast responsive mapping
VFR & IFR
Available US coverage (extra cost)
Cons
Notam data not yet related to ETD
Notam data might only be shown after planning complete
Colour notam can be confusing
For a while now the big players in the US app market, ForeFlight and Garmin, have been trying to carve themselves a slice of the European pilot market, but with neither having graphical notam available it was debatable if the apps were even suitable for VFR use in Europe, let alone superior to other offerings that have long displayed that safety critical information.
For ForeFlight that has now changed, and the current version 11.7.1 has implemented stage one of ForeFlight's graphical notam plan.
Available with all European subscription levels, graphical notam are not shown by default, but easily switched on by activating the notam layer.
Notam are displayed in three different colours: red, amber and grey. The difference relates to both the type of notam, so red could be some kind of airspace restriction, and its current status. So some areas will turn from amber to red as they become active, while other amber areas will not turn red even if they are active if it is a warning rather than a specific restriction (geddit?).
ForeFlight has a concept of 'packing' for a flight, so once you are happy with your route, you hit the suitcase icon and it will go and download all of the required data, including notam data covering the next 24 hours (it does not reference any selected ETD you may have planned), so that it is all available offline when in flight.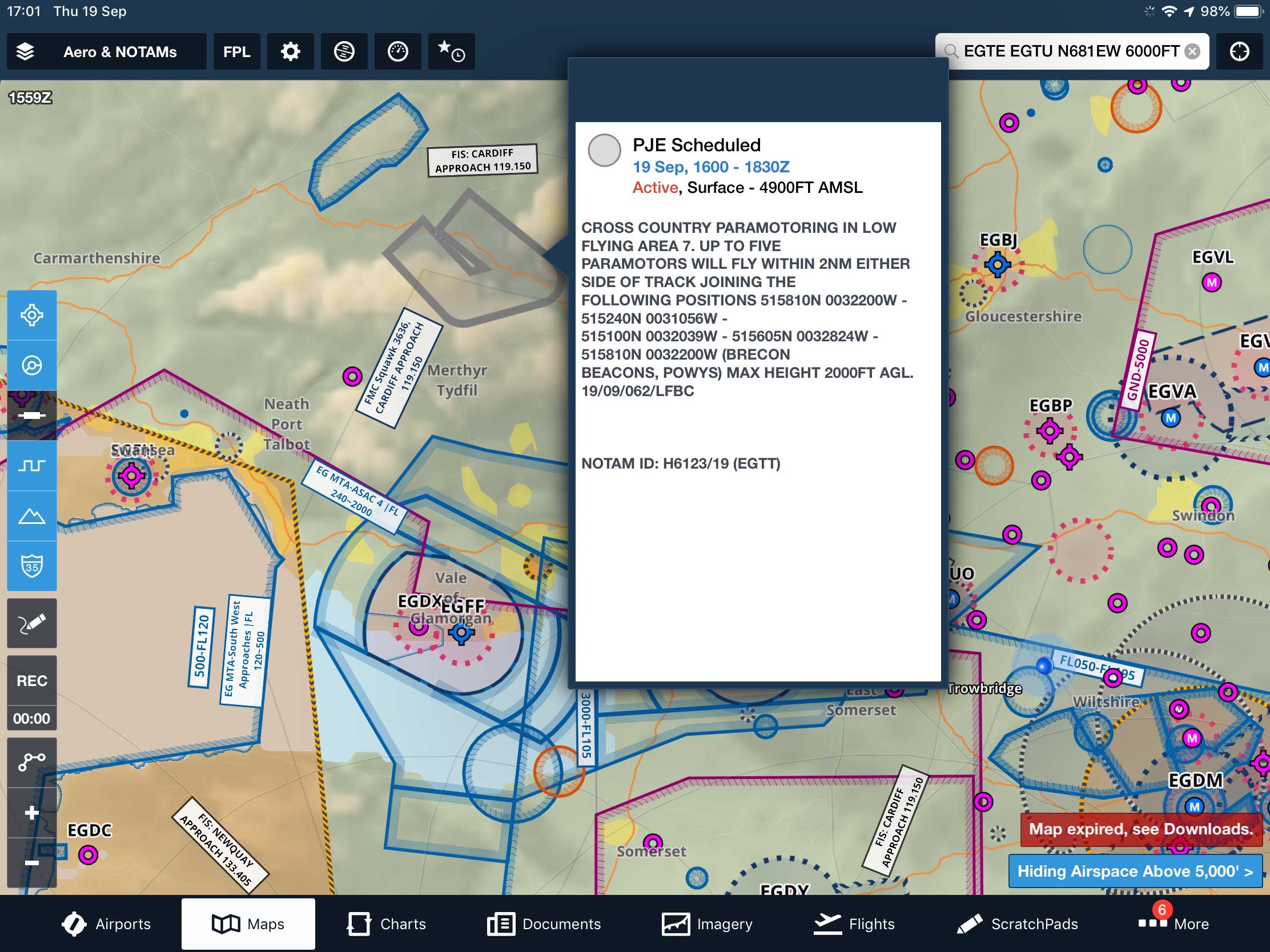 In order to see the details of a notam shown on the chart, a single finger touch brings up an information box with detailed text.
Although it is apparently set to change and become more refined in the future, the current release will only display notam that will become valid in the next two hours.
This isn't the way it is done in other more local apps, and there's potential for confusion when comparing the two outputs.
There's perhaps a more serious issue, if you plan your flight the night before, the map will not necessarily show the relative notam until two hours before it becomes valid, so you will have to check incase any other Notam have appeared in the time since planning – and of course a notam could spring up in flight if you happen to be airborne during the 'two hours prior to it becoming active' window.
You're right in thinking that this review is not a resounding endorsement of ForeFlight's current graphical notam release, but while imperfect it's hugely better than the nothing that was there before.
If you are going to rely on this for your notam briefing then you'll need to closely monitor your route, on the fly as it were, in case of re-routes if something unexpected crops up ahead, with longer touring flights being more vulnerable. – Ian Seager
Note: this article was first published in FLYER November 2019