Pilot Arthur Williams is back on Channel 4 TV on Sunday 5 August at 7pm with a new four-part series called Flying Across Britain.
Former Royal Marine Arthur was paralysed from the waist down in a car crash in 2007 but that hasn't stopped him learning to fly and achieving his PPL – and now owns a very yellow 1943 Piper Cub.
Together, Arthur and the Cub set off on an aerial adventure – a grand exploration of Britain from the air.
As Arthur says, "When you're a thousand feet up and the sun is shining, there are worse places to be."
The trip is Arthur's biggest challenge as a solo pilot. From the west coast of Scotland to the big skies of East Anglia, he's tackling wind, mountains and the world's busiest city airspace. A bespoke camera rig on his Cub captures his journey.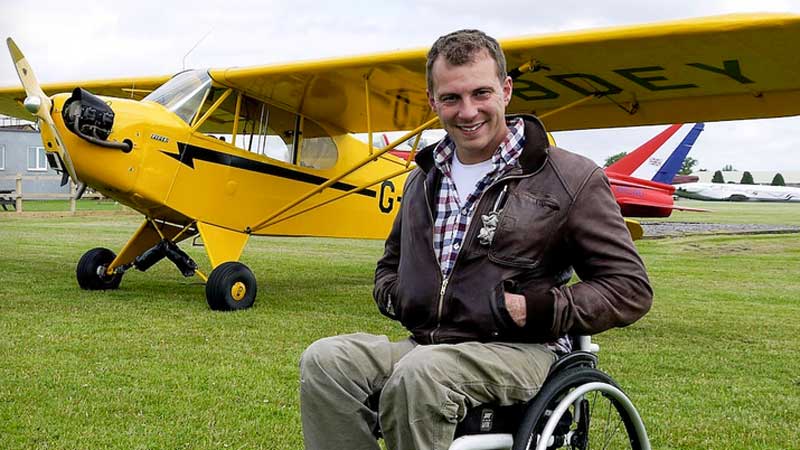 Over four programmes broadcast through August, Arthur stops off at wartime airbases, stately homes and grass strips on remote islands.
In the first episode, Arthur covers the rolling hills, lush fields and open plains of Gloucestershire, Wiltshire, Dorset and Somerset.
Some of the scenes from the series:
Spinning with a female aerobatic champion
Attempts a landing on a 'dummy' aircraft carrier at Henstridge
Tests the runway speed of an open-top Bentley
Visits a vintage fly-in
Sees the Cerne Abbas Giant from the air
Meets a Londoner who bought a Dorset airstrip
Meets a Cotswold craftsman who makes wooden propellers
Meets an ex-city trader developing an 'Iron Man' jet-powered suit.