France's aircraft industry is now a little bigger: Aura Aero has given its all-new Integral R two-seat aerobatic aircraft its first public flight, a few days after making its maiden flight.
The Integral R has its seats arranged side-by-side rather than the usual tandem seating for most aerobatic aircraft. That suggests the Toulouse-based startup is looking to fill the market for Upset Recovery Training (UPRT) created with such training became mandatory for professional pilots.
Aura Aeros' aircraft, registered F-WJMK, took off at 15:30 local time on 1 July, for a one-hour flight, during which test pilots  Eric Delesalle and Hervé Poulin explored the aircraft's flight envelope.
The aircraft was accompanied by a chase plane for observation of the various manœuvres, and its progress monitored on the ground in real-time via a direct telemetry link.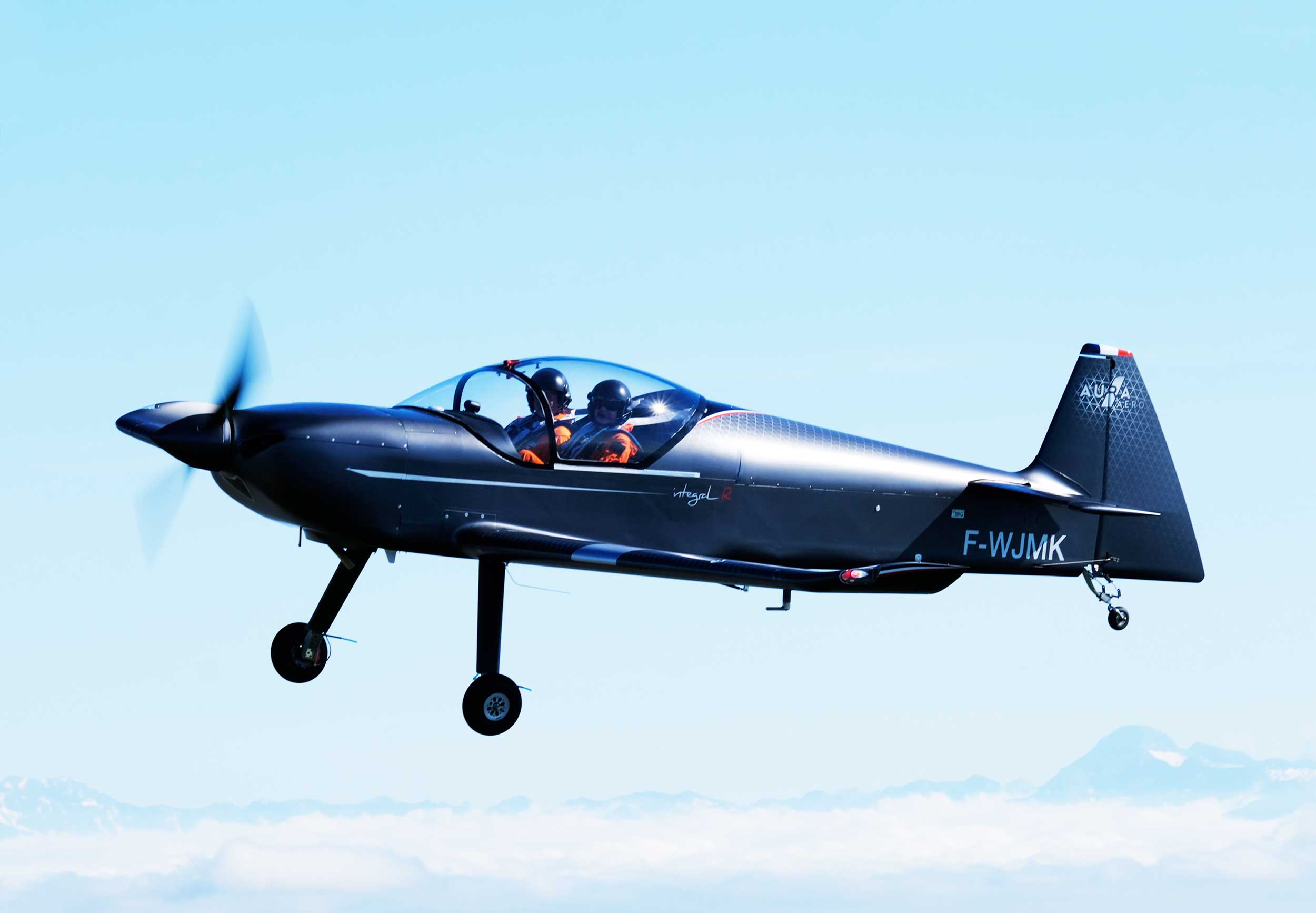 Jérémy Caussade, president and co-founder of Aura Aero, said, "This first flight marks the start of the Integral adventure and we are very thrilled and proud to see our project finally and actually take to the air! Our first orders confirm that this aircraft has its place on the twin-seater market today."
The Integral R has tailwheel landing gear configuration but there will also be a nosewheel version, the Integral S.
Series production is currently under preparation on two French sites, said the company, and the final assembly line will be located in the south-west of France.
Aura Aero Integral R spec
Seats 2, side-by-side
Engine Lycoming AEIO-390 producing 210hp, constant-speed propeller
Length 23.82ft
Wingspan 28.80ft
Height 8.07ft
MTOW 2,094 lb
Load factor @730kg, single pilot +9/-9 G
Cruise speed (@8,000 ft / 75%): 180 kt (335 km/h)
Maneuvering speed 162kt
Stall speed 49kt
VNE 210kt
Range 700nm
Fuel capacity 46 gal US
Luggage capacity 66 lb