+VIDEO The last Concorde ever to fly has safely completed her journey to Aerospace Bristol, a new £19m museum located at the former Filton Airport, Bristol, due to open this summer.
The aircraft has been standing in the open at Filton for the last 13 years, having flown in on 26 November 2003. Airbus UK has carefully looked after the former British Airways' Concorde Alpha Foxtrot – also known as 216 – and the aircraft is still in remarkably good condition.
The aircraft was towed across the runway by engineers from British Airways and Airbus, and up a ramp into the new purpose-built hangar at Aerospace Bristol.
The hangar had a wall removed to allow the aircraft to enter the building and, with less than a metre between each wing tip and the building, Concorde was slowly and carefully winched into her exhibition position.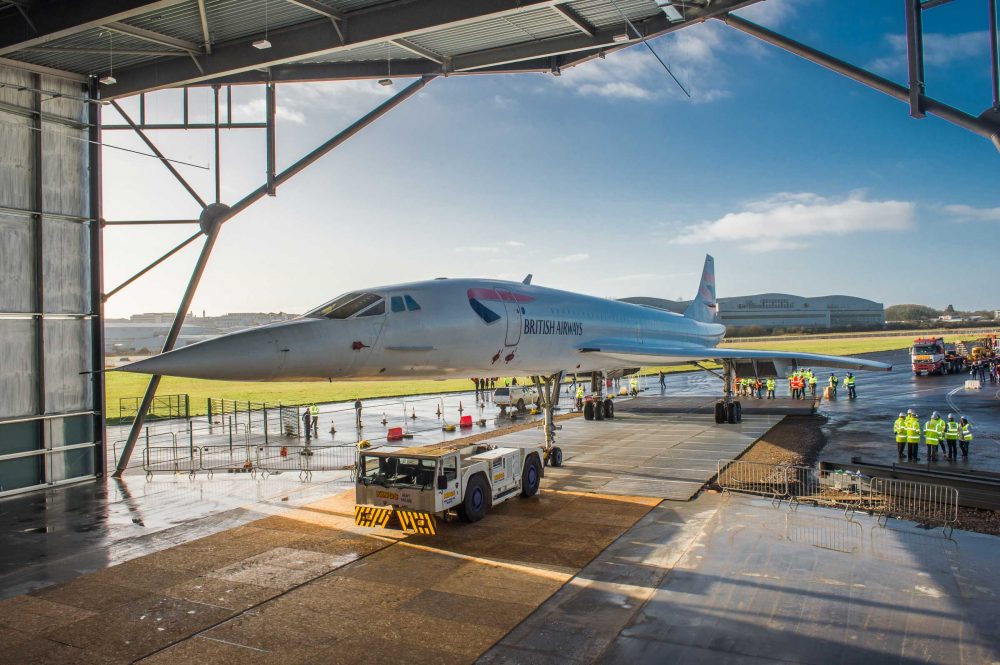 Iain Gray, chairman of Aerospace Bristol, said, "We couldn't be more delighted to welcome Concorde 216 into her new purpose-built home at Aerospace Bristol. With such enthusiasm for Concorde in this country, and particularly in Bristol where she was designed, built and landed for the final time, it is only fitting that this magnificent aircraft should have a permanent home at Filton."
Mark Stewart, general manager of Airbus UK, said, "Airbus has been the proud custodian for Alpha Foxtrot since 2003 and has been keen that we could find a permanent location for such a fantastic historical exhibit of Filton engineering skills. After 13 years of caring for the aircraft we are pleased to deliver her to Aerospace Bristol so that people can visit and admire her for years to come."
Aerospace Bristol
Aerospace Bristol will transport visitors through more than 100 years of aviation history: through two world wars, exploring the vital role of aircraft in these conflicts, through the drama and technological advances of the space race and on to the modern day, where they will discover the latest technologies of today's aerospace industry.
As a first-class museum with learning at its heart, Aerospace Bristol aims to inspire the next generation of engineers with remarkable stories of ingenious design and engineering innovation.
The development of Aerospace Bristol to date, and the construction of the new Concorde hangar, has been made possible by the support of Founding Partners BAE Systems, Airbus, Rolls-Royce, South Gloucestershire Council and the Heritage Lottery Fund. In addition, the project has attracted support from Bristol City Council, West of England LEP, the Libor Fines Fund as well as GKN, Renishaw and the John James Foundation.