Pros
No external battery box
Long, 28-hour battery life
The cables are hefty enough to be the only thing left standing after a nuclear attack
Cons
Cup-mounted controls are a pain to use
Battery isn't user-replaceable
Audio plugs aren't moulded
Flyer Verdict
A decent option in the ANR headset market at a competitive price, but those controls may frustrate some people, and the dull grey plasticiness seems a bit low-rent.
The challenge of being number one in a market is that someone is always coming along with a plan to knock you off that spot, so it's probably not that surprising that French manufacturer Factem is targeting the Bose A20 with its new EF7-IA (IA stands for Integrated ANR) headset.
The company told us they'd surveyed users and used the results to guide the design of the EF7, which in their words is 'robust, has excellent attenuation and offers high quality sound' on top of 'very effective pricing', a five-year warranty and the fact that it is made in France. Statements most manufacturers would probably use to describe most of their headsets (well, OK, not the 'made in France' bit, but you know what I mean). Happily a pair of the EF7-IA was dropped off at the office for us to take flying and give them a good listening to.
First things first. If this was a video instead of ink on paper you could waste 15 minutes of your life watching me unbox them; as it isn't, I'll quickly describe them so that we can get to the important bit of flying with them. Briefly, they're a bit larger than your average headset, made from dark grey plastic, the headband is easily adjustable and contains a thinner head pad than I would have expected (but still comfortable). A headset case is an optional extra (really?) but as standard you get a fabric bag that's reminiscent of the ones you probably used at school for your plimsolls.
The cables running from the headset terminate in the sort of jacks that you might buy at an electrical store if you were going to make up some leads with a soldering iron – they're not the sort of moulded plug that you find pretty much everywhere else. While I didn't test them to destruction, I am not sure how robust this element will be if it gets any misuse from passengers pulling the jacks out by grabbing the cables.
The big difference is that the ANR and the headset controls are integrated into the EF7-IA earcup. The good news is that there's no heavy box to get in the way, or drag the cables towards that inevitable tussle with the seat mechanism or fire extinguisher.
The bad news is that the controls, and there are two buttons, a multifunction wheel, the micro USB charging socket and an LED indicator, are all on the underside of the headset's left cup. That means that you can't see them when you are wearing them so you'll have to develop and use a bit of muscle memory in conjunction with some audio cues to figure out what you are doing.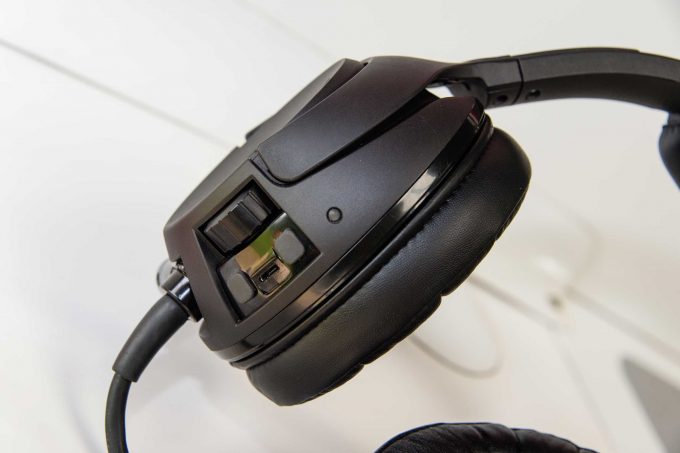 Where's the box?
Before flying, the battery that powers the ANR has to be charged and, as it is housed in the headset where you can't get to it, you'll need to leave the headset itself plugged into the micro USB cable. A full charge, we're told, should last for 28 hours, but the company wanted their headsets back before we had a chance to fly them for that many hours. Even half that would be more than enough between charging opportunities.
The EF7-IA is easily adjustable and pretty comfortable with or without glasses, so all I needed to do to get it set up and switched on was to access the controls. This proved a bit tricky. There are 11 different actions that can be performed with the four controls (two buttons and a wheel that either rotates or clicks sideways), and some of the buttons have different functions depending on how long you hold them for. The faff of having a control box dangling from your cables has been replaced by the faff of having difficult to use controls. Once you've got them set and sorted things do get simpler.
In-flight ANR performance is pretty good, not as good as the best brands, but better than many of the mid-range offerings. The company makes a big thing about the passive noise attenuation being better on the EF7-IA than on the Bose A20 and I spent quite a bit of time swapping between the two with the ANR switched off. It may well be possible to measure any difference, but in flight it's not significant enough to matter. Anyway, you'd only really care if the ANR broke, your EF7 ran out of battery, or you didn't have any spare AAs for your A20. The bluetooth worked well with my phone (iPhone 6) and was easy to set up, although for some reason, when I called the office from the aeroplane, my voice was distorted enough for them not to recognise me. (It's true, I had no idea who it was – Ed.)
To sum up, the EF7-IA is a decent headset that is a bit quirky thanks to the location of the electronics and controls. In my opinion it's not as good as the Bose A20 or Lightspeed Zulu II. It's the best part of £300 cheaper than the Bose, but I'm not sure that's quite enough for the EF7-IA to become a significant player in the worldwide headset market without some more development.
For more information, visit www.factem.com