Pros
Free and easy to use
Clear, functional with no-nonsense 'two-minute' warnings of imminent airspace busts
Cons
No route-planning on free version
Flyer Verdict
Excellent, functional moving map which should keep you out of unintended entry into controlled airspace – and it's free
When the Airspace Aware app first came out, back around 2013, it was part of a campaign to reduce airspace infringements by ensuring as many pilots as possible had access to notam in an easy-to-view format, with basic moving map functionality and airspace proximity alerting.
However, a FASVIG analysis of infringement causes from 2016 stated that 74 per cent of the pilots involved in the incidents weren't using any form of GPS or electronic navigation.
Therefore, the main market for this combined rebrand and update, from Airspace Aware to EasyVFR Basic, remains those who are new to aviation GPS and perhaps the occasional user of other apps who may want to cut costs by moving to a simpler, subscription-free option. That said, EasyVFR Basic clearly also hopes to attract some new users into the full package – the differences and cut-down features are clearly signposted and there's a splash-screen advert for the subscription version upon launch.
So if you're new to GPS-based notam and moving maps, what can you expect from EasyVFR Basic? When you first run the app, it launches with a download screen, to load the basic airspace and base-map data – this is around a total of 170MB so it isn't too enormous and will fit easily on low-cost devices. There's also the offer of a tutorial at this stage, although it's really only a link to an introductory web page.
The map itself is uncluttered and the airspace boundaries are clear. Helping the decluttering is a default filter which hides all airspace above 5,000ft. That altitude can be altered and if you fly too close to the height chosen the app will automatically add 2,000ft to the filter. Therefore, it should be difficult to accidentally fly into airspace that you've hidden from the chart.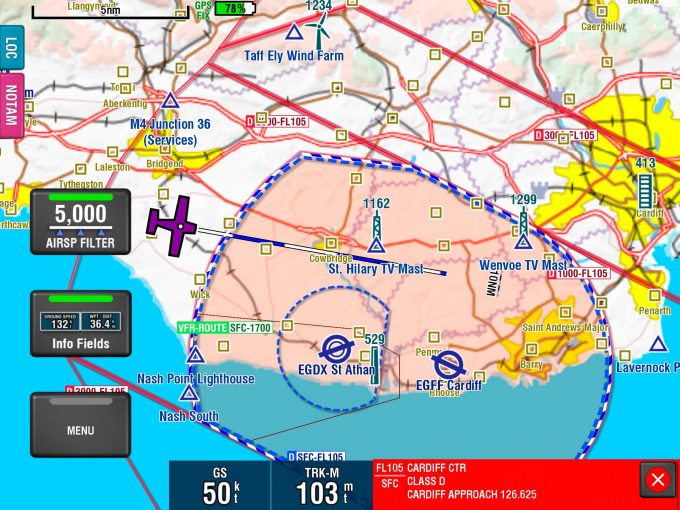 I tried the app on both an iPad 3 and a relativity low-spec Samsung phone, and it scaled well to the smaller screen and ran smoothly. It actually looked a bit slicker on the phone, as the repositioning and resizing of the buttons, to maximise the smaller screen space, is excellent.
On a tablet, the large buttons do obscure a certain amount of screen space but are well-sized for use in the air, if need be – there's no chance of you missing them with a clumsy finger during turbulence. The key in-flight information – groundspeed, GPS-derived altitude and track – is also displayed clearly. You can easily alter the layout and which information displayed. For example, you can choose to remove the AGL box, which only works with the full version's terrain awareness feature anyway.
In the air there are no start/stop flight buttons, the GPS is always on. The airspace alerting is based on a two-minute warning, calculated from current groundspeed, GPS altitude and heading. That doesn't sound much but it's deliberately been chosen so as to be a genuine 'infringement imminent!' warning, to try and prevent people from mentally 'tuning out' alerts triggered when they were merely somewhere nearby another aircraft.
The coverage of airstrips is good and a number of VFR routes in and out of airspace are also depicted.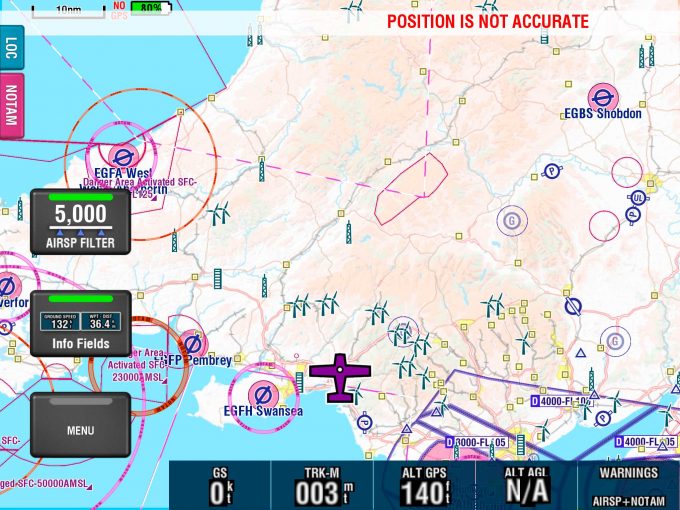 The colour schemes can be altered, although I didn't find that this option made a huge difference to readability. However, if you're used to a particular chart style's colour-coding for airspace boundaries it could prove useful.
'Pinching' the screen will zoom in and out, and two fingers held to it gives a distance line. If you scroll away from your aircraft position marker, you'll also notice a large yellow arrow, which indicates where the marker is and can be used to recentre. This arrow can also be centred on the chart, to give a basic bearing to the location under its tip, but although this does work, it's fairly non-intuitive. I needed advice from the (very fast) user support team to work it out. A large, red, scrolling warning will appear if the app loses GPS connectivity, or if the accuracy drops below a certain value.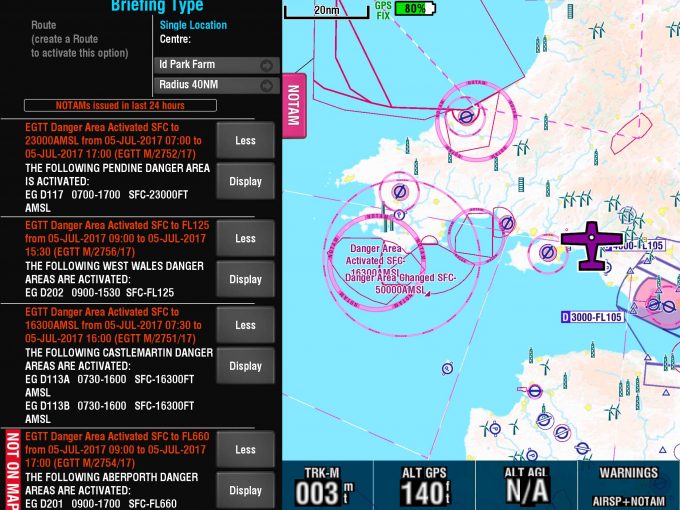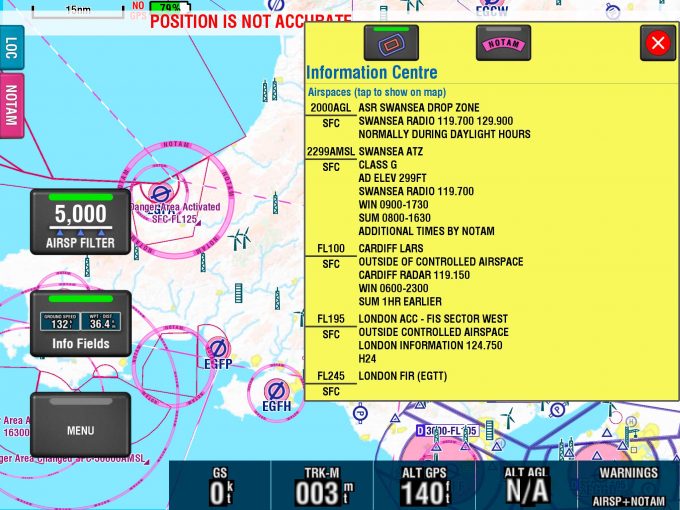 Information Centre
Tapping anywhere on the map brings up the Information Centre, with a list
of nearby towns, and such features as airfields and VRPs for that location, along with the option to view notam or airspace. Selecting either of those options will produce a list of relevant information and clicking on individual notam or items of airspace within the list will zoom to and highlight them on the chart.
The airspace information that's displayed this way is comprehensive, including not only heights and frequencies but also appropriate LARS services and coverage areas, and any listening squawks available. The notam are parsed for the coordinates of boundaries and routes, where appropriate, and plotted on the chart. Any danger areas activated also get lit up as boundaries.
Since the notam update in the background while you're connected to the internet, you could get a long way on nothing more than that basic functionality before you've really pressed a single button, which is probably the key point if this app's target market is new users.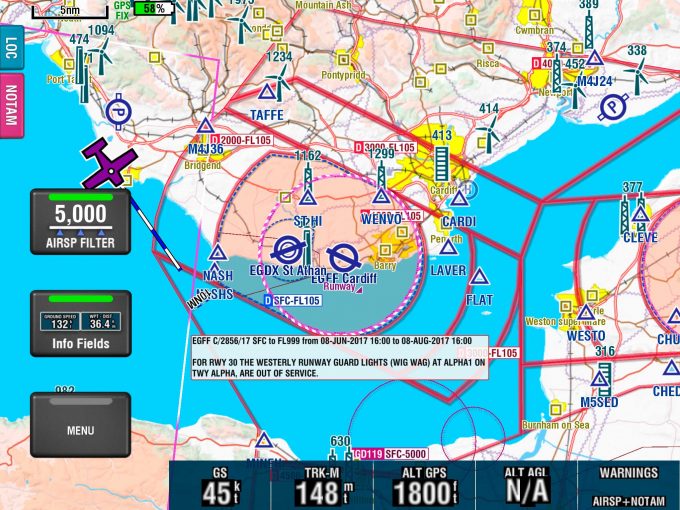 The LOC location tab provides a quick, pop-out summary of your position (including coordinates), an attempt at a sensible 'say-able' position – eg "Ten miles west of Swansea" – for position reporting and also gives a suggested frequency.
The NOTAM tab gives access to pretty much the same, very detailed and customisable, notam interface as the full version of EasyVFR. You can filter notam by type (IFR, VFR, Whole FIR, En-Route, Aerodrome, etc) and choose to collapse or hide specific ones which don't apply to you. You'll want to be careful with that last function because it doesn't just hide them from the list but also from the chart. So although it's useful for decluttering, it could be easy to get a bit click-happy and hide something you didn't want to. Happily, hidden notam can be reshown easily enough.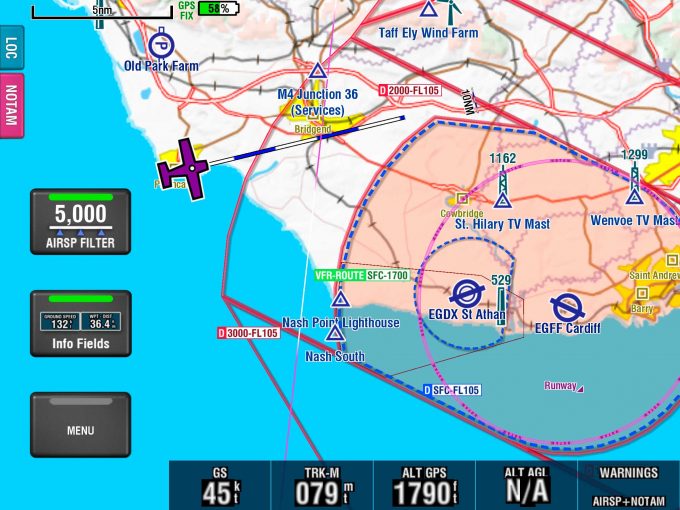 In this free version of EasyVFR, only point-to-point briefings can be created, but if you've a subscription, routes can be imported from the full app to this one. There's also an option to import GPX files as a route for the briefing but it's very hard to imagine that a hypothetical new user of GPS software managing this as it's quite a laborious process. It took me a few attempts and although there are apps which can create the right format to export, importing them is clunky. If you were travelling as a group and one of you had the full EasyVFR package it'd be much easier, and that's the example given in the instructions.
The settings are a subset of the full package – the sizes of most elements can be altered and the app can be connected to FLARM and PilotAware, although these weren't tested.
The main feature which marks this out as a cut-down, freebie app is the absence of route-planning functionality – it's a pure moving map.
EasyVFR Basic is easy to pick up and use, and I'd certainly recommend it to any pilot who's not already utilising some form of GPS and isn't yet willing to splash out for a full subscription. Personally, I'll be leaving it on my phone as a fall-back option. Leia Fee