Certified aircraft such as Cessna 172s and Piper PA-28s, to name just two, have to be fitted with certified avionics right? Not any more. The Experimental Aircraft Association (EAA) announced an initiative at this week's Sun 'n Fun airshow to bring uncertified avionics to the instrument panels of specific Cessna and PIper aircraft.
The EAA has worked with Dynon Avionics and the FAA to create a Supplemental Type Certificate (STC) to install the Dynon EFIS-D10A without the usual Technical Standard Order (TSO) or Parts Manufacturer Approval (PMA). This is the first time this has been done, but the EAA's intention is to work with all manufacturers of avionics and instruments to develop similar STCs.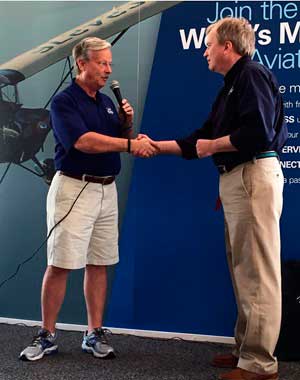 Jack Pelton, CEO and chairman of the EAA, said, "This STC process will allow aircraft owners to have the latest proven safety technology available in the cockpit at lower cost."
It's important to stress that the Dynon Electronic Flight Information System (EFIS) is verified against the recently developed ASTM 3153-15, Standard Specification for Verification of Avionics Systems. It was also flight tested in the EAA's own Cessna 172M with FAA observation.
The cost and application process for the STC will be finalised in coming weeks. The STC will be available through the EAA, while Dynon's product will be available through its established distributor network and factory direct.
"For years, pilots of type certificated aircraft have been asking us for a way to install Dynon glass panel avionics in their airplane," said Dynon President Robert Hamilton. "We jumped at the opportunity to work with EAA and the FAA to make this novel STC approach possible with our EFIS-D10A. This is a breakthrough that can lead the way for many more possibilities."
The Dynon EFIS-D10A is the first product to be STC approved. It is a 4in Primary Flight Display that includes attitude, airspeed, altimeter, magnetic heading, turn rate, inclinometer, g-meter, winds, and more. Other capabilities include Angle-of-Attack and internal backup battery. The initial STC allows the EFIS-D10A to replace the existing primary attitude indicator in Cessna 150, 152, 172 and Piper PA-28 and PA-38 series aircraft. It will still have to be installed and signed off by a licensed engineer.