DJI has just launched a small gyro stabilised video camera, the Osmo Pocket, and we thought it looked ideal for opportunistic inflight filming and stills photography. It's not aviation specific like some of the Garmin VIRB bundles, but we thought it interesting enough to try in flight.
The first thing that strikes you when you open the box is just how small it is, measuring 12.5cm high, 2.5cm wide and 2cm deep, it's tiny and certainly small enough to be used one-handed in the smallest of GA cockpits.
Weighing in at 116g, the Osmo promises 140mins of battery life – I read that as it should do an hour in the cold – has a three axis stabilised gimbal and a sensor that's good for 4k video at 60fps (other settings are available). Control is via two buttons and a small touchscreen, but if you need to delve deeper into the menu or access any of the pro settings, then you'll need to connect it to a smartphone (iPhone or USB-C equipped Android only, for now).
There's a supplied hard case that should keep the gimbal safe from knocks, can be easily carried in a pocket or flight bag. In addition to shooting video the Osmo Pocket has modes for still shots, panoramic shots (it automatically stitches together multiple frames), slow motion or time-lapse. There's a couple of built-in microphones, and three clicks of one of the buttons will have it in selfie mode (complete with automatic face tracking).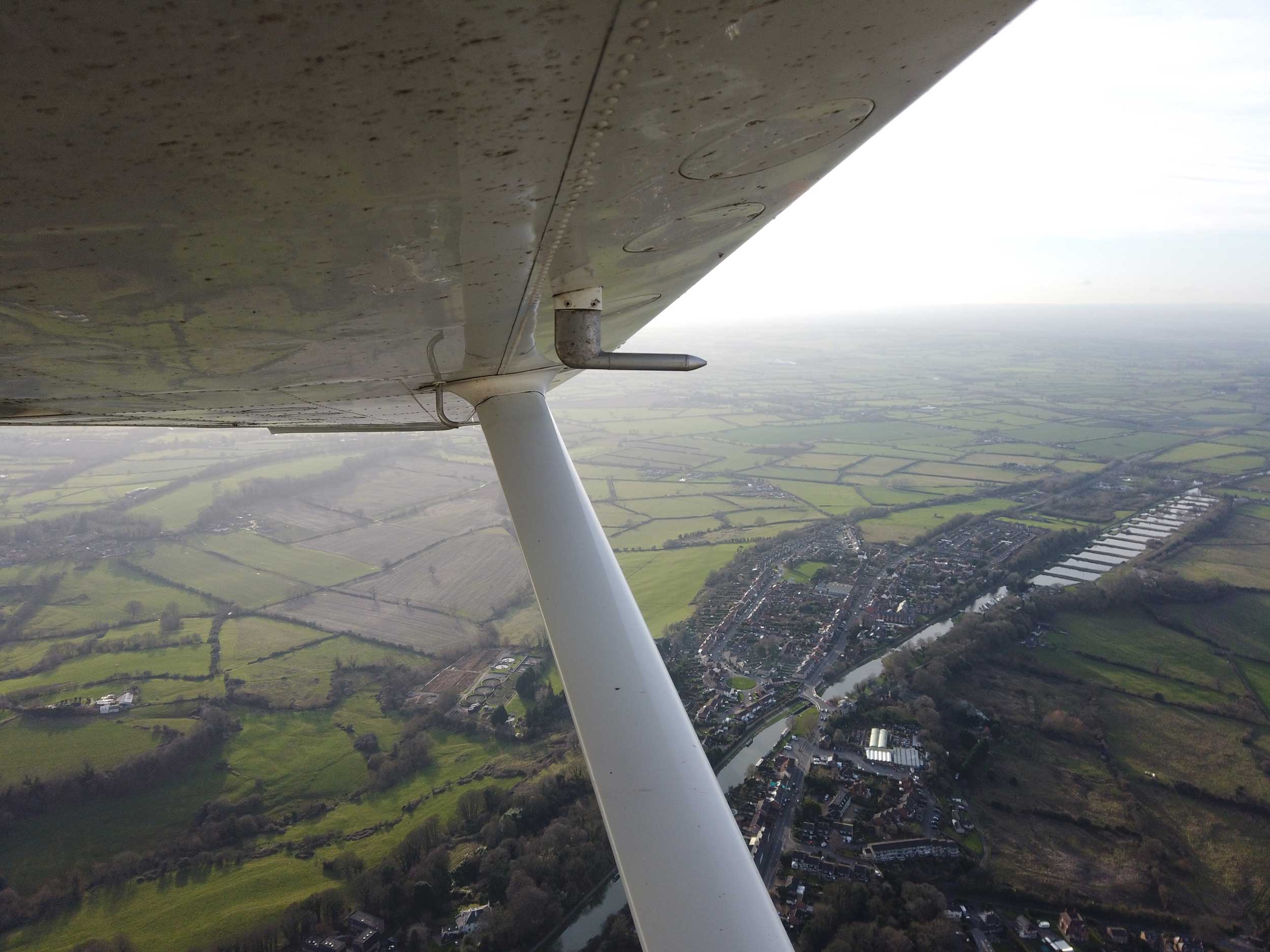 Osmo in flight
So, what's it like in flight? Sadly, not yet as good as it could be, but to be fair only some of that is down to the Osmo Pocket, and the rest of it is probably down to me. From pressing the 'on' button there's a delay of about four or five seconds while the camera boots up and the gimbal calibrates itself before you can start shooting. I thought that might prove frustrating, but in practice it was fine.
The fixed focal length lens (roughly 25mm if it were on the front of a 35mm camera) works surprisingly well for shots outside of the aeroplane but is perhaps not quite wide enough inside. Photographers out there will be thinking I'm mad – by any measure a 25mm lens is wide, but we're talking small spaces here. If you happen to catch the propeller in any of your frames then, out of the box at least, you are going to get a degree of rolling shutter – giving that effect which makes it look like your prop is made from rubber. DJI's website shows a set of neutral density filters for the lens that will solve that problem, but as I write they're listed as out of stock.
The Osmo currently has no external microphone option, so if you want to impress your viewers with your slick RT you'll struggle. On the other hand, if pressing the PTT makes you speak gibberish, this is the camera you've been waiting for…
If the weather (and therefore light) is good then the video quality is excellent, and certainly good enough for YouTube, and the stills are fine for screen use. In low light it's not great, and if any of your perspex is marked or dirty you may well find the Osmo Pocket focusing perfectly on that, rather than on the world outside. Gimbal stabilisation is excellent though, and delivers you super steady footage every time.
Although in aviation units the Osmo Pocket is quite cheap, by the time you add some Neutral Density filters, an optional control wheel and the external microphone adapter (when it ships), you'll be spending quite a chunk of money. There are sufficient compromises to only make this a good buy if you have some other uses – I bet it would be great when skiing – but if inflight aviation video is your only use, then maybe look at a Garmin VIRB instead.