There's a brand new winner in the Red Bull Air Race series. Czech pilot Martin Sonka, competing in his fifth season, won the opening round of the 2017 world championship in Abu Dhabi on Saturday.
And Sonka didn't just win, he blew other racers into the weeds with a time more than a second quicker. Second was another surprise with Spain's Juan Velarde making his first appearance into the final four. Canada's Pete McLeod took third.
"Except for some mistakes during practice, the whole week went well and I couldn't be happier," said Sonka, who took four race podiums in his four previous seasons of Air Racing.
"I've finally won my first race, I feel good in my raceplane, and this of course gives me confidence for the future."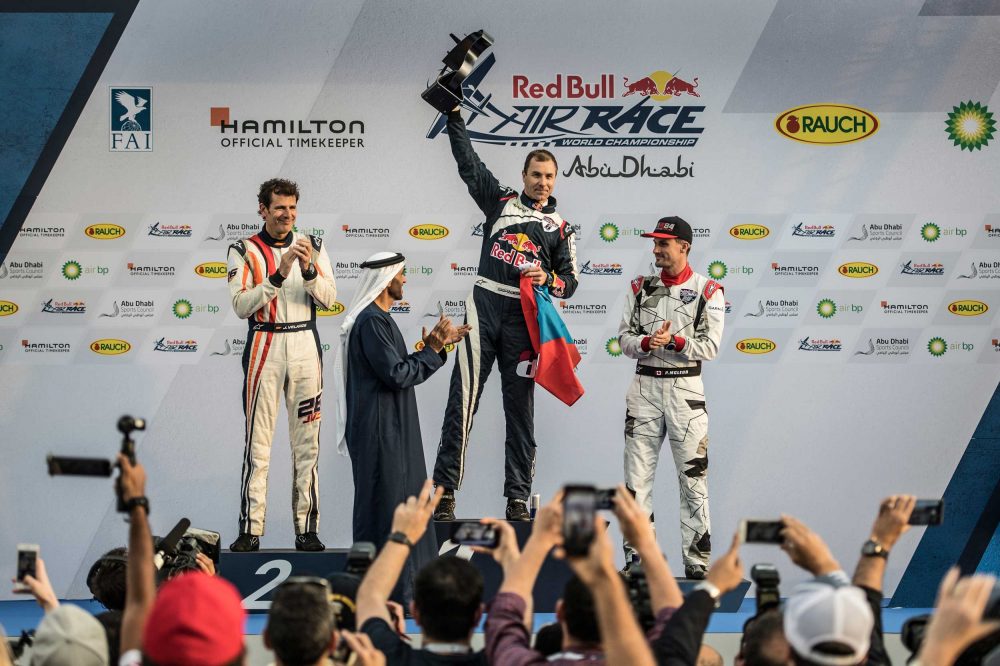 Defending champion Matthias Dolderer was fourth overall after incurring a penalty. Newcomers Cristian Bolton of Chile and Mikael Brageot of France earned their first World Championship points.
Results
Martin Sonka (CZE)
Juan Velarde (ESP)
Pete McLeod (CAN)
Matthias Dolderer (GER)
Nicolas Ivanoff (FRA)
Michael Goulian (USA)
Cristian Bolton (CHI)
François Le Vot (FRA)
Mikaël Brageot (FRA)
Matt Hall (AUS)
Kirby Chambliss (USA)
Petr Kopfstein (CZE)
Yoshihide Muroya (JPN)
Peter Podlunek (SLO)
World Championship standings
Martin Sonka (CZE) 15 pts
Juan Velarde (ESP) 12 pts
Pete McLeod (CAN) 9 pts
Matthias Dolderer (GER) 7 pts
Nicolas Ivanoff (FRA) 6 pts
Michael Goulian (USA) 5 pts
Cristian Bolton (CHI) 4 pts
François Le Vot (FRA) 3 pts
Mikaël Brageot (FRA) 2 pts
Matt Hall (AUS) 1 pt
Kirby Chambliss (USA) 0
Petr Kopfstein (CZE) 0,
Yoshihide Muroya (JPN) 0
Peter Podlunek (SLO) 0
Next race: 15-16 April, San Diego, USA