Two state-of-the-art aircraft have joined the UK's Maritime & Coastguard Agency to carry out lifesaving search and rescue missions.
The two aircraft, a Beech King Air and a Piper Navajo, are equipped with multiple state-of-the-art sensors which enable the aircraft crew to spot a person in the water up to 40 miles away. It can also drop emergency locator beacons, communications and first aid equipment to those in danger.
They will also support the Coastguard's counter pollution activities, fishing and law enforcement.
Maritime Minister Nusrat Ghani said, "From pulling fisherman from treacherous waters, to hoisting people to safety from the most remote locations in the country, MCA rescue teams carry out vital lifesaving work every day.
"The ground-breaking new technology aboard these new aircraft will be an invaluable asset in time critical rescue situations, ensuring our rescue teams are better equipped than ever to save lives."
On average the current fleet of search and rescue helicopters respond to seven taskings a day, with more than 1,600 people rescued around the UK last year. It's expected the aircraft will each complete approximately 1,000 hours of flying every year.
New state-of-the-art aircraft have taken to the skies, boosting the lifesaving search and rescue operations we carry out around the UK ?? ?? ??

Read more about the Beechcraft King Air B200 ?? https://t.co/ylz7UnvrGz#SearchRescueSave #EverySecondCounts #999Coastguard pic.twitter.com/hZ436F66sF

— Maritime and Coastguard Agency (@MCA_media) February 8, 2020
The aircraft are operated by 2Excel's Special Missions division, based at Doncaster-Sheffield Airport in South Yorkshire.
Arnie Palmer, Director of 2Excel Special Missions, said, "At 2Excel we are highly skilled at quickly delivering complex concepts into capabilities and this contract with the Maritime and Coastguard Agency is a shining example of that.
"Since the MCA contracted us to provide a complete solution to us flying the first mission in the King Air was just eight months.
"The work drew on expertise across 2Excel, including our Capability Development team – from integrated design, manufacturing and installation of the specialist mission equipment – to training our crews to operate the aeroplane.
"This prestigious contract is great news for the airport and local economy and has created a number of jobs in the aviation sector.
"Our facility at Doncaster-Sheffield Airport was chosen as the operating base due to its central location and 24-hour operating hours, which means we can deploy at short notice anywhere in the UK Exclusive Economic Zone."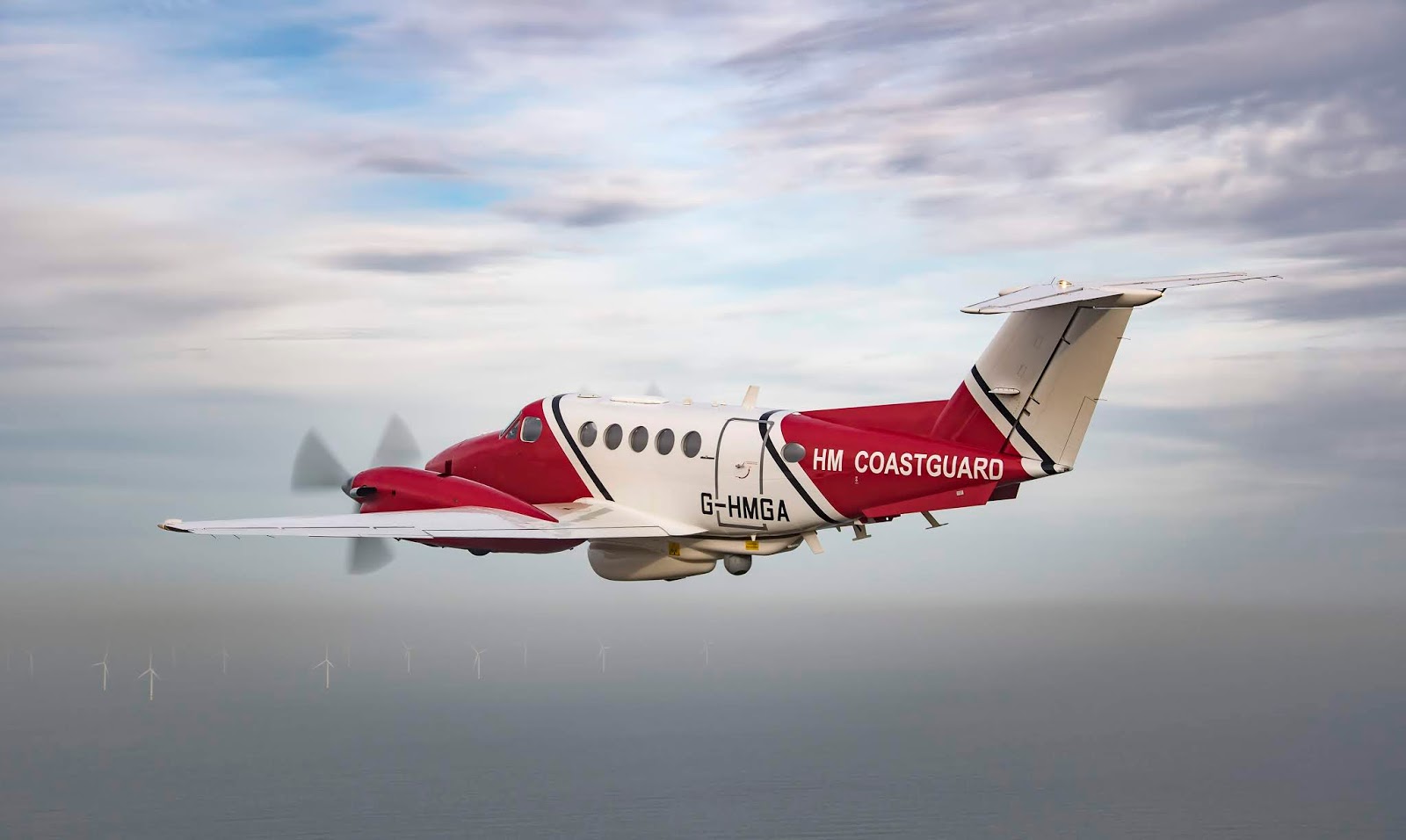 The capability builds on the MCA's successful 2016 trial which concluded that fixed-wing aircraft are capable of rapid response, are economic and have enhanced endurance. This means that a fixed wing aircraft should be rapidly on scene, whilst conducting wide area search and co-ordinating response, thereby allowing helicopters to be employed on operations where they are most effective.
The Beech King Air 200 is fitted with a state-of-the-art, multi-spectral surveillance suite and co-ordinated through an integrated mission control system. Equipment includes the latest Leonardo radar system, HD Electro-Optical sensor turret, IR/UV line scanner and search and rescue (SAR) direction finder.