Pros
Lightweight and compact
Minimal headband tension
High-quality ANR with three profiles
Cons
The StayHear+ earbuds take a while to get used to
Can be fiddly to set up before flight
Not everyone likes putting things in their ears
When I heard that Bose had produced a headset specifically for quieter cockpits and, more specifically, airline pilot use, I'll admit I was imagining a derivative  of its A20 model, 'tweaked' for that specific audience. So it was with some surprise when  I saw that the new ProFlight unit was actually quite different – the headset doesn't go onto your ears, but in them.
Bose has a reputation for high-quality and in the aviation headset market, the A20, its
sole product, sits at the premium end of the spectrum. I bought an A20 as my personal headset for GA flying, and also in the cockpit at work, which is currently a Boeing 737.
However, Bose has gone down a different route with the ProFlight, opting for an in-ear approach, rather than the traditional design which covers the whole ear. For the commercial pilot, on paper, the idea of offering a lightweight, noise-cancelling headset that's comfortable to wear for hours at a time does make sense, so I was interested to try it out.
Out of the box, the headset looks great, with a thin headband and something new, namely head pads, one on either side.  There's also a neat controller unit, with switches for Bluetooth and ANR, which takes two AA batteries.
As you'd expect from Bose, quality hasn't been compromised on, and despite this being a much smaller and lighter headset – the bit on your bonce weighs in at 139g – the ProFlight feel good-quality. If you're used to an A20, the ProFlight looks like it might
be more delicate, but it does feels similarly robust, even when making adjustments.
The ProFlight has been designed so that the headband doesn't cause tension or aches, even after several hours of use – the unit spreading its load via the aforementioned
head pads. As a result, the ProFlight looks and sits slightly differently on your head, which takes a while to get used to, but once you do, it's pretty comfortable. If you want to swap the boom position from the left to the right-hand, it's possible to do it in under a minute, and without tools.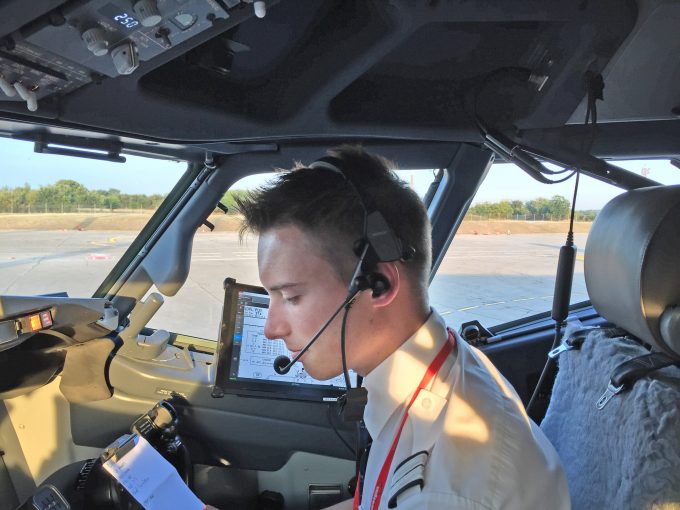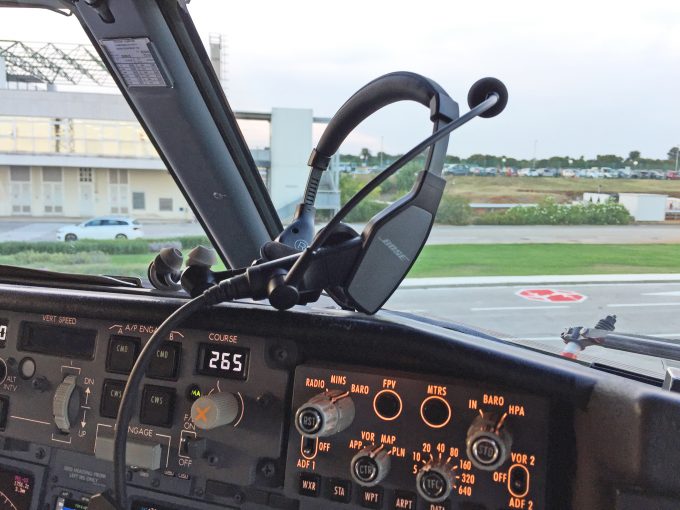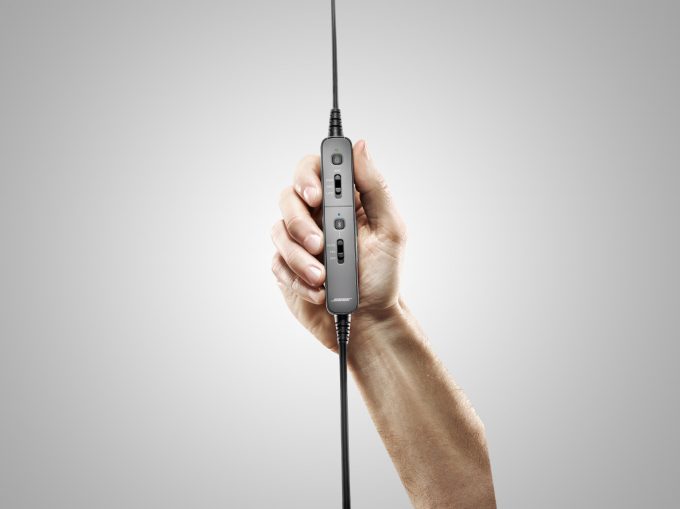 The headset comes with three sets of differently-sized StayHear+ tips – the flexible fitting which goes on each earbud. They're easy to swap but securely located, so there's no fear of anything coming off in your ear canals.
Bose emphasises the importance of using the correctly-fitting size of tips, to get the best audio performance, and I'd agree with this, having tried two different sets. Use the wrong size for your ears, and it does have a significant effect on the quality of sound, and is also incredibly annoying, as you'll find you're having to constantly adjust each earbud.  I'd recommend taking some time to find the right size for you, as one of your ears may use a different one to the other.
Having always used conventional headsets with over-the-ear earcups, it took me a while to get used to having ear-pieces in for several hours at a time. I can understand the decision to go in-ear, as I felt that, in a commercial cockpit, it made the ANR quality
better than over-the-ear cups.
There are three ANR settings, Low, Medium and High. These are designed as profiles, and not levels of ANR, to help the pilot prioritise the sounds they hear – for example, optimising voices outside of the intercom. This enables the pilot to "hear-through'' noises from the intercom and listen to people on the flight deck without the need to take the headset off, which is useful when you're on the apron and dealing with ground crew.
Bose has also developed 'tap control', which allows the pilot to double-tap the earbuds to lower the ANR levels and better hear people outside of the intercom. However, it was something I struggled to get to grips with, as I didn't really like tapping on the buds when they were in my ears.
Overall, the ProFlight headset is innovative and well-executed, and it's TSO and E/TSO-approved. Although I didn't get an opportunity to try it in a GA cockpit, I can imagine that it'd definitely have potential in some of the quieter cabin-class singles and twins.
Personally, I think I'll stick to the Bose A20, but the ProFlight is a good option in the high-end headset line-up, so it's definitely worth trying, if you think it'd suit your particular cockpit environment. Jack Godwin