The British Microlight Aircraft Association is advertising for a new Chief Executive Officer to take over from Geoff Weighell who is about to retire.
The BMAA advertisement says:
We are looking for a Chief Executive Officer to lead the BMAA, following the retirement of our current Chief Executive.
The ideal candidate will:
Have experience in, or an understanding of, the UK microlight (or GA) environment
Have previous management experience at executive governance level
Hold sufficient qualifications or experience to manage the BMAA airworthiness department
Be able to represent BMAA members with regulators and other government departments.
Show initiative and imagination in order to promote microlight flying in the UK
Be a strong communicator, able to establish good working relationships with a wide range of groups
Be able to lead a team of dedicated staff members to maintain high standards
The position is office based at Deddington, Oxfordshire. We offer a competitive salary and conditions.
If you wish to apply for this position, please contact Rob Hughes, BMAA Chairman, for the application information pack and details on how to apply. The deadline for applications is 11 August 2021. Rob's email is sportflying@gmail.com
---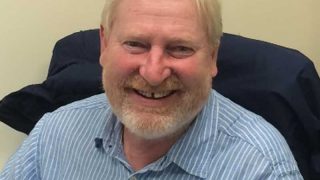 Geoff Weighell, pictured, has been CEO of the BMAA since 2006. Before that he ran a microlight flying school at Enstone, Oxfordshire, and was Chairman of the Microlight Panel of Examiners.