The absurd design of some parts of UK airspace has been highlighted by the CAA itself in its latest update on infringement hotspots – in this case, Bagshot in Surrey.
The CAA says it "has noticed a recent increase in airspace infringements in the southwestern corner of the London Control Zone (CTR) where pilots are navigating using the navigation features in the vicinity of Bagshot."
And which navigation features might they be?
In its wisdom, the CAA has designated both the town of Bagshot and the nearly adjacent junction with the M3 motorway as Visual Reference Points (VRPs). Both are in the London CTR, which is Class D airspace at this point, and 6nm south of the final approach track to Runway 09R at London Heathrow Airport.
It has to be said that Bagshot is not easily distinguishable from the air – it's just another cluster of buildings in a fairly built-up region. However, the more easily spotted 765ft radio mast a bit further southwest of Bagshot is NOT a VRP. More importantly, it does lie outside the CTR – by a mere 300 metres. See top photo which can be viewed larger here.
So the CAA's advice is, "Pilots not in receipt of a clearance to enter the London CTR should maintain a track to the west or southwest of the mast."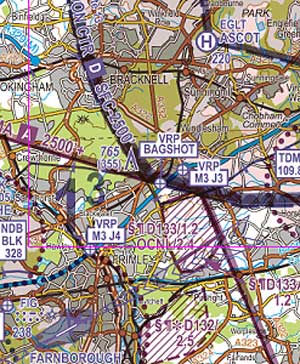 Note: do not fly over either of the official annotated VRPs on the CAA's own 1:500,000 chart – Bagshot town or Junction 3 on the M3 – because that's an airspace bust unless you have a clearance.
The CAA carries on: "To prevent an airspace infringement, as part of pre-flight planning and in-flight execution, pilots are strongly encouraged to:
Use a GPS Moving Map and TAKE2*
Obtain an air traffic service from Farnborough APP on 125.250MHz. The airspace between Farnborough and the London CTR is narrow; this will help prevent infringing the London CTR, or the Blackbushe or Farnborough ATZ.
Use the Frequency Monitoring Code (FMC). Rather than just squawking 7000, if you do not want to obtain a service from ATC, use a Frequency Monitoring Code by squawking 4572 and monitor 125.250 MHz
Plan ahead. Think in 3-dimensions. Pirbright Ranges (EG D133A and EG D133B) are normally active to 1200 feet amsl. EG D133B is occasionally active to 2,400 feet when notified by NOTAM. Ash Range (EG D032) is charted to 2,400 feet amsl but is only activated by NOTAM. For all areas, a Danger Area Activity Information Service is available from Farnborough APP on 125.250MHz when open or at other times from London Information on 124.600MHz.
Of course, the CAA could always designate the TV mast as a VRP.
* Take 2: remain 200ft from the base of controlled airspace and/or and 2nm from edge of any airspace.