Avidyne is making Synthetic Vision (SVS) available on every version of its growing line of IFD-Series GPS Flight Management Systems (FMS). The next upgrade of Avidyne's software, Release 10.2, will include Synthetic Vision which gives a 3D view ahead including terrain, obstacles, traffic, airports and navaids.
"Many aircraft owners have wanted to add reliable Synthetic Vision in their panels, but it has either been unavailable or cost-prohibitive for their particular aircraft," said Dan Schwinn, Avidyne's President & CEO.
"Now, any aircraft owner upgrading their old panel-mounted navigator to an Avidyne IFD will get a modern hybrid touch-screen WAAS GPS, a place to view ADS-B traffic and weather, and a gorgeous Synthetic Vision display all in the same panel space."
Avidyne has six versions of its IFD Series GPS FMS systems, starting from $11,399. The IFD540 and IFD440 will be able to display exocentric 'in-trail' Synthetic Vision views of the host aircraft, along with overlay of flight plan, colour-contoured terrain, obstacles, full colour 3D traffic and terrain warnings.
IFD100 app for iPad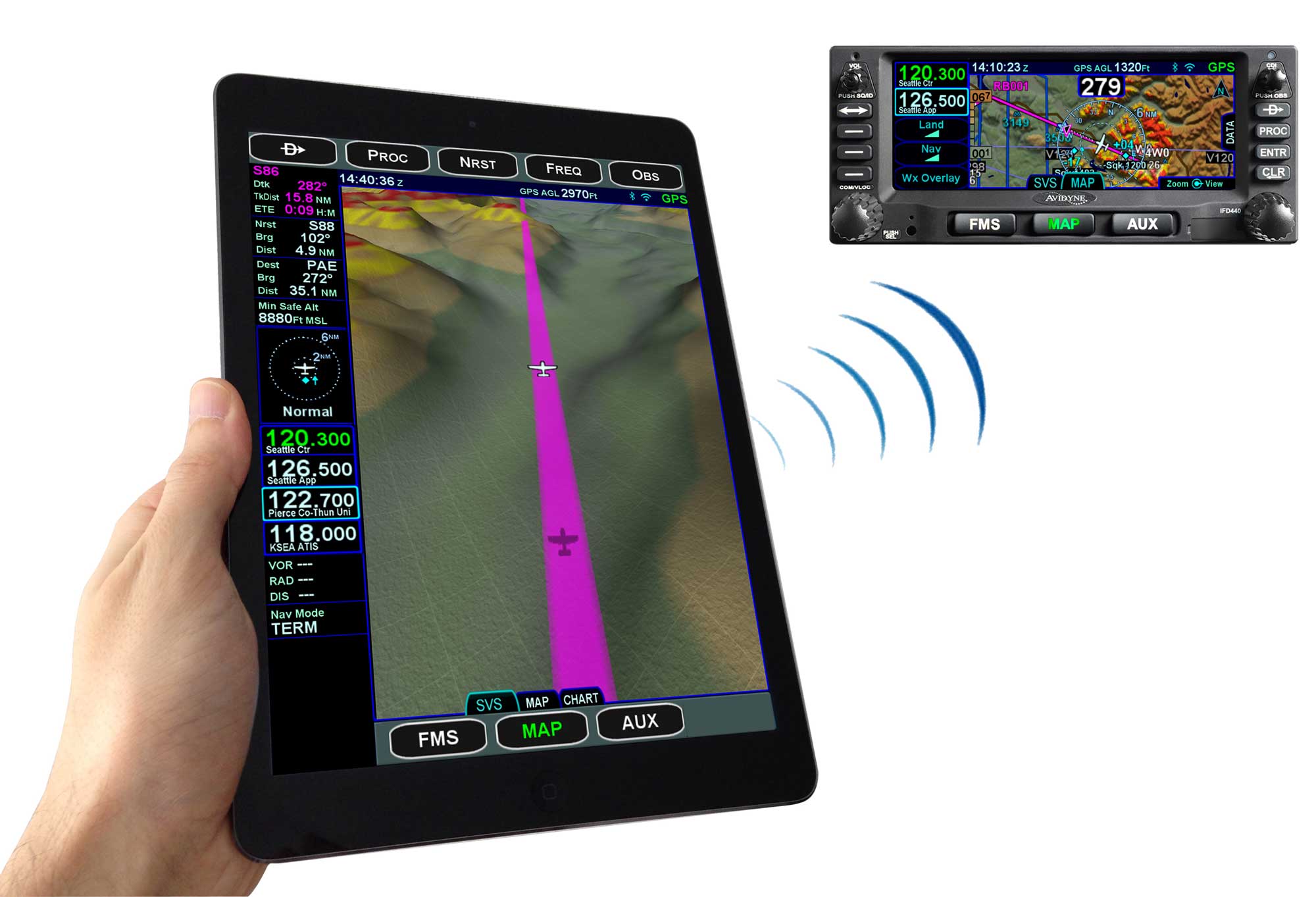 Avidyne has also announced the IFD100, an iPad-based application that mimics all the functionality of its IFD-Series GPS Flight Management Systems.
The IFD100 iPad app gives pilots a large-format map that wirelessly connects to their IFD 4_Series or 5-Series GPS FMS system. All knob and touch functionality of the IFD can now be controlled remotely by the iPad in real time. ADS-B weather and traffic and Synthetic Vision are also updated wirelessly for display on the large-screen moving map.
Pilots flying with panel-mounted Avidyne's IFD Series GPS FMS systems can use the IFD100 app to create flight plans on the iPad before leaving home, and then wirelessly synchronise with the panel-mounted IFD before departure – or easily edit in real time in the aircraft.
"The IFD100 is a powerful extension of the panel-mounted IFD," said Mitch Biggs, Avidyne's Vice President of Sales and Marketing. "We've ported all the actual flight code and optimized the user interface for the iPad, so it's really like having another IFD in the cockpit, but with an even bigger touch-screen display."
The IFD100 App will be available as a free download from the iTunes App Store for any IFD owner and will be available shortly after Release 10.2 software certification, expected later this summer.