+VIDEO Electric aircraft offer the way forward for lower emissions and quieter operations but current designs are hamstrung by the need for heavy batteries and/or a separate internal combustion engine to generate electricity – the hybrid.
But one new company, Alaka'i Technologies, may have the answer with a hydrogen fuel cell powered aircraft.
It's called the Skai, it's one of the new breed of electric vertical takeoff and landing (eVTOL) vehicles, and its fuel source is a system that runs entirely on hydrogen fuel cells.
The hydrogen fuel cells generate electricity and give a range of up to four hours, enough for 400 miles range, with no carbon emissions during flight.
Alaka'i  believes that Skai's hydrogen fuel cells offer reliable, safe and environmentally clean emissions comprised solely of heat and water. They're also 95% reusable and the remaining (99%) recyclable.
Brian Morrison, co-founder, president and chief technology officer of Alaka'i Technologies, said, "Skai offers practical, real-life solutions to everything from relieving traffic congestion to delivering supplies during natural disasters. Skai is set to offer affordable, realistic applications in the commercial, private, freight, and personal air mobility markets."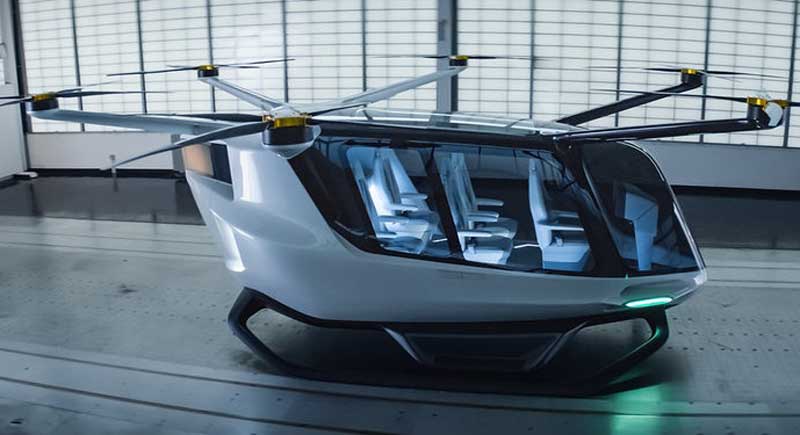 If the already built prototype looks well-designed that's because it's come from BMW's Designworks studio. It's simple, with six rotors mounted high out of the way of would-be passengers, just like a drone. Nothing complicated such as ducted fans or tilting props.
It seats five and will be flown by a pilot, at least to begin with, and Akaka'i has already started the certification process with the FAA. Oh, and there's a whole aircraft ballistic parachute recovery system as back-up.
Alaka'i Technologies was founded in 2015 in Hopkinton, Massachusetts, and has aseembled an impressive team with decades of aerospace development, production, executive and airspace integration experience. They're from a Who's Who of aerospace: NASA, Raytheon, Beech Aircraft, McDonnell Douglas, Hughes, DayJet, SATSAir, Cirrus, Metro Aviation and Delta Airlines.