Pros
Headset bag!
Light
Comfortable
Bluetooth
Cons
Expensive
Not as good as the market leading Bose A20 headset
Bit of an unknown quantity for aviation
Flyer Verdict
Very good first effort from AVG, as you'd expect given their background. But at this price, they're competing with the Bose A20.
So, you're a manufacturer of high-end audio equipment and you like the idea of using your Grammy Award-winning expertise to produce a headset for General Aviation use? That's exactly the path audio equipment manufacturer AKG (a division of audio giant Harman) is taking with its AV100 headset. With the GA market so small in comparison to studio and home audio, it makes you wonder why. But let's not forget that nearly 25 years ago, a home audio company called Bose had similar ideas.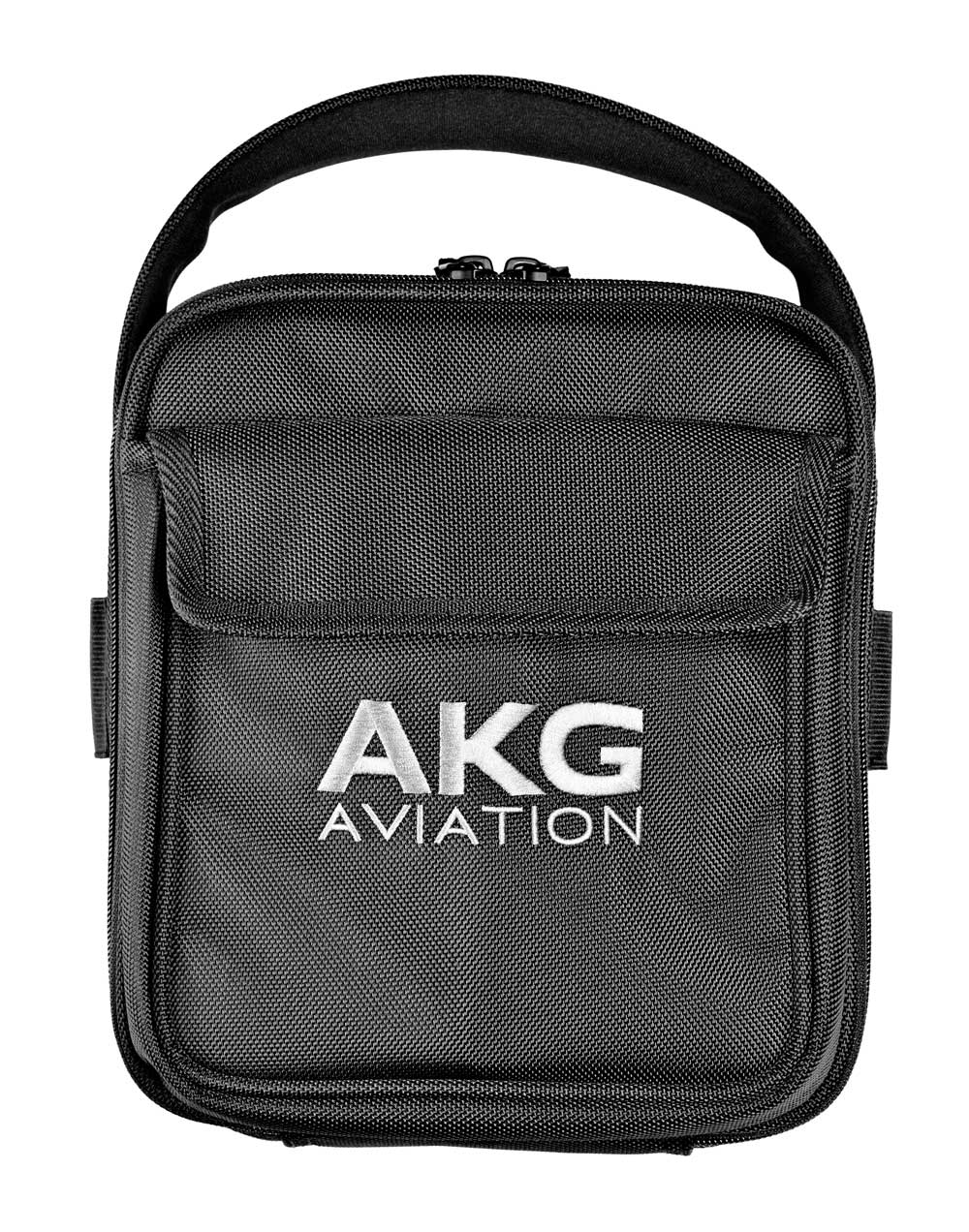 The result is the AV100. Open the box and you're presented with probably the finest headset bag to ever come with a headset – it's more like a mini-flight bag, with space for an iPad and other small items.
Inside, the 345g headset itself looks great and is a tactile delight with materials that all appear high quality. The smooth spring steel headband poses no scratch threat to a canopy, and has a slim yet comfortable cushion with a centre gap between the two pads, which stops the button at the top being forced into the top of your head.
As for the ear shells, they're made out of plastic rather than carbon fibre because the latter was heavier and not as good acoustically.
Getting the AV100 ready to use is easy. It's fitted with a LEMO connector as standard, with an adaptor cord for twin GA plugs included, although if you use that then you'll also require two AA batteries in the headset controller to provide power. Once a Bluetooth device is paired up, you'll start hearing voices in your head telling you whether Bluetooth is enabled or disabled. There's also an Aux input for non-Bluetooth devices.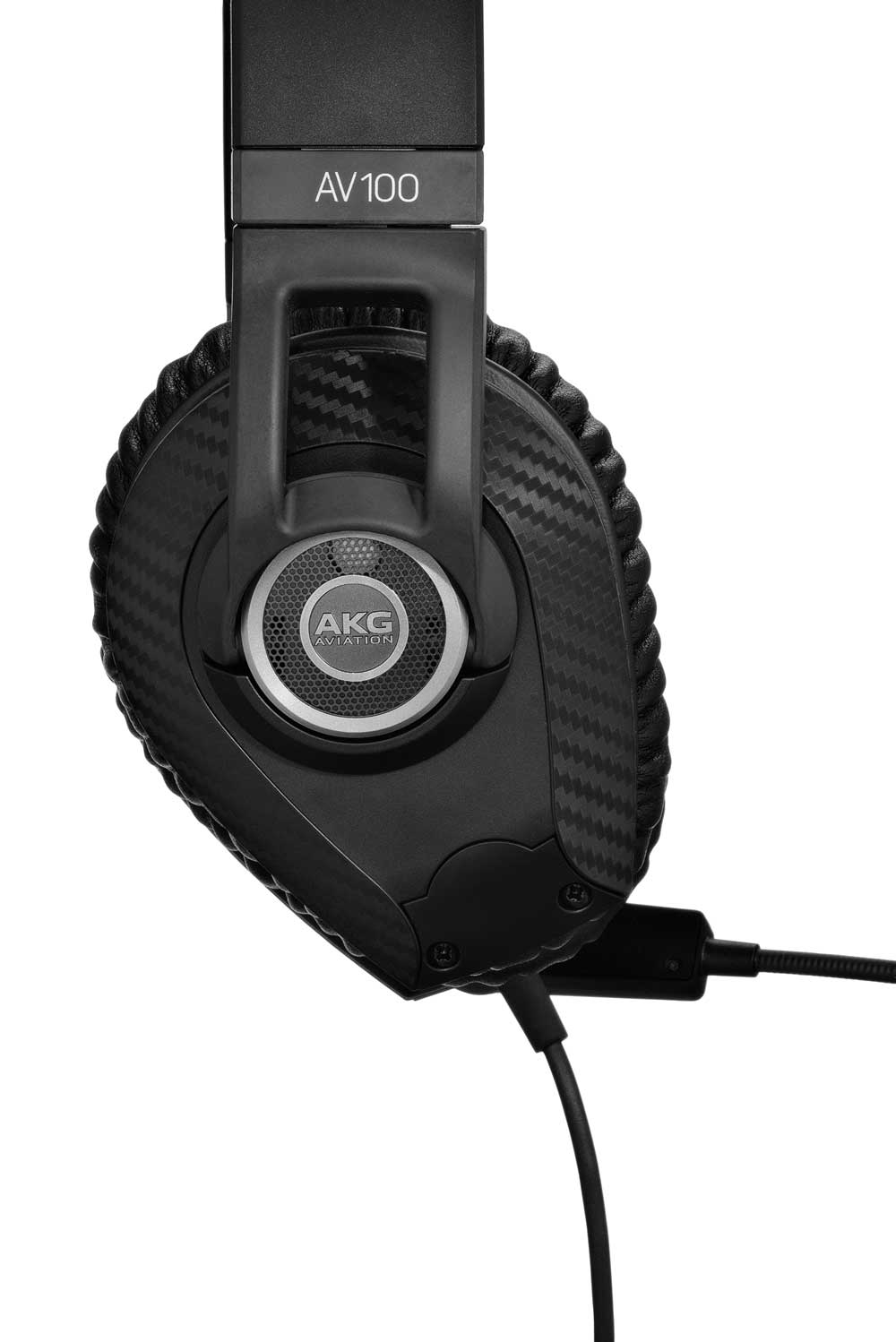 Putting it on, the steel headband is not at all clamp-like, the fit being more caressing-comfort than tight-torture. The angled ear cups with their plush seals (the manual calls for their replacement every six months or 350 hours… the first headset with a TBO?!), helps make the AV100 one of the most comfortable headsets I've worn. This light touch on the head makes the need for good noise-cancelling even more necessary, and the AV100 delivers a good performance in this respect. Low-frequency cabin noise is well-silenced, reminding you that good noise-cancelling really does make for less tiring flying.
The voice audio could have been crisper though, with speech sounding a little softened. Music streamed via Bluetooth is superb, something you'd expect given AKG's studio background.
The white LED lights built into the ear cups had prompted some sceptical discussion about night vision issues, but it turned out they provided just the right brightness and pool of light to be helpful. They would only be better if you could activate them from an ear cup, rather than have to hunt for the button on the controller (in the dark!).
After 13 hours of use, that voice in my ear gave me a low-battery warning. While this fell a couple of hours short of the promised battery life, that did include 30min of Bluetooth tethering and 20min light use.
There's no question that the AV100 is a really strong first product from AKG. The look and feel is first rate, even if that less than crisp voice audio we experienced was perhaps not the perfect audio experience that this price category currently expects. Given that this is its first attempt, I'm pretty sure that as AKG develops its product (and let's not forget that the current BOSE is the now four generations old), there's going to be another great choice at the top end of the headset spectrum. – Ed Hicks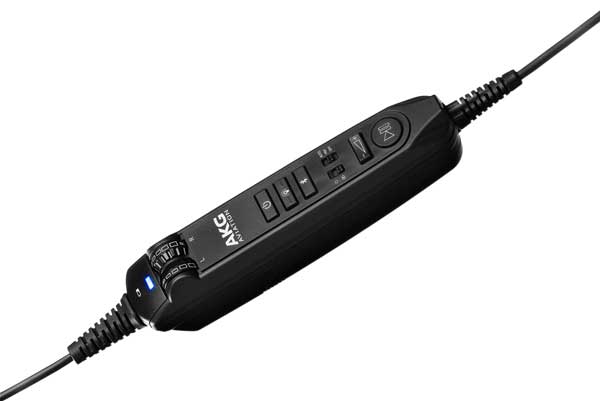 What Bose user Ian Seager thought:
When I first saw the two white LED lights, one per cup, I thought it was a bit of a gimmick. Fast forward to the cockpit of a Cessna a few thousand feet over Florida at night and they'd get a proper test, particularly as this rental Cessna's instrument-post lights flashed on and off in a weak and ineffective imitation of its strobes. The LEDs were angled slightly down and made reading the instruments pretty easy, given they're fixed to your head, looking at an instrument lights it up! I was convinced the white LEDs would screw night vision, but somehow they don't.
In terms of comfort, the AKGs were pretty much fit and forget. I've been accused of being insensitive on more than one occasion but I'm not sure that related to my sense of feeling on the top of my head. Either way, they were more than comfortable for the time I wore them.
How about sound qualities? Well, bluntly they're not as good as my Bose A20. The ANR is less effective and the voice quality isn't as good. Frankly, you can say that about almost any other headset, and while they might not be A20 quality, the AKG Aviation AV100 is still very good. The trouble is they're also very expensive. €1,199 a pair is costly, and in order to sell and carve out some market share they'll need to get a lot better or a lot cheaper.