+VIDEO  No fewer than thirteen Americans are due to compete in next month's Air Race 1 meeting, being staged at Thailand's U-Tapao Naval Airbase. Three British pilots are also down to fly in the event which runs from 17-19 November.
The British pilots are Trevor Jarvis, Yves Clarke and Des Hart. Listen as Des Hart, of Team Sleeper, gives BBC Radio Two presenter Matt Williams a taste of Air Race 1 action over the fields of Cambridgeshire:
Air Race 1 sees single-seat racing aircraft compete wing-to-wing in a series of high-speed low-altitude races. Each race sees up to eight pilots go head-to-head around a tight oval circuit at speeds of over 450kph, just metres above the ground.
One of the favourites this year is last year's winner Justin Phillipson, from California, who will be racing No Strings Attached, a Shoestring racer designed in the 1940s. No Strings Attached is regarded as one of the lightest and fastest-accelerating racers on the circuit.
"It's going to be an amazing event, with the best 17 pilots in the world competing against each other in a truly spectacular location," said Justin.
"After winning last year, we won't be backing down. Every time we race we learn something new and we feel we have more speed to unlock."
Last year's racing
To ensure a fair competition between pilots, each plane must be built to a specific formula that covers most aspects of the race plane's characteristics, including wing area, weight and engine size.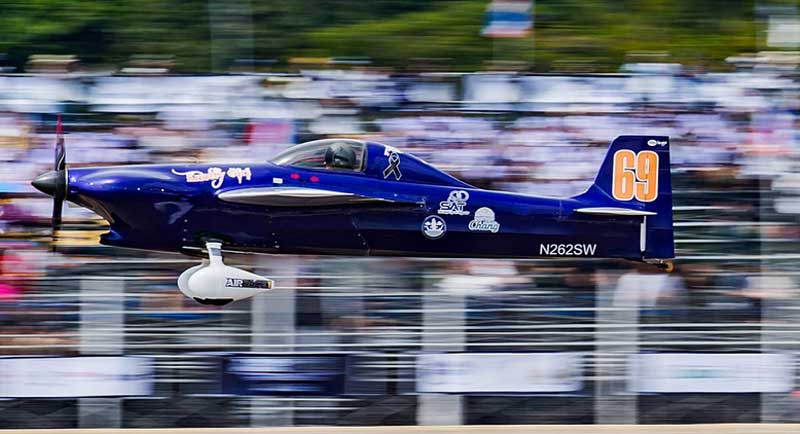 Jeff Zaltman, CEO of Air Race 1, said, "Including Justin, we've signed a very strong and diverse pool of race pilots for this year's World Cup. Not many people have the skill or expertise to race an airplane, so there aren't many of these pilots around. But we'll see the best of the best in Thailand. The title is truly up for grabs. We are really looking forward to returning to Asia after a successful trial race in 2016."
The Air Race 1 World Cup Presented by Chang will be shown live in Thailand, and later screened in over 100 countries across Europe, Asia and the USA.
Race pilots
Jerry Marshall USA Tumble Weed Cassutt IIIM
Swaid Rahn USA Heat Stroke Cassutt IIIM
Scott Holmes Canada Outlaw Cassutt racer
Yves Clarke UK Outrageous Cassutt IIIM (modified)
Ryszard Zadow USA Last Lap Player Cassutt IIIM
Philip Goforth USA Knotty Girl Stratocaster
Lio Mougel France Hysteria Boyd Gr-7 Panther
Enrico Castellino Italy Spirit of Turin Cassutt
Paul Newman USA Fast & Easy Cassutt III
Kent Jackson USA Once More Cassutt IIIM
Justin Meaders USA Limitless SnoShoo
Chip Mapoles USA Miss USA Slipknot
Steven Temple USA Quadnickel Cassutt IIIM
Steve Tumlin USA Fiesty Cassutt IIIM
Trevor Jarvis UK Sonic Zoom Cassutt
Justin Phillipson USA No Strings Attached Shoestring
Des Hart Scotland Sleeper Cassutt IIIM
Tim Cone USA What Airplane, Honey? Grove Winged Cassutt